DONATE ONLINE TO SUPPORT OUR EFFORTS








All donations to The Corbett Foundation are exempt u/s 80-G from the Income Tax Act, 1961. The Corbett Foundation is registered under the Foreign Contribution (Regulation) Act, 1976 under registration 
no. 231650853. 
The Corbett Foundation is an activity partner with:
TCF is a recipient of the TOFT 'Wildlife Tourism Related Community Initiative 2014' and the 
'Vasundhara Mitra Award 2015':
The Corbett Foundation is accredited by Credibility Alliance under 'Desirable Norms' prescribed for the good governance of voluntary organisations in India. The Corbett Foundation is a Member of the Global Tiger Forum, the State Wildlife Advisory Board of Gujarat and the Indian National Committee of the IUCN.
PARTNERS IN
CONSERVATION

TCF would like to thank the AmeriCares India Foundation, Axis Bank Foundation, Bajaj Auto Ltd., Bombay Gowrakshak Trust, Born Free Foundation, Coca-Cola India Foundation, Earthwatch Institute India, EcoCare International Foundation, Exodus Travels Ltd., Friends of Conservation, Gujarat Biodiversity Board, Gujarat Forest Department, Kirloskar Oil Engines Limited, Madhya Pradesh Forest Department, Pirojsha Godrej Foundation, Rare Species Fund, Rufford Foundation, Wildlife Conservation Trust and WWF-India among others, for their support towards its activities and programmes. TCF thankfully acknowledges the infrastructure support given by Conservation Corporation of India Pvt. Ltd. 


BOARD OF TRUSTEES

Mr. Dilip Khatau, Chairman
Mrs. Rina Khatau, Co-Chair 
Dr. M. K. Ranjitsinh, Retd. IAS
Mr. B. K. Goswami, Retd. IAS 
Mr. Nirmal Ghosh
Mr. Sam Mistry 
Mr. Sharad Sanghi
Mr. Darius Udwadia
Mr. Akshobh Singh
Mr. P. R. Rajkotia 
Dr. Divyabhanusinh Chavda
Mr. Laxmikumar Goculdas
MISSION STATEMENT


The Corbett Foundation (TCF) consists of a group of dedicated men and women who are committed to the conservation of wildlife and nature, and fulfilling the ambition that human beings and nature must live together in harmony.



PROJECT SAKSHAM
The Corbett Foundation with kind support from Baja Auto Ltd. launched Project Saksham, a medical outreach programme, for tribal and forest-dependent communities at its Corbett and Kanha divisions. From April to June 2015, a total of 5085 patients were treated in camps and OPD. These communities and wildlife commonly share natural
ecosystems, and this often gives rise to conflict situations. The health and wellbeing of local
communities is directly linked to their willingness to participate in wildlife conservation efforts
towards maintaining healthy ecosystems. TCF believes that
only a healthy community can contribute to a healthy environment, and therefore it adopts a multipronged strategy to help create a harmonious co-existence between wildlife and human beings. The Corbett Foundation is grateful to Bajaj Auto Ltd. for its support towards this programme in 2015-16.

CONTACT US

Registered Office:
P.O. Dhikuli, Ramnagar,
Dist. Nainital, Uttarakhand 244715
Administrative Office:
81-88, Atlanta, Nariman Point, Mumbai 400021, INDIA
Tel. No. +91 22 61466417
Fax No. +91 22 61466499



info@corbettfoundation.org

 

www.corbettfoundation.org



Copyright © 2015 
THE CORBETT FOUNDATION
All rights reserved.
Join us on
Facebook

INTERNATONAL VULTURE AWARENESS DAY 2015 - SAY NO TO DICLOFENAC!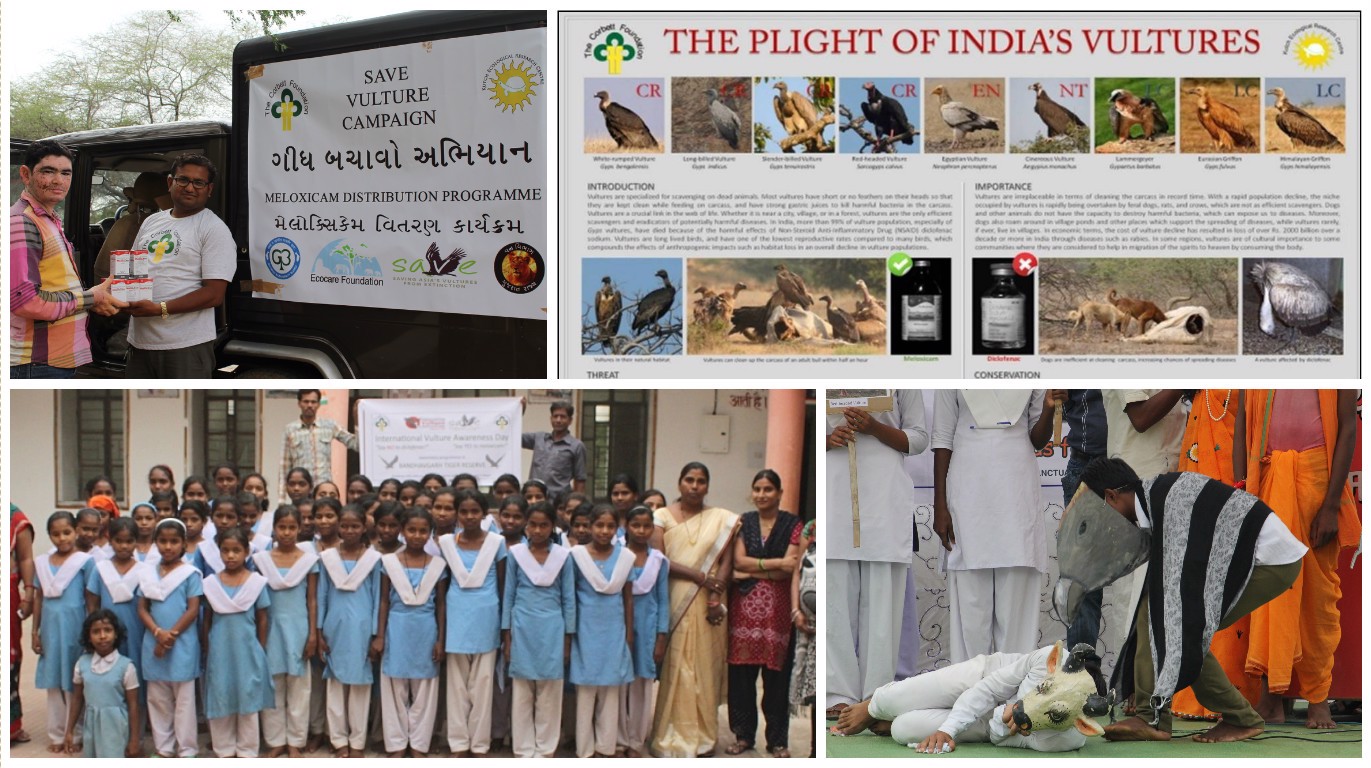 International Vulture Awareness Day is celebrated on the first Saturday of September every year to commemorate a most vital and critically endangered  component of our ecosystem - the Vulture. Across all its divisions, TCF celebrated IVAD 2015 on September 5 and through the week that followed with a mission - to stop dicelofenac use in cattle treatment, to promote the use of the safe-drug meloxicam and to spread awareness about the importance of vultures, their decline and conservation measures.Through movie screenings and presentations to more than 1000 school children in Bandhavgarh, Kanha, Corbett, Kutch and Kaziranga, young minds were encouraged to become the vulture stewards of the future. Livestock Inspectors (LI) in villages were informed about the ill-effects of diclofenac on vultures and the availability of meloxicam. Despite diclofenac use being banned in India, its affordable prices causes it to still be used in cattle teatment sporadically. TCF promotes meloxicam use by distributing vials to LIs free of cost and facilitating its sale at a higly subsidized rate. TCF set up vulture-conservation stalls at village fairs, awareness programmes across many villages, drawing and painting competitions for children and a skit based on this theme. TCF published a poster titled "The Plight of India's Vultures" in association with Bombay Natural History Society (BNHS) and Saving Asia's Vultures from Extinction (SAVE) in English  in January 2014. In 2015, TCF has translated this poster into Assamese and Marathi, aiming to distribute it on a large scale in collaboration with various agencies to spread awareness.
TRAINING NATURE GUIDES - CAPACITY BUILDING AND SKILLS DEVELOPMENT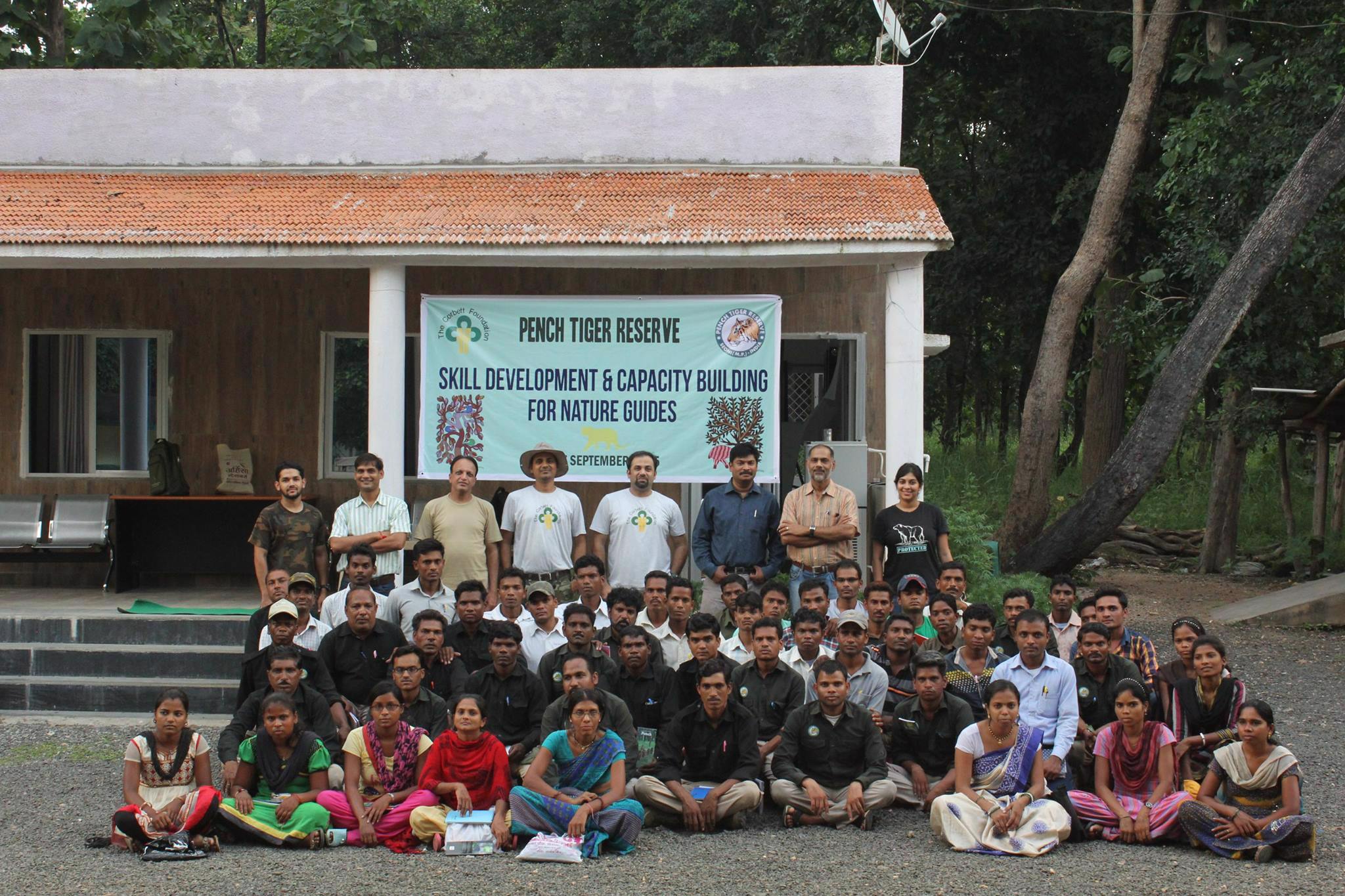 The Corbett Foundation firmly believes that a well trained nature guide plays a much larger role in conservation than just providing tourists with information about the forest and its sights. Nature guides are an important interface between the forest and tourists that visit forest reserves to experience the wild, stirring the conscience of tourists towards conservation, who have the potential to contribute directly or indirectly to conservation. With this in view, TCF conducted a Capacity Building and Skills Development programme to train the nature guides of Pench Tiger reserve, Madhya Pradesh from September 23 to 27, 2015 held at a hall at the Turia Gate of Pench Tiger Reserve. 110 candidates comprising experienced nature guides and fresh recruits attended the training. Teaching faculty comprised TCF staff and external faculty. The trainees participated eagerly in indoor lessons about natural history, conservation issues, wildlife knowledge, laws, communication, etiquette, a quiz as well as in outdoor sessions including nature trails, safaris and ice-breaking sing-song sessions. TCF is grateful to Mr. Subharanjan Sen (IFS), Field Director and Dr (Mrs) Kiran Bisen (IFS), Deputy Director of Pench Tiger Reserve, Mr. Sanjay Shukla (IFS), Chief Conservator of Forest, Seoni Circle and the guest faculty.
MEDICAL OUTREACH FOR THE PARDHI TRIBE
The Pardhi tribe of Central India is notorious for its long-standing tradition of hunting. In light of conservation issues and relevant laws in place today, their activities often put them in conflict with the forest authorities. In order to ease the conflict, provide basic healthcare and education and give them alternative and sustainable livelihoods, TCF along with WWF-India and Kanha Tiger Reserve launched a Medical Outreach programme for 3 pardhi settlements in Kanha Tiger Reserve. Instilling a positive attitude towards conservation in the coming Pardhi generations gives much-needed support to conservation efforts.

Seen here: A woman from the Pardhi tribe being attended to by TCF staff
INTERNATIONAL DAY FOR THE PRESERVATION OF THE OZONE LAYER
2015 marks the 30th anniversary of the Vienna Convention for the Protection of the Ozone Layer. With the theme "30 years of healing the ozone layer together", on September 16, 2015  TCF- Corbett organized an awareness programme at Government Post Graduate College, Ramnagar. TCF and students studying science discussed the significance of the ozone layer in protecting human health and maintaining biodiversity of the ecosystem. 
PUKAAR - TRAINING IN BASIC HOSPITALITY
Under its sustainable livelihoods programme "PUKAAR" supported by the Axis Bank Foundation, TCF Kanha has been training men and women living in the villages around Kanha Tiger Reserve in basic hospitality, grooming them for employment in the hospitality sector and enhancing the skills of  currently employed individuals. The trainees successfully completed this course on September 30, 2015  and were each presented with a certificate of merit. On the very same day, the 10 new trainees were recruited through this programme into various resorts in the vicinity as hopitality professionals.
SUCCESS STORY OF THE MONTH
Yogendra Panchtilak, a village youth from Kanha, underwent training in the motorbike-repairing course under TCF's PUKAAR programme for sustainable livelihoods. Before this training, he was an unemployed youth. Post-training, he has developed a small local bike-repairing business of his own in a garage in the village and supports his family with an income of Rs. 3,500 per month. Yogendra has expressed his content and happiness with his newfound livelihood and self-confidence and his gratitude towards the Axis Bank Foundation for giving him this opportunity.