THE CORBETT FOUNDATION NEWSLETTER
March - April 2021
www.corbettfoundation.org | info@corbettfoundation.org
THE SUPREME COURT OF INDIA INTERVENES TO PREVENT THE EXTINCTION
OF THE GREAT INDIAN BUSTARD
April 19, 2021, will be written in golden words in the history of wildlife conservation. On this day, the Hon'ble Supreme Court of India passed a landmark order to place underground the power lines that pass through identified Great Indian Bustard (GIB) habitats in Rajasthan and Gujarat. The order came during the hearing of a PIL filed by Dr. M. K. Ranjitsinh, Piraram Bishnoi, Santosh Martin, Navinbhai Bapat and The Corbett Foundation. The petitioners have requested the Hon'ble Supreme Court to take necessary decisions for the conservation of GIB (and Lesser Florican) in the country. The power lines passing through the bustard habitat are a proven fatal threat to the GIB, and are also one of the prime reasons behind the steep decline in the GIB population in the past decade. To protect the species from such a threat, the petitioners have requested the underground placement of power lines in critical bustard habitats, and installation of bird diverters on all power lines in semi-critical habitats. In addition to this, habitat protection and its proper management, control over disturbance caused by free-ranging dogs, the conservation breeding programme of GIB, and a halt to any further development/expansion of wind farms and solar parks in the bustard habitat have also been requested. The Supreme Court has appointed a 3-member committee to monitor and instruct how and where to underground the high-voltage lines. Dr. Rahul Rawat, Scientist at the Ministry of New and Renewable Energy, Dr. Sutirtha Dutta, Scientist at Wildlife Institute of India, and Dr. Devesh Gadhavi, Deputy Director of The Corbett Foundation, have been appointed as the Members of this Committee.
Speedy implementation of this order by the Rajasthan and Gujarat governments and the Ministry of New and Renewable Energy, GOI is the key to the safe and secured future of the GIB. All the stakeholders of the power sector must now avoid GIB habitats while planning future power projects.
This is India's last chance to prevent the extinction of the Great Indian Bustard.
SUPPORT TO LOCAL COMMUNITIES DURING COVID19 PANDEMIC
The second wave of #COVID19 pandemic has penetrated the rural India, including many forest villages in central India. Inadequate healthcare facilities and low awareness level among the local communities about preventive measures to be adopted, has compounded the situation in many areas.
The Corbett Foundation, with the support of Exodus Travels Foundation, UK, has initiated food relief support to few tribal hamlets in Kanha Tiger Reserve. A packet of pulses, lentils, spices, jaggery, salt, oil and tea leaves, along with bathing soap, detergent and resuable masks is being handed over to each household. The supplies will last for around 15-20 days. This support will not only give them the much-needed help during these difficult times but also hopefully prevent the disease spread as the villagers do not have to visit markets that are the most likely sites for COVID19 transmission. Our medical team also visits these villages to check possible COVID19 patients and provide immediate medicine support.
More funds are being raised for this work so that continued support and more villages could be covered under this support.
Those interested in extending a helping hand to this work, may please contact us at

info@corbettfoundation.org.
IMPROVED COOKSTOVES PROJECT SUPPORTED BY JSW FOUNDATION
JSW Foundation
in collaboration with The Corbett Foundation and Thane Wildlife Division, Maharashtra embarked upon a project to provide portable and energy-efficient cookstoves to over 6,000 households in Tansa Wildlife Sanctuary spread over four ranges - Tansa, Vaitarna, Parali and Khardi. In the first phase, around 3,000 cookstoves have been distributed to the local communities to reduce their dependency on firewood sourced from the sanctuary and to ensure better health by reducing in smoke. The Corbett Foundation has conducted a survey to assess the usage of these cookstoves and the impact of these stoves on reducing firewood and smoke.
Collection of dead and fallen wood is allowed to be collected by local communities. But often, in addition to what is permissible, wood is also felled from living trees affecting tree growth and regeneration. Also, venturing into the forests gives rise to human-wildlife interaction and confrontation. Tansa forest is no exception to this. An estimated around two tonnes of firewood is used by every household annually for cooking, heating water, keeping warm in cold weather and to sell in local markets for roadside dhabas, restaurants and motels. Unless viable alternatives are provided, these age-old habits will soon erode the already threatened forest ecosystems.
The Corbett Foundation is thankful to the JSW Foundation for supporting this cause to ensure the long-term conservation of forest in Tansa Wildlife Sanctuary.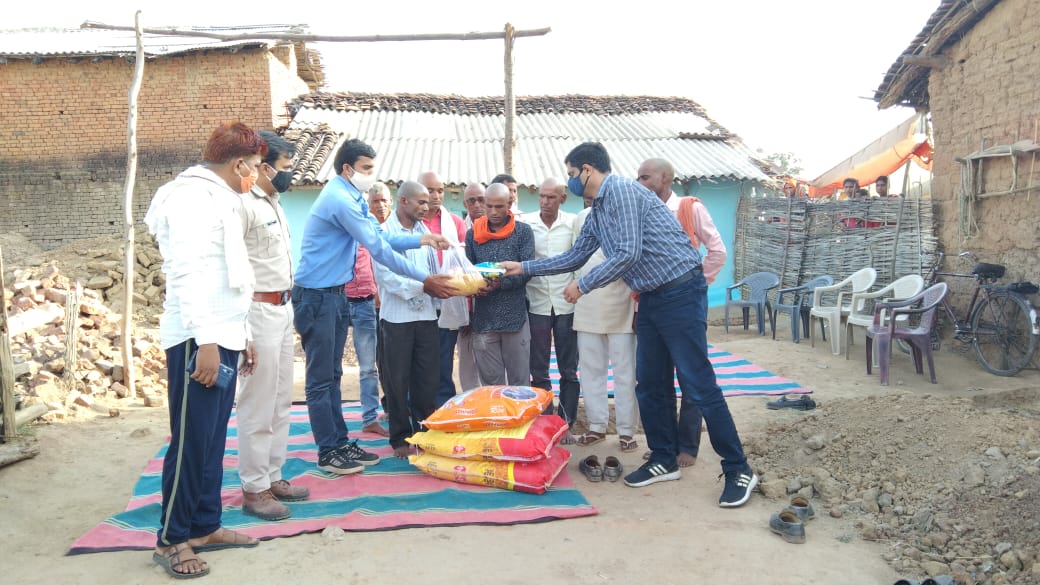 SUPPORT TO THE FAMILIES AFFECTED DUE TO WILD ANIMAL ATTACKS
Bandhavgarh Tiger Reserve (BTR) in Madhya Pradesh has 161 villages situated within its boundaries, with 150 of these being in the buffer and 11 in the core zone. There is a heavy dependency of these communities on the forest for livestock grazing, firewood collection and minor forest produce and timber for domestic use.
The d
ecades of protection and conservation measures have resulted in an increase in wild animals in BTR.
While this is a good sign, it creates unwanted and avoidable human-wildlife interactions that put lives of people and wildlife in danger. In the past year, BTR
has reported at least 16 cases of human deaths and injuries d
ue to attacks by tigers, bears, leopards and elephants. In addition, five cases of attack by a sloth bear and two cases of elephant attacks have been recorded

in Beohari Range

adjacent to BTR. Out of the above 23 incidences, human deaths have been reported in 10 cases and the victims have been injured in the rest. In case of elephant attacks, there have been cases of damage to property and crops as well.
Most of these cases were a result of accidental encounters.
As a humantarian gesture, and hoping to prevent retaliation by local communities, TCF provides food supplies (rice, wheat, oil, spices, lentils and salt) that would last for a month to the family members of the deceased. The relief is handed over within 24 hours of the unfortunate incident in the presence of the local forest department personnel.
INDIGO AIRLINES SUPPORTS THE BIODIVERSITY HOTSPOT IN MANIPUR
Tamenglong region in the western part of Manipur is one of the most beautiful landscapes with cascading hills, dense evergreen forest, picturesque villages and a storehouse of biodiversity. In 2020-21, The Corbett Foundation with the kind support of IndiGo Reach has embarked upon a 2-year project titled Safeguarding biodiversity in Tamenglong district of Manipur from hunting and illegal wildlife trade through biodiversity conservation education, alternative livelihood initiatives and habitat restoration. This multidimentional project includes activities such as habitat restoration, provide alternative livelihoods, conservation education, capacity bulding of frontline forest department personnel, community awareness and ethnobotanical surveys. Our local team has been reaching out to the remotely located 20-odd villages covered under this project.
Exposing the children to the amzing biodiversity of these backyard forests is crucial to ensure love, appreciation and long-term conservation of these forests and their denizens. One such students' camp was held in April at Inrianglong Raengaan (Old Tamenglong) for 30 participants.
The Corbett Foundation is grateful to IndiGo Reach for this much-needed support for a neglected biodiverse landscape of northeast India.
LIVESTOCK VACCINATION IN CORBETT AND KAZIRANGA TIGER RESERVES
To ensure healthy livestock in tiger reserves, The Corbett Foundation has been regularly conducting livestock vaccination programmes in Corbett, Kanha, Bandhavgarh and Kaziranga tiger reserves. This intervention plays an important role in minimising the transmission of infectious diseases such as FMD, Haorrhagic Septicemia and Black Quarter from domestic to wild herbivores. In March and April, vaccination and deworming camps were organised in eight Gujjar community villages and settlements in Corbett Tiger Reserve, Uttarakhand, where a total of 1,176 animals were vaccinated. Similarly, 2,355 animals were vaccinated in Kaziranga Tiger Reserve, Assam. This activity is undertaken in collaboration with the state forest departments and animal husbandry departments.
The Corbett Foundation is grateful to the Bombay Gow Rakshak Trust for its long-standing support towards its veterinary work in Assam, Gujarat, Madhya Pradesh and Uttarakhand.
SCIENTIFIC ADVISORS
Dr. AJT Johnsingh and Dr. Asad R. Rahmani
The Corbett Foundation is a charitable trust registered under the Indian Trusts Act, 1882. It is also registered under the Foreign Contribution (Regulation) Act, 1976 under registration number 231650853 and the Ministry of Corporate Affairs for CSR under registration number CSR00000183. The donations to The Corbett Foundation are tax exempt u/s 80G of the Income Tax Act, 1961. The Corbett Foundation is accredited by Credibility Alliance under the Desirable Norms prescribed for Good Governance of Voluntary Organisations.
NITI Aayog ID:
UA/2017/0179126
| | |