We Need YOUR Help to GROW NYS PTA!
It's nearly the end of the school year, and NYS PTA needs 1,401 NEW members by May 31 to show membership growth and earn New York national recognition with a National PTA Membership Award!
It has been years since NYS PTA membership has been up, and we need your help to reach this goal!
We need you to think outside the box and invite people you may not have thought of to support your PTA: students, local government officials, school board members, police and firefighters, local business owners, or school employees.
Will your unit invite FIVE new people to support your unit and join online?
Would you consider joining Empire State PTSA for only $10? (enter "Empire" as the unit to join)
Final statements are being sent via email to unit presidents and treasurers under separate cover for any outstanding membership dues owed. Final payment for state dues for all members must arrive in the state office by May 31!
NYS PTA continues to be a strong voice for ALL children, together with your help.
---
Did You Pay Your Insurance?
Dania Welch, Membership/Insurance Manager
Have you received your insurance renewal application from AIM?
If not, please call AIM directly at 1-800-876-4044 and request a new application.
Please send all your signed forms and your payment to AIM by June 30.
If you miss the deadline, your PTA will have a lapse in coverage and your coverage will not begin until resolved with AIM.
---
TOP 5 Ways to Move Your PTA Fundraising Online
A new school year means a fresh start for innovation and simplicity.
NYS PTA and Cheddar Up want to help take your PTA payments and forms online and—if we're completely honest—blow people's minds with how much busy work you eliminate and how much money you raise.
OUR TOP 5 WAYS TO MOVE ONLINE | LEARN MORE
---
Coming May 23! Learn How to Resolve Differences and Avert Conflict in Your PTA
Jane Harsha, Vice President
NYS PTA Webinar – Dealing with Difficult People and Conflicts
It's happened before: Two PTA volunteers clash on an issue. Before you know it, you're facing a mudslide, as a minor conflict spreads through your entire unit, sucking up time and resources, toppling healthy relationships, and leaving a trail of damage and hurt that someone (you?) will have to clean up. But it doesn't have to go this way.
Join NYS PTA Leadership Development Coordinator Antoinette Darden-Cintron and learn key methods and tools to:
build your skill set for resolving problems before they become conflicts
help other PTA members learn to work through a conflict
deal with obstructive administrators and difficult parents
NYS PTA Webinars start promptly at 7:30 PM and run about 50 minutes.
Dealing with Difficult People and Conflicts
Wed, May 23, 2018 7:30 PM – 8:30 PM EDT
Please join this meeting from your computer, tablet or smartphone.
https://global.gotomeeting.com/join/715888845
You can also dial in using your phone.
United States: +1 (571) 317-3122
Access Code: 715-888-845
First GoToMeeting? Let's do a quick system check: https://link.gotomeeting.com/system-check
If you are planning to attend, please send your RSVP with your PTA unit name and unit code to RSVP@nyspta.org.
---
Save the Date for SLC in July
Summer is coming and so is the annual Summer Leadership Conference (SLC)!
SLC is casual and fun. Continuing Teacher and Leader Education (CTLE) credits for education professionals are available!
This year SLC will be held from July 20-22, 2018 at Union College, Schenectady NY.
There is a new Save the Date flyer with fees on the website. You can find it plus other information about SLC HERE.
---
IMPORTANT REMINDER on Student Data Privacy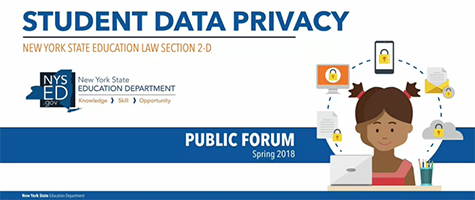 Are you concerned about students' data privacy? The NYS Education Department is holding meetings on data privacy around the state.
YOU can attend and speak as a parent/caregiver of a child and/or as an educator. See HERE for a list of events in May and June plus additional information.
---
Reflections is Celebrating 50 Years!
Melissa Cancro, Programs Coordinator
This year is Reflections 50th Anniversary. To celebrate, National PTA is offering $1,000.00 grants to two winners. These grants are to give all students an opportunity to participate in the arts. Click HERE for more grant information. Applications are due by June 30, 2018.
2018-2019 Reflections Theme is Here!
Dust off your capes and get ready for a super time! This year's theme is "Heroes Around Me." Students will create works of art around this theme. July 1st is when our Reflections materials will be available at the Reflections page on nyspta.org. Let's get our fantastic teams assembled to kick off this exciting new year!
---
Join Us in Celebrating Our National PTA Reflections Winners!
Over 4,000 PTAs inspired students from all over the United States to participate in the Reflections program this year. National PTA received 1,053 student submissions from 50 State PTAs. 205 students were selected to receive a national award.
NYS PTA had eight students win for their interpretation of the theme "Within Reach."
Award of Excellence Winners
Hannah Cheeseman from John G Dinkelmeyer PTA; Photography – Special Artist; Nassau Region
Griffin Hon from Harry B Thompson Middle School PTSA; Film Production – Middle School; Nassau Region
Harita Shet from Woodlands PTSA; Visual Arts – Middle School; Westchester-East Putnam Region
Letao Tao from Garden City PTA; Film Production – Primary; Nassau Region
Award of Merit Winners:
Keshav Kaushik Gopal from Blind Brook PTA; Music Composition – Primary; Westchester-East Putnam Region
Brianna Martinez from Harrison High School PTA; Photography – High School; Westchester-East Putnam Region
Tess O'Brien from Blind Brook PTA; Literature – High School; Westchester-East Putnam Region
Lily Tierney from Woodhull School PTA; Literature – Middle School; Suffolk Region
Thank you to all of our units that participated! A big thank you to our hard working Reflections Team; from unit Reflections chairs, region Reflections chairs, Amanda Tobias, our NYS PTA Reflections Specialist, Lynnette Degnen-Kolawole and all the NYS PTA office staff! Encouraging students in the arts is always a winning endeavor!
Our theme for 2018-2019 is "Heroes Around Me!" Be a hero and run a Reflections program next fall!
---
Seeking Your Input About Literacy Programs
NYS PTA has created the PARP Task Force, which is charged with increasing the visibility of the PARP (Pick A Reading Partner) program and other literacy programs throughout the state.
We are looking for your input ( via this survey) as we strive to continually improve our literacy programs. Children and youth need to learn not only the skills of reading but also to discover the joy of reading. Helping children discover that joy while encouraging adult-child communication is the goal of PARP.
If you don't feel you are the best person to respond to this PARP survey, please pass this on to your PARP Chair and other members you feel would take a few minutes to answer this survey. You can have more than one person from your unit reply. The survey will take approximately seven minutes to complete. The survey will close on June 30, 2018.
Click HERE for the survey link.
Your time and input are greatly appreciated!
---
Deadlines and Upcoming Events
NYS PTA is proud to offer NYS PTA units the opportunity to host a Chrysler Cars 4 Classrooms Event at your school and earn up to $3,000 – an easy fundraising event for elementary schools.
Chrysler will donate $10 for each test drive taken up to $2,000. Plus, schools can also earn an additional $1,000 with our new social sharing opportunity. Plus you can be entered into the Grand Prize Sweepstakes for a chance at an additional $7,000!
To enroll, visit www.cars4classrooms.com or contact Program Headquarters at 833-C4C-KIDS.
---
CLYNK! Did you hear that? It's a small sound with very big potential. It's the sound of change. Your students and families can recycle, while your PTA earns funds for new programs!
We're the only bottle redemption system that allows you to create a personal account, drop off bags of redeemable containers, accumulate cash in an electronic account, and donate to your school online from your own home computer.
Read more here and think of us as a modern bottle drive that's simple and effective!
Rally and engage your school parents and teachers. And encourage them to sign-up online for personal accounts!
Attention:
You received this email because you are an officer of your PTA unit, a PTA council officer, or a region board member, and you provided your email address.