Well, we made it.
Can anyone really believe it's August already?
I kind of think we should be doing the hokey pokey: you put your left foot in, you put your right foot in and you shake it all about… but do any of us really know what day/time/month/year we are in?
It's an incredible time to be alive, and an incredible time to figure out how we are showing up in this life.
So here we are, together.
Rinse and repeat, my theme for this month.
Welcome, for those of you that are new here, and welcome back, for those of you that are longtime friends. It's been a full month in my world as I continue to wrestle with how I am showing up for my community, my family, and my day. It's been easy to feel overwhelmed, or complacent. And then, it's been easy to feel as though I'm running a rat race without making much traction. I continue to come back to one breath at a time, one moment at a time. I'm leaning in to the hard conversations, and I'm checking my ego at the door.
I've spent much of this last month outside in nature, traveling in our old VW van or camping. I have a lot of privilege and current freedom (I quit my full time job) to do this. I own that. It's been a time of contemplation, solo parenting, adventure, tears, late night fires, quiet morning runs along mountain ridges, long walks with masks on, and cooking over a camp stove. I feel both large and small in the scheme of the world.
Last week, I was running up the side of a mountain each morning while the neighboring family at our campsite kept an eye on my sleeping girls. I'd slog up the mountain with one of our dogs, happy to be breathing in the beauty of the landscape. Then fly down the mountain after greeting buck, doe, owls, and bald eagles. Together my pup and I would fly right into a mountain lake, she would swim and I would swim out after her as the sun rose. I felt so lucky to begin the day this way. Rinse and repeat, became my motto. Whatever I was carrying, processing, unleashing, unraveling, fell into the lake and out of me.
This week, I'm modelling this same process with nightly cool bathes. It's a ritual I've become fond of. This month, I invite you to walk into hard conversations, and then rinse off- energetically, emotionally, literally. This practice is something I take with me when I'm working in prison or navigating emotionally charged times. It doesn't have to be a bath, it might be a loofah scrubber. It might be taking your hands to your body and dusting yourself off, then sitting quietly as you put yourself back together again. The practice of rinse and repeat is as much psychological as it is literal. Each day begins and ends, so too our lives. It's time to meet beginnings and endings with acceptance.
This month, you'll find a song in the making from me about the beauty of rising at dawn (not everyone's cup of tea!), a couple times to gather virtually for movement, and one in person (Portland folks get ready!) opportunity to move with myself and my sweet friend, mega-heart filled yoga friend, Jill. New ways to gather for creativity and conversation with my budding non-profit, On The Inside, for small group gatherings that continue long after the class ends. Some delicious essential oil mixes and a book I'm sharing far and wide. Lots of goodness here, so read till the end.
I am so happy you are here.
On The Inside, join the conversation and collaboration-
This month, and every month moving forward, you are invited to join me for a cup of tea or a fancy drink and share in conversation as we dive into the work of working with incarcerated women together. This is the third group I'll be gathering on the outside to learn more about the work I do on the inside. As I begin to build, On The Inside, my hope is to create more connections for women on the inside with women on the outside of prison walls. This second group will meet four times through Zoom calls for 2 hours each time. Samples of our work, are here for you to take in.
What you can expect:
-Storytelling
-Conversation
-Community
-Breathwork
- 4x group sessions and individual follow up's.
Together, I'll walk you through a typical class and then offer up creative prompts for our group to begin to create from. Each class you will be given a small homework assignment to prepare for the following class. Portions of our work will be shared with the women on the inside. We will begin with centering and sharing. This class is open to all levels of life experience, the curious of heart, and the introverts.
Times/Dates:
Monday's 4-6pm PST
August 17, 31
September 14 & 21.
Cost:
$200, payment should be made to On The Inside by check or to Nikki Weaver on Venmo: @Nikki-Weaver
*If funds are tight, reach out, I want to make this accessible for all.
A sneak peak of some of the work we have been creating together in our classes. Below, you'll read an excerpt from a skit that is in the process of being finalized by a current inmate at Coffee Creek Correctional Facility, and a longtime member of our class.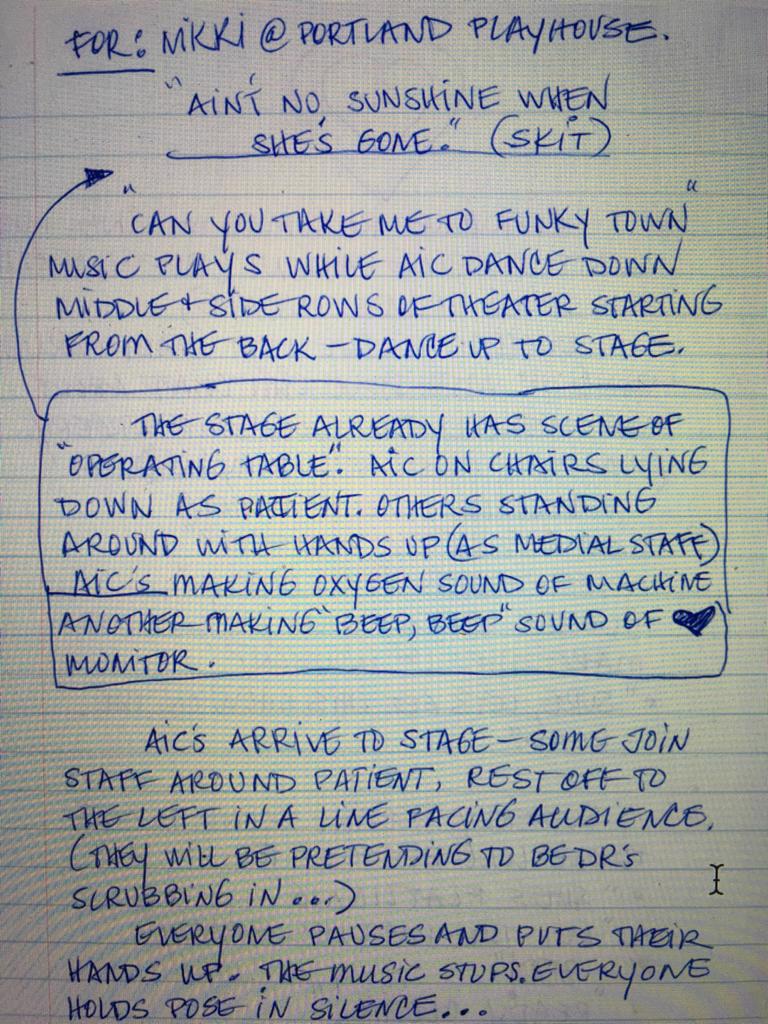 * If you have already participated in a group, you can continue the conversation and creative time with us collectively as we gather for monthly sessions. Each zoom call is 2 hours long with time for shared connection, a creative prompt offered for homework, and a centering meditation to bring us all in. Sign up ahead of time is required. Cost is $50 p/month with meetings on:
Sunday's 5-7pm
August 23
September 6
October 11
*once payment is received a Zoom link will be sent to your inbox. Payment can be made online here.
Gatherings (virtual and live offerings)-
In these times of covid, I find myself seeking connection and also being overwhelmed by the online content available. If this is true for you, check out my website for online yoga and meditation practices to do on your own time, when and where it suits you. Otherwise, tune in for a few online moments of connection this month:
-Julie Jeske and I: Full Day Women's Retreat in Portland, Oregon. Date TBA. (*please reach out directly if you would like to attend, we have a current waitlist and our finalizing dates as we look at covid requirements for meeting in person at this time. You are also welcome to participate virtually.)
-Move with Me: Virtual yoga/meditation/song experiences to play together in real time. Times/dates can be found below.
*SPECIAL LIVE yoga with Jill Knouse and I: August 30 9am-10:30am (in person) Yoga at Peninsula Park with Jill Knouse and I co-collaborating some magical goodness. Please email to reserve your spot, as we are still in the process of planning, tuning, and sharing ideas. You can expect some sweet music, essential oil spritzs, sweaty flow, healing words, laughter, and a place to donate to a local charity.
Move with me: Yoga for the Heart and Soul
These 60 minute experiences are shared through Zoom: Move with Me password required: flywithme
*Sunday August 9 9-10am PST
*Sunday August 23 9-10am PST
Classes are full body, full heart experiences. Suggested donation is $20, payable on Venmo: @Nikki-Weaver. If times do not work for you, please reach out and I will send you the video to class to practice on your own time. The more the merrier, so please share with your friends and let's practice and move together.
Monthly Oil Blends-
I am a big advocate for plant medicine, healing from the Earth. I've been using essential oils since I was a teenager, often without knowing by picking herbs from our garden and then encouraged by my step-mother to use tea tree, peppermint, lavender, and rosemary for topical ailments or tea.
Nowadays, I carry DoTerra essential oils with me everywhere I go. I believe in the high quality, the values and ethics of this company, and the team that I share them with. This month I'm googly eyes over:
Island Mint for it's invigorating nature and ability to bring the sunshine in to my work or parenting days. It's refreshing, calming, and brings a smile to my face. I rub it directly on to my sternum for an uplifting moring or afternoon.
Magnolia Touch a sweet handy roller to tuck into your backpack filled with floral scents, calming and grounding for the body and mind. The magnolia is one of my favorite flowers to look at and to carry it's healing properties around with me.
Purify filled with scents of lime, citronella, lemongrass, siberian fir and tea tree. Our house was recently robbed and I've been using this as a cleaning agent everywhere. It's calming, grounding and refreshing, a favorite of mine to diffuse in the kitchen too.
If you have questions about any of this, shoot me an email. I love to talk potions.
What I'm reading-
-Heavy by Kiese Laymon.
This is an incredible memoir that I'll be buying as a gift for friends this year. I have had a few email exchanges with Kiese since reading it and have enjoyed getting to know him, learning about his life, and understanding his process. It begins as a letter to his mother, is deeply graphic, painful, and heroic. You can listen to Kiese read it on Audible to you, or purchase it in hardcover at your favorite local bookstore.
A Blessing for you-
May August uplift you like the summery sunset, with long streaks of color through your own skies. May we find more connection, and less reaction. May we gather around the fires of our hearts and tend to that which needs attention. May we be brave enough to say what needs to be said.
From my heart to yours,
Nikki
P.S. Here's a little song I've been working on called Dawn, it's in process. I hope it brings you a little light at the beginning or end of your day.
You can listen here.