AFTER CHRISTMAS POINSETTIAS CARE
Favorite holiday pot plant.

Holiday Poinsettia is one of the most favorite plants for the holidays. Unfortunately, few know about the proper care.

Therefore, they are often thrown away after Christmas

.
Seasons Greetings
In appreciation of our association during the past year, everyone at Oakridge Landscape, Inc. extends our very best wishes for a wonderful holiday season and the new year be filled with much joy, happiness and success. We look forward to working with you in the coming year and hope our business relationship continues for many years to come.
After Holidays Poinsettias Care
The Poinsettia is sensitive to incorrect temperatures, too much water or poor light. With the following Care Tips you may have easily enjoy using this popular indoor plant.


Temperature

To keep the plant in bloom, maintain it at a temperature of 65 to 70 degrees F during the daylight hours and, if possible, move it to a cooler place at night.

Take Care of It

Keep a mature poinsettia moist but not soaking. Poinsettias love humid conditions and will benefit from daily misting, especially in dry conditions. Poinsettias do not like extreme temperature changes so keep away from vents, drafts and fireplaces. Sixty to 70 degree temperatures are best while poinsettias are in bloom. Do not apply fertilizer to blooming poinsettias.
New Branch in South Orange County
New Branch in Santa Ana We are delighted to announce that Oakridge Landscape, Inc. has expanded and opened a new Landscape Maitenance branch, in South Orange County. Many valuable customers were demanding us to expand our operations for a long time.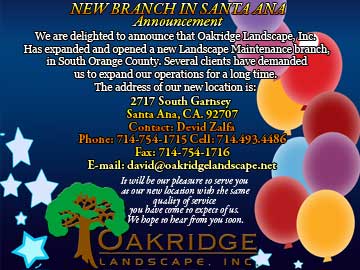 Opening of South Orange County Branch
The address of our new location

2717 South Garnsey
Santa Ana, CA.92707
Cell 714.493.4486
Phone: 714.754.1715
Fax: 714.754.1716
E-mail: david@oakridgelandscape.net

Responsive Quality Service

It will be our pleasure to serve you at our new location with the same quality of service you have come to expect of us. We hope to hear from you soon.
Regards,
Oakridge Landscape, Inc.