In the end, it is important to remember that we cannot become what we need to be by remaining what we are."

-Max De Pree

Feb. 14 - Feb. 27, 2017
Class 16 International Study Tour, Vietnam & Thailand

April 6, 2017 William Stewart Lecture, London, On

April 6 - April 8, 2017
Class 16 Seminar & Graduation Banquet, London, On

AALP Class 16 heading to Vietnam & Thailand

AALP Class 16 is getting ready for a trip of a lifetime. The 26-member class will be departing Toronto on February 14 for their 14-day tour of Vietnam and Thailand. The group's International Study Tour (IST) will begin in Ho Chi Minh City, Vietnam's largest and most vibrant city, and will take them through Da Lat, Hanoi, Halong Bay, and then on to Bangkok, Thailand.

The theme of the IST is Political, Economic and Cultural Comparisons. During this study tour experience participants will:

Develop an in-depth understanding of agricultural trade, food safety and environmental issues in Vietnam and Thailand. Participants will gain a perspective on these countries' past, present and future with regards to the issues through detailed briefings/discussions/tours with leaders in industry, government and academia.
Gain an overview of agricultural production (e.g. practices, trends, issues) in Vietnam and Thailand. Farm tours and briefings to include agricultural commodities similar and different to those produced in Ontario.
Gain perspectives on other aspects of agribusiness important to and representative of Vietnam and Thailand that would be of value to class participants.
Gain perspectives on Vietnam and Thailand economies (currency issues, key industries, areas of growth, workforce), national issues, population, culture, society and history through tours/briefings.
Participate in several short cultural excursions.

The class will be blogging about their adventures on the AALP blog, make sure to follow along!
Recruitment open for Class 17

Registration is currently open for Class 17. The application process has been streamlined for this intake and can all be completed online.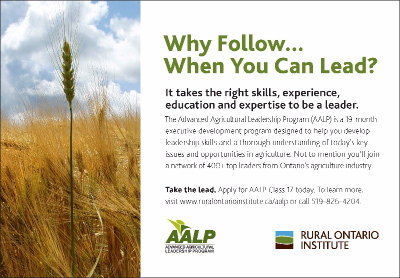 If there's someone you think would be a great fit for the Advanced Agricultural Leadership Program, we've created a referral email that you can send directly. Access the email here.

The online application will close March 17, 2017.
Reconnect with AALP alumni
Interested in coming to the AALP Class 16 Graduation on April 8, 2017 in London, Ontario?
Let us know
and we'll save you a seat.
Save the Date - William A. Stewart Lecture
We're busy working on the final touches for the William A. Stewart Lecture, the friend- and fundraiser that will kick off Class 16's final seminar in London, Ontario. The event will take place on April 6th at the Lamplighter Inn at 7:00 pm.
The keynote speaker for the evening is Kevin Stewart, from AGVISION Media.

Kevin has spent nearly thirty years researching the success habits of mavericks, disruptive thinkers, entrepreneurs, farmers, professional and Olympic athletes, authors and adventurists. He has compiled the traits of these disruptive thinkers and identified them as the Maverick Mentality which he will share during his keynote address.
The evening will also include a panel of Mavericks who will share how they're changing the face of agriculture. The three panelists will include
Dylan Sher
, a U of G Agriculture student who is making a documentary on food and farming entitled
Before the Plate
, as well as an AALP alumnus and current AALP class member (names to be determined).
We'll be in touch with the final program and registration information shortly.
ROI to offer new Soil Leadership course




The Rural Ontario Institute (ROI) is launching the Ontario Soil Network, a unique soil-focused leadership course that is being piloted in southwestern Ontario in 2017. The course will kick off in March and is open to 25 farmers who are currently working to improve soils and would like to develop their leadership and communication skills.

The program begins March 23-24, 2017, with the introductory workshop, and runs for 10 months. The course includes a monthly webinar, conference call or local meeting to offer resources and support. A great line-up of speakers, including Odette Menard, Lee Briese and Ryan Stockwell, along with Bernard Tobin, Kelly Ann McKnight and Don Lobb, are sure to inspire and challenge Ontario farmers to lead the way in soil health.
Apply now. Deadline for applications is February 28, 2017.
Alumni News
Lisa Thompson, MPP, Huron Bruce (Class 6) has been appointed the Official Opposition's International Trade Critic, as well as Indigenous Relations and Reconciliation Critic.
Aaron Breimer (Class 16) was featured in Ontario Farmer. (January 31, 2017, page B5).
Dianne Brekelmans (Class 16) was profiled as part of Ontario Pork's Farmer Profiles series. Farmer Profile: Dianne Brekelmans
Megan Veldman (Class 16) and her family were profiled for their use of social media in Ontario Farmer (January 3, 2017, page A9).
Ryan Brown (Class 11) has been named General Manager of Turkey Farmers of Ontario.
Kelly Duffy (Class 14) has been elected as Chair of the Agricultural Adaptation Council.
Mark Reusser (Class 4) was elected to the position of Vice President, Zone 9, Dufferin, Waterloo and Wellington, of the Ontario Federation of Agriculture.
Peggy Brekveld (Class 12) was elected to the position of Vice President, Director-at-Large, of the Ontario Federation of Agriculture.
Matt Langford (Class 13) attained a Master's of Business Administration degree in the Sustainable Commerce program at the University of Guelph.
Greg Haskett (Class 11) was featured in Ontario Farmer (July 5, 2016 page B19).
Jennifer Wilson (Class 8) named Citizen of the Year by the Chatham-Kent Chamber of Commerce.
Tim Schinkel (Class 11) recieved the Agricultural Innovator of the Year Award from the Chatham-Kent Chamber of Commerce during their Rural Urban Awards dinner.
Spring facilitation skills workshops

Interested in enhancing and honing your facilitation skills? Check out the practical facilitation e-courses noted below. Each course is a four-week online learning experience, requiring just a few hours each week. It is self-paced and sure to fit your schedule.
Making Your Good Stuff Better© May 1 – 26, 2017
Are you called on to lead meetings or workshops? Do you often wonder if the sessions could be more productive? Do you sense that your time could be better spent? If these questions resonate for you (whether you consider yourself a facilitator or not), then it is time to take your facilitation basics to the next level. This practical, online course will help you run sessions that are more effective and engaging.
Off the Rails but Still On Track© May 29 – June 23, 2017
This practical e-learning experience is designed to help you become more agile, equipped and confident as a process facilitator when things in a meeting go very differently than you expected — and they will!
For more information and to register go to: http://sage-solutions.org/training/e-courses/
Thank you to all past AALP sponsors.
A program of the Rural Ontario Institute (ROI)