Youth Engagement Showcase videos launched

Short documentaries featuring four youth from rural Ontario were unveiled at the Rural Ontario Institute's (ROI) 6th Annual General Meeting, held on Tuesday, June 14, 2016.

The videos profile Eric Duncan of Winchester, Emily Morrison of Beaverton, Megan Raftis of Harriston, and Branden Trochymchuck of Thunder Bay. These youth were chosen from almost 50 nominations for the first Youth Engagement Showcase (YES). Videos of their accomplishments were created to highlight rural youth making a difference in their communities.

Watch the videos here.
ROI appoints new Directors

Fresh off the heels of another successful Annual General Meeting (AGM), ROI is proud to announce two new Directors to the Board. The board welcomes Joanne Hyde (Dufferin County) and Joe Dietrich (Bruce County). We look forward to working with both Joanne and Joe over the coming months.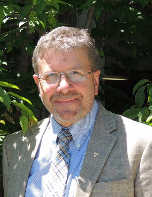 Rob Hannam, Janet Horner and Rob Gordon completed their terms on the Board and were recognized for their contributions during the AGM.

MRCV Update
Three community partners selected
The Measuring Rural Community Vitality project is moving forward with work focused on the theme: Showcasing Effective Measurement Approaches. Three rural communities across Ontario: Dufferin County; Huron County; and Northumberland County, have been selected as partners to collaborate with the ROI on a case study, "Engaging Newcomers: Building Social Capital in Rural Communities" to be completed in 2016.
The three selected communities will benefit from access to ongoing collaboration and knowledge transfer opportunities and will receive consulting services provided by Platinum Leadership Inc. to assist with their community case study.

Read more here.
HCIA Newcomer Engagement Project kickoff
Headwaters Communities in Action (HCIA) and ROI launched the Newcomer Engagement project at the beginning of June. The project dives into best practices for translating Community Well-Being assessments into on the ground programs and action.
The kickoff event on June 1 featured Bryan Smale, Director of the Canadian Index of Well-Being (CIW) and Professor at Waterloo, who talked about the index and measurement for rural communities. The CIW is the key measurement in the Ontario Trillium Foundation's funding strategy.
AALP embarks on North American Study Tour

The Advanced Agriculture Leadership Program (AALP) Class 16 left for the North American Study Tour (NAST) on Sunday, July 3. The theme of this year's tour is: Understanding Canadian/American Relations – varying approaches to agriculture, trade, development, resource and social policies. The class will travel to various venues in Quebec and then head to the U.S. to take in a number of events scheduled in and around Washington DC, including a tour of the Canadian Embassy.

Follow along on the blog, and watch the AALP Twitter and Facebook pages for updates from the class!
Report looks at rural social enterprise in Ontario
Rural Social Enterprise Constellation (RSEC) collaborators have created The RSEC Learning Report which describes the groundbreaking RSEC project (2012 - 2015). The report shares the accomplishments, voices of rural stakeholders, key learning, and most significantly, insights for action: ways to continue building the capacity of rural and northern nonprofits to strategically engage in social enterprise and provide leadership in the larger social enterprise sector.

RSEC has operated as a provincial working group of the Ontario Nonprofit Network. It is an evolving and growing group of nonprofit organizations and individuals in regions across the province. For more information about the project or report, contact Paul Chamberlain, Ontario Regional Director, Canadian Community Economic Development Network (CCEDNET), 416-760-2554 | pchamberlain@ccednet-rcdec.ca.
New ROI website unveiled
The Rural Ontario Institute is very pleased to announce the launch of our revamped website. The site boasts a fresh, streamlined look that enhances user friendliness and appeal.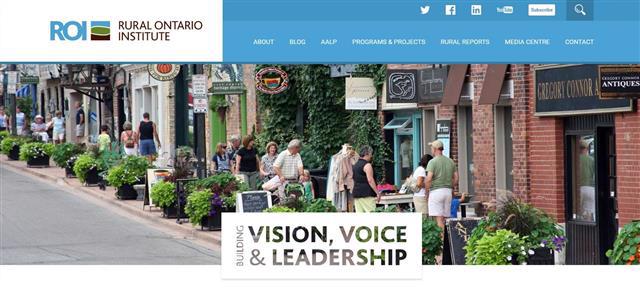 Some of the new features include:
User-friendly: we've made sure the content is well organized so you can easily find the information you need a lot faster.

Easy navigation: pages have been optimized so the information is where you expect it.

Valuable and timely information: content is fresh and informative.

Social media integration: enhanced to include our social media platforms.

Mobile-ready version: we now offer a mobile-friendly version of our site.
One of the more noticeable changes is the integration of the Advanced Agriculture Leadership Program (AALP) into the ROI site. As AALP is a well-recognized ROI program, we hope the move will make it easier for people to find and access information about the program.

We hope you find the new website easy to use!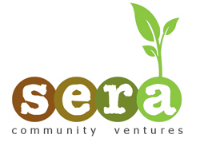 Community venture workshop participants needed

Do you run a business that positively impacts your local community and/or environment? Are you running a rural non-profit in any stage (early to mature)? Do you want more skills, tools, resources and capacity-building to help your rural community venture? Do you currently operate your venture in a rural community in or East of the Kawartha Lakes?
If you answered yes to any of these questions, please consider participating in a SERA [Social Enterprise Rural Alliance] Community Ventures project. We want participants from rural communities to be a part of a series of workshops to determine and support the context-specific resources and tools you need to start or grow your community venture.
SERA Community Ventures has successfully developed tools and created resources that have been instrumental in improving the economic and social climate of our own rural community. SERA CV's program and approach have been effective in the development of successful local community ventures. We want to bring the tools and experience we have developed to other small rural communities that face similar barriers to economic and community development.
Please email
Jodie Baker
, or call 705-432-2444 (ext. 244).
Save the Dates
August 4, 2016
The Surprising Lives of Small Town Doctors: practicing medicine in rural Canada webinar. Presenter: Dr. Paul Dhillon. Thursday, August 4, 11:00 am. This is the third webinar in a series from the Rural Policy Learning Commons (RPLC), in conjunction with RPLC Partner Institution: Rural Development Institute Brandon University. To attend, please RSVP: blatherwickm@brandonu.ca.

August 9 & August 14, 2016
XIV World Congress of Rural Sociology 2016 - Congress Delegate Tours. Several tours have been arranged to provide delegates an opportunity to learn more about farming and food centres within the greater Toronto area as well as experience the Niagara Wine Country. Half day tours offered Tuesday, August 9. Tour 1: City and Community Food Centres; Tour 2: Downtown East: Gardening Across Ages and Cultures. Full day tours offered Sunday, August 14. Tour 1: Changing spaces for farming and gardening; Tour 2: Niagara Wine Country Tour.

September 26-30, 2016
The inaugural Community Change Institute is designed to be a truly transformational learning experience, with the latest information about community change from top speakers, an amazing faculty and over 40 workshops.

September 28-30, 2016
R2R: Rural Talks to Rural. Rural innovators will gather to share success stories, examine the challenges of rural development in general and specific terms, and add tools to the toolbox that contribute to making rural communities stronger. Speakers and panelists will have demonstrated a rural commitment, will have tackled a rural issue, and will have successfully problem-solved in moving the rural story forward.

September 30-October 12, 2016
ROI/AALP Alumni & Friends Hungary and Romania Tour. Don't miss your chance to explore Hungary and Romania, two of the most scenic, historic and agriculturally bountiful countries in Eastern Europe.

October 12-15, 2016
Building Vibrant Rural Futures - Knowledge Mobilization and Informing Policy conference, co-hosted by the Canadian Rural Revitalization Foundation (CRRF) and the Rural Policy Learning Commons. The conference invites presentations on how community organizations, policymakers, and researchers are mobilizing knowledge to inform policy and build vibrant rural futures.

October 27-30, 2016
Symposium '16 for Performing Arts in Rural Communities (SPARC). Attracting a broad spectrum of rural performing arts creators, producers and animateurs. Held at the Pinestone Resort & Conference Centre, Haliburton, Ontario.

November 2-3, 2016
Grey County AG 4.0: The Next Big Thing. Focus on the creative technological innovation in agriculture. Register on Eventbrite.

December 1-2, 2016
Pathways to Prosperity Partnership will hold its Fourth Annual Conference at the Westin Hotel in Ottawa on Thursday and Friday December 1–2, 2016, with a full-day Preconference Workshop on Wednesday, November 30, 2016.
Stay connected!
Share your stories and events with us!
Send in any upcoming events/notices that could be of interest to the rest of the community to admin@ruralontarioinstitute.ca.

| | |