If You've Never Used a Pet Sitter or a Dog Walker

Read this FREE report on The 10 Things You Must Know Before Hiring a Pet Sitter or Dog Walker!



The DogSmith Services




Pet Sitting, Dog Walking & Dog Day Care Services
Voted #1 Pets' Favorite Caretaker by Dogs & Cats

The DogSmith Pet Care Program gives you the flexibility to care for your pet and reclaim your freedom. Yes you CAN leave home without them! All our pet care providers are certified Pet Care Technicians and are fully insured and bonded.

Why you should use The DogSmith - View a comparison chart of pet care services



With the DogSmith's Pet Care Program you're never torn between the demands of your job, social life or family and the needs of your pets.
Busy with work or family? DogSmith Pet Care Programs offer a wide range of solutions for your busy life.
Away from Home? Choose the Pet Care you need, whenever you need it.
Need extra care? We offer additional V.I.P treats to pets and their owners
See a full list of all our DogSmith Pet Care Services or View the DogSmith Pet Care Brochure.
DogSmiths Out & About
January 27-30 Annual Chautauqua Assembly
Come see The DogSmith at the Historic District of DeFuniak Springs during this annual 4-day event. The Annual Chautauqua Assembly combines history, theater, music, arts & crafts and more. Featured Keynote Speaker will be Celine Cousteau, Filmaker and Granddaughter of Jacques Cousteau. For details, click the link above or call the Florida Chautauqua Center office at 850-892-7613.





Dear Subscriber,

Welcome to 2011 and a Happy New Year from The DogSmith team.

The first quarter of the year is a busy time for DogSmiths. Many of our clients have new four legged family members and are looking for us to "help dogs become family!" We thought this would be a good opportunity to also encourage those of you with older dogs to attend a training class, the weather is perfect for outdoor activities. It is never too late to teach your best friend some new tricks or tweak your dog's obedience skills.
Check out our group training page that shows all the open dog training classes and if you have a puppy then get them signed up for one of our FREE puppy socialization classes. Happy Training!

Like humans, reinforcement is something a dog values and will work for. This could be a toy, petting or a piece of food. Reinforcers that animals naturally like and don't have to learn to enjoy, are called primary reinforcers. Reinforcers that dogs are conditioned (learn) to enjoy, like toys and balls, are called secondary reinforcers. Dogs are natural predators and are energy efficient and like most animals, will do things (exhibit behaviors) to get what they value. Contrary to popular belief a dog's primary reason for existing is not to simply please us. When teaching any student, human or animal, we first need to understand how to motivate them and make their learning worth their while. Not all behaviors are worth the same reinforcement. When teaching a dog complex behaviors you need to pull out the big guns; the really yummy treats. Whereas a simple 'sit' may only warrant a small treat.read more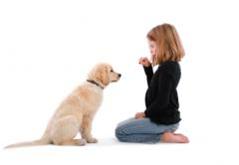 Sign up with The DogSmith for a FREE telephone consultation.
We are happy to spend a few minutes with you on the phone so you can learn more about The DogSmith® and we can learn more about you and your pets. We can create a dog training program or a personalized pet care program tailored to meet the needs of you and your pets.
Fill out the form here and a DogSmith® will contact you.
The DogSmith of Palm Beach County is Growing!
To meet the growing demand for her unrivaled dog training and pet care, Rachel Williams, owner of The DogSmith of Palm Beach County, has partnered with Susan Barton, Certified DogSmith Dog Trainer, to expand her operations into Hobe Sound, Jensen Beach, Palm City, and Stuart, Florida. Effective February 1, 2011, the animal lovers in these cities will have access to the same exceptional customer service and professional expertise that Palm Beach County has enjoyed since The DogSmith opened.
Regards,

Niki Tudge
The DogSmith