IN THIS ISSUE

The DogSmith Arrives in Texas
DogSmith Franchise Services proudly announces the Grand Opening of its newest DogSmith, providing unrivaled Dog Training and Pet Care Services to North Tarrant County, Texas.

The DogSmith of North Tarrant County services the communities of Colleyville, Southlake, Keller, North Richland Hills, Hurst and neighboring areas.

The DogSmith of North Tarrant County is locally owned and operated by Virginia and Randi Kamper, certified DogSmith Dog Trainers who have extensive experience in animal care, business operations and customer service.

Summer is Here. Protect Your Pets From the Heat.


Summer is when dogs are most at risk of. A dog's normal body temperature is 100°F to 102.5°F but, unlike humans, dogs do not have sweat glands throughout their skin. Their only methods for cooling include limited sweat glands on the pads of their feet and nose, and panting. Both of which are inefficient at cooling their body temperature in extreme situations. If a dog cannot effectively dissipate heat, their internal body temperature begins to rise. Once the dog's temperature exceeds 104° damage to their body's cellular system and organs may become irreversible. With heatstroke the cells literally cook.

Have you ever said to yourself "I'm just going to run into the store for a minute, my dog will be fine in the car?" Well, including the time to walk to the store from your car, shopping, and checkout, a minute is never just a minute. A study by the Animal Protection Institute showed that even moderately warm outside temperatures can quickly lead to deadly temperatures inside a closed car. In just a few minutes the internal temperature of a car can easily reach 40° higher than the outside temperature even if parked in the shade with the windows cracked open. Being left in a car is the number one cause of heatstroke in dogs.
Dear Subscriber,
Welcome to the June edition of The DogSmith newsletter.

'Drop-In' Training Classes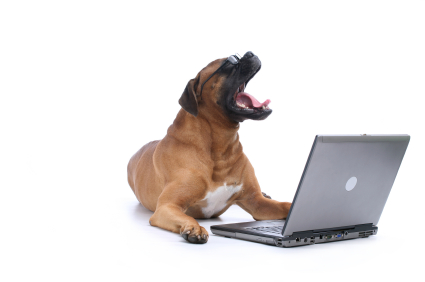 On the DogSmith website, courses denoted by (*) are eligible for "Drop-In" enrollment. "Drop-In" enrollment allows you to register and pay for a course while giving you the flexibility to complete the 8 classes over a 5 month period by attending any of a number of scheduled "drop-in" sessions that fit your schedule. You will be given a "drop-in" class card that describes the necessary skills required for your course and provides a record of competency level achieved for each skill. Check with your local DogSmith to find classes eligible for "Drop-in."
Register today for a 'Drop In' class in your location

DogSmith Specialized Classes
Why pay to learn obedience skills you don't need?

At The DogSmith we have designed specialized classes around particular skills that people want to learn. These classes focus on just that skill. Classes to help you with leash walking, developing a reliable recall behavior and we even have a class designed for grumpy dogs. Contact your local DogSmith and talk to them today about a course that may meet your needs.
Learn more about our specialized skill classes

Affordable Pet Insurance
What is Pet Insurance?
Pet insurance helps you pay for your pet's veterinary care. Hartville Pet Health Insurance offers increasing levels of protection that can cover your pet for accidents, illnesses, and wellness care. You can also get extra protection for ongoing conditions.
Why do I need it?
The cost of veterinary care is rising, especially as more sophisticated treatments become available for animals. Hartville Pet Health Insurance can help you manage these costs so you'll always be able to give your pet the best care possible.
How does it work?
It's easy! Take your pet to any vet in the US or Canada and pay for the services. Then fill out a simple claim form and mail, fax, or email it with your receipts. You can track the status of your claims conveniently online at the free Member Center.
How much will I be reimbursed?
Hartville Pet Health Insurance reimburses 80% of usual and customary covered charges after a low $100 deductible that only needs to be met once a year. Usual and customary covered charges are costs that are considered reasonable for your geographic area.
Why choose Hartville?
You'll enjoy affordable coverage plus easy claim filing from the ASPCA's only strategic partner for pet health insurance. You also can save 10% with a multiple pet discount!** They are committed to pet health, so they offer two levels with wellness coverage. Level 3 helps pay for essential wellness care, while Level 4 covers an even wider range of treatments.
How do I get started?
Learn More
The summer is here and many of us will be traveling. There are ten things you need to know before you choose your pet sitter or dog walker. Read more