Dear
Welcome back to another issue of Ozbreeds Landscape News.

Spring is here which means Summer is on it's way, so read our 'Is the Drought Back?' article so you are prepared for the heat our Australian summer brings.

As you will see below, Ozbreed now has a Facebook page.
Check it out here.

Regards,

Beck Dutschke
Editor
Tanika turns 10.

Thats right, our Lomandra Tanika is 10 year's old in 2012. Tanika has proven to be one of the toughest and most reliable landscape plants over the last decade. Full article
Is the Drought back?

After a somewhat wet and cool summer, followed by an unseasonably dry winter, the age old question of 'Is a drought coming' has reared its head again. See full article
Microscopic Buffalo Photo's.


Have a look at these amazing microscopic photo's of buffalo turf varieties. It clearly shows why the old style buffalo is so scratchy compared to the newer varieties. And it shows that some soft leaf buffalo varieties arent all that soft leaf when under a microscope. See full article
A new 260ml Tube.

Are you looking for a cost effective way to grow your Shrub & Ground Cover & Hardy Exotics Range plants without jeopardising the establishment process. See more information
Why are Zoysia's better than Buffalo?


Zoysia is a much better choice than Buffalo for most Australian landscapes and home lawns. Empire and Nara are lower maintenance, more drought tolerant. See full article

Turf erosion control.



Turf is proving itself to be an effective way of minimising and controlling surface erosion.
See full article and research.
Ozbreed is on Facebook


We have come into the 21st century and joined the social media craze.


Like

us on facebook today.






Plant Profile:
NARA™ Zoysia macrantha 'MAC03' PBR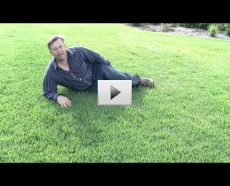 Not only is Nara Australia's only native turf,

research has shown Nara responds well to fertilising in winter and gives it a better winter colour, keeping your landscapes greener throughout the colder months

.
Full article.

Click here to see full sized video