Dear
Welcome to our first newsletter for 2013.


This issue we have some great new photo's from Todd Layts trip to New Zealand earlier in the year, plus as a follow on from last issues Playground Mulch article we have a new article on Soft fall landscapes.

Also good news, we have a new New Zealand catalogue.

Hope you enjoy this issue and find some helpful information.

Kind regards,

Beck Dutschke
Editor
Soft Fall Landscapes

In the last issue we had an article on winning at the Kidsafe awards for our Playground Mulch trials. Since then Katrina Layt from this office has been helping out at the working bees, ozbreed has been donating plants toward more trials and a new paper has been written on Soft fall landscapes for playground areas. Read more
Ozbreed's New Brochure


We have a new and updated brochure for our Landscape Professionals.

The new brochure is full of new plant varieties, existing plant varieties, photos, a Quick Plant Selection Guide and plenty of information.

Click here to download a PDF version (8MB).


  

  
City living to get more hot and bothered


We have been talking about heat on surfaces for sometime now, here is an article on how our cities will become more hot and bothered in the future.

Read article


  

  
Introducing you to Archoncad


Archoncad is the premier provider of Vectorworks training. Although based in New Zealand, they provide training to clients worldwide through manuals, online training, and special interest group sessions for landscapers. The special interest group is ideal for landscapers to learn from others.
Ozbreeds new 3D graphics have been put into Vectorworks by Archoncad.
Read More


Plant Profile: Grey Box
™ Westringia fruticosa 'WES04' PVR
A very compact Australian native, perfect for New Zealand. 

Grey Box™ is drought and frost tolerant and is great used for hedging along with other uses for  your next landscape project.

Read more about Grey Box™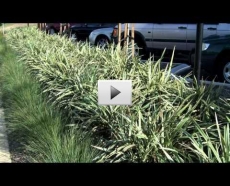 Plant Profile:
Tasred™

Dianella tasmanica 'TR20'PVR
Tasred™ dianella is tough adaptable and reliable, with beautiful foliage and purple berries.

It has great erosion control capabilities, strengthening the soil to 215%.

Click here to read more on Tasred™.