2014 DONOR HONOR ROLL
All Hands Boatworks is extremely grateful for the support from individuals, foundations, and organizations in 2014. 
Together, we are building our youth. 
Together, we are building more than a boat!

Anonymous Family Foundation
Janet Baker

Phil and Linda Baker

Alexa Bradley

Robert B. Brumder

Ann Brummitt*, in honor of Fran & Joe Durkin

Tom and Karen Daub*

Katherine Falk

Four-Four Foundation

Thomas and Mary Frank*

Michael Franks*

Pastor Ellsworth & Kay Freyer*

Glacier Lakes Chapter of the Antique & Classic Boat Society*

Glenora Company*

Jim Heyer
eter and Sue Hitler*

Martin Horning

Betsy Horsfield

Caroline Joyce*

Kiwanis Foundation (Mary Chyla Wish Fund)

John and Dixie Lowin

Thomas McGinn

Mequon-Thiensville Optimist Club, in memory of John Grasse

Catherine Miller

Allan Montezon and Stephanie Sandy

Colleen Mortonson*

William Nimke

Paul and Chris Oehler

Robert and Sonja A. Pavlik*

Prairie Springs: The Paul Fleckenstein Trust

Adam Rix*

Bryan R. Schultz

Susie Stein*

Tom Stock

WE Energies Foundation

Joseph Weisling

Weiss Family Foundation

Steve and Sarah Zimmerman
*new members in 2014
Carmen High School of Science & Technology
     This month, AHB is teaching one of the Intersession classes held between semesters at the Carmen High School of Science & Technology.  Ten students have been meeting each day for two hours to build a Bevin's Skiff.  The student-builders will earn 1/4 credit for the class.  AHB is assessing each student's learning in several areas:  1) measuring and math competency; 2) hand tool skills; 3) qualities of good workmanship - safety, focus, craftsmanship, and teamwork.  All Hands Boatworks would like to thank Dr. Patricia Hoben and her staff at the Northwest Campus for giving us this wonderful teaching opportunity.
Cass Street School Carpentry Club
(funded in part by MPS Partnership for the Arts & Humanities)
AHB's final building project with the Cass Street School "Carpentry Club" is the construction of a free little library house.  At this Boys & Girls Club site at Cass, students had to design a community service project as part of their "Lions Quest" program.  Once finished, the little library will be installed in Cass Park across from the school.  Since last October, the Cass carpenters have built tote boxes, cigar-box guitars, and model boats. 

If you are interested in bringing a "Builders Club" to your after-school program, please contact nick@allhandsboatworks,org, or  bill@allhandsboatworks.org.
 

Preparing Students for Skilled Trades and related STEM careers
    AHB is partnering with a consortium of educational leaders and building trades professionals to launch a pilot project that aims to create a new secondary school model for STEM/trades education.  The "Building To Learn" pilot project is a two-part program:  In part one, upper middle-school students from several urban and suburban district schools will take part in an eight-week, after-school "Builders Club." Part two will be a weeklong "Builders Camp" held at the Southeast Wisconsin Carpentry Training Center in Pewaukee. 
     Interest in the "Building To Learn" project is strong.  Currently, there is one opening remaining for another participant school for the first round of programming.  If you are interested in further information, please contact:
         Danny Goldberg, dannygoldberg77@gmail.com
             Bill Nimke, bill@allhandsboatworks.org
     Members of the Building To Learn consortium currently represent the following:  Southeast Wisconsin Carpentry Training Center, CG Schmidt Construction, Messmer Catholic Schools, University Laboratory School, Northern Ozaukee Schools, Alverno College, and All Hands Boatworks.
Snapshot of Success
by Nick Montezon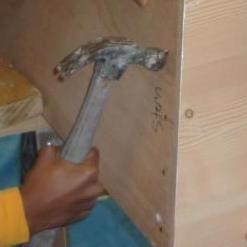 This is a story about an interaction I had with a student. It is toward the end of a class, and we are attaching frames to the side of the boat using particularly long nails. The student was having trouble sinking the nails in the boat -- they kept bending and breaking.

     After breaking three or four nails, she became discouraged. She said she couldn't do it and that she was breaking the boat. I just continued to pull out the bent nails and gave her new ones. After more than 20 broken nails, we were able to attach all of the frames, and she was able to swing a hammer with force and confidence.

     She had started our class having no experience or skill, but over the course of 15-20 minutes she discovered a new way she could be successful and she began to re-imagine her expectations of herself. When we started working and she became frustrated, I started to tell her a story to encourage her, and as I told the story I began to understand the narrative as well. I began to tell her that the whole point of our boat building program was to hit a nail with a hammer, bend it, break it and pull it out, then try and hit it in again. That we wanted students to try something that is challenging, to make mistakes, and then to learn and continue trying. That there's nothing you can't build or learn if you are willing to keep trying, keep making mistakes, and not be discouraged by your mistakes.

     One of the larger lessons I've learned in the past three or four years is this paradox that failure is crucial to success. And this reinforced the idea that mistakes are an inherent part of learning something new and worthwhile.
Nick Montezon currently is serving All Hands Boatworks as Youth Programs Coordinator in conjunction with the Milwaukee Public Allies Apprenticeship Program, an AmeriCorps national program.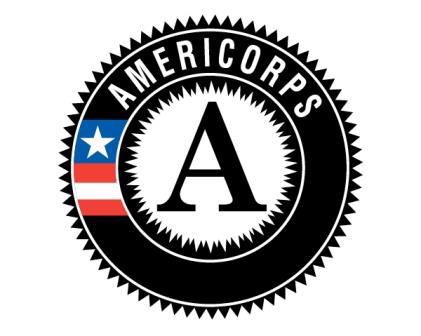 We are recruiting
and hiring!

Are you interested in helping young people
succeed and grow?
Are you a retired teacher who is, frankly, un-retire-able?
 Do you enjoy working with your hands?
Are you a master craftsperson, a novice,
or somewhere in between?
Volunteer Instructors -- AHB is looking for Volunteer Assistants for our programs and operations. Volunteer Instructors work alongside our Lead Instructors in our educational boatbuilding and after-school builders' clubs. The instructor/student relationship is a cornerstone of our programs and can be a very gratifying experience. We ask for a regular commitment (certain days or times of day) so that we can integrate you into the program and make you part of some meaningful work.
     Qualifications:
         *  Prior experience teaching or mentoring youth,
              or a  sincere desire to do so
         * Handy with tools
         * Able to lift 25-50 lbs.
         * Provide own transportation
         * Willing to submit to a state background check
Graphics Design / Website Management – Looking for a volunteer with graphic and design skills to help maintain a website and develop marketing materials.
Special Projects and Events – Volunteers are needed periodically to help with large mailings and special events such as "Float Your Boat Day."
Lead Instructors -- AHB is now accepting applications from individuals who are interested in being trained as Lead Instructors. A Lead Instructor receives a stipend per program. Two instructors conduct each program, which typically lasts 30-35 hours.
Please email Bill Nimke for further information and an application form.
Clean out that Basement and Garage
Help us equip Milwaukee's youth boat builders.  AHB is looking for donations of the following tools and equipment for our programs:
Power Tools (Must be in good working order)
14v Power Drill Set (with a battery that can hold a good charge and a charging station)
Belt Sander, 3"x21" belt or larger
Orbital Sander, any size
Jig saw
Hand tools (a little rust is fine, we are happy to clean up old tools)
Hammers, 12 ounce or larger, claw hammers
Pull Saws, or other small hand saws.( No broken teeth)
Coping Saws, or coping saw blades
Cross Cut Saws
Wood Files
Block Planes, Low angle. small, medium, or large. (Dull blades are fine, we will sharpen)
Measuring Tools  (no rust, accuracy is a must)
T-Squares, 3-4 feet long
Sliding Combination Squares, 6-12 inches long
Framing Squares
Metal straight edge rulers
Tape Measure, read to 1/16 of an inch, 12 feet or longer
Bevel Gauge/Angle Finder
Chalk Line Clamps (a little rust is fine)
C-clamps 3-6 inches
Bar Clamps 6-24 inches
Squeeze clamps, small or medium
Portable shop vac
Boat Building "Fashion":
     Safety Glasses, dust masks, ear protectors
     Old Tool Belts, large and small
     Work Aprons , to keep glue off of kids clothes
     Oversized shirts (clean, preferably XL shirts to cover   
     students' pants as well) 
IN THIS ISSUE

Thank You to Donors

We are recruiting and hiring

Carmen High School Intersession

Builders Club at Cass School

Skilled Trades and STEM Career Prep

Snapshot of Success

Wish List

Grab an Oar, Get Involved


SUPPORT US




Please help us to build all youths, especially those whose lives are harder than we can imagine, to develop the skills, perseverance, and hopefulness
to succeed and grow.


GRAB AN OAR!
YOU can help BUILD All Hands Boatworks
by getting involved.
FORWARD THIS NEWSLETTER --
friends, teachers, youth workers, business sponsors...
VISIT one of our Building To Teach
"in-residency" projects.
DONATE to support our youth.

PARTICIPATE on the Education Programs Committee

VOLUNTEER to be trained as a boatbuilding educator or help behind-the-scenes.
Let's start a conversation. 
We'd love to hear from you!
Contact:
Bill Nimke, Founder
bill@allhandsboatworks.org
(262) 290-0228
CONTACT DETAILS

All Hands Boatworks, Inc.
1845 N. Farwell Ave.,
Suite 100
Milwaukee, WI 53202
Phone: (262)290-0228
For all inquiries, 
please email -  
 

bill@allhandsboatworks.org



All Hands Boatworks is a member of the Teaching With Small Boats Alliance.

All Hands Boatworks is a certified Building To Teach trainer.

All Hands Boatworks, Inc. is a tax-exempt charitable organization under sections 501(c)(3) and 170 of the Internal Revenue Code.