All Hands Boatworks, Inc. receives 501(c)(3) status
All Hands Boatworks has taken another big step forward, as it was recently notified by the IRS that AHB is approved as a tax-exempt charitable organization under sections 501(c)(3) and 170 of the Internal Revenue Code. This followed an eight-month application and review process. "We couldn't be more pleased," said Bill Nimke, founder of All Hands Boatworks. "This IRS status is a very important recognition of our mission and the work we are doing to develop and guide at-risk youth throughout our city."


Boatshop on the Road

Are you interested in:
> S.T.E.A.M.-based projects for existing curriculum
> Starting an after-school boat building/carpentry club
> High school service learning projects
>Team-building and leadership development
>Intergenerational projects with youth and adults
> Family boat building

All Hands Boatworks brings its "boatshop on the road" to YOUR location. AHB can work with you to integrate
hands-on projects and activities with existing school curricula or be a stand-alone after-school, summer, or
even family project. AHB will design a program that compliments your scheduling and youth needs. Some boats can be built in a week; others over several months.
All Hands Boatworks is seeking to partner with a limited number of schools, after-school programs, and other community organizations during the 2014-2015 school year.
Financial assistance is possible.
Available Projects:
Building the 12' Bevin's Skiff
Building the 12' Echo Bay Dory Skiff w/sail
Building the 15' six-hour canoe
Building the 22' St. Ayles Skiff*
Scale Model Boat Building
Building the Cigar-Box Guitar
*all of the above projects are suitable for 5th grade and up,
except the St. Ayles Skiff for teens and adults.
Contact All Hands Boatworks today for more information:
Bill Nimke, bill@allhandsboatworks.org or 262-290-0228
~ building more than a boat ~
Float Your Boat Day!
Pride and craftsmanship were on display at All Hands Boatworks' celebration launch on May 19. The celebration featured 11 wooden rowing boats that were built during the past year by Milwaukee youths from different schools and after-school programs. Also on display were two 15-foot canoes: one that was built by young men from the Nehemiah Project group home, and another that was built for AHB's family boatbuilding workshop.
The celebration and launch took place on the Milwaukee River at the Milwaukee Rowing Club. AHB is grateful for the support of the Milwaukee Rowing Club and also the MPS Partnership for the Arts & Humanities. Participating groups:
South Division High School CLC
Silver Spring Neighborhood Center CLC
Daniels-Mardak Boys & Girls Club
The Mary Ryan Boys & Girls Club
Bay View Middle and High School
El Puente High School
Escuela Verde
Gaenslen Elementary School
The Nehemiah Project
Family Boat building returns to Lynden Sculpture Garden
Two weekends, Saturday & Sunday
June 21-22 and June 28-29, 9 am - 4 pm
All Hands Boatworks returns to Lynden Sculpture Garden in June for its second family boatbuilding workshop. This time, we're offering participating teams a

choice of two

 boats to build: the 18-foot Peace Canoe or the 15-foot Six-Hour Canoe.



Model              Length      Beam      Hull Wgt.      Payload


Peace Canoe       18'           44"         100 lbs.       600 lbs.


Six-Hour Canoe  15' 3"      31 1/2"      70 lbs.        225 lbs.
Both canoes are well-suited to first-time builders. Both have elegant lines, but each one has its distinct features.
The Peace Canoe is a durable workhorse; according to its designer: "with a payload of 600 pounds, it will easily absorb a family of five and a hearty picnic lunch."
The Six-Hour Canoe is a light-paddling craft,
easily carried atop a vehicle, and well-suited for
solo outings on lazy waters.
Fee:
Six-Hour Canoe: $550/$499 LSG or AHB members
Peace Canoe: $899/$835 LSG or AHB members
This is the fee for a team of two, and you keep the boat you make. Fees include all lumber, glues, fastenings, and a clear coat sealer. Tools will also be provided, but participants are welcome to bring their own. Participants will provide their own paints/varnish (to be finished at home) and oars. 
No previous experience necessary.
Registration: This workshop is ideally suited for one adult and one child (ages 10-17) or two adults. Space is limited to four teams. Advance registration and payment in full is required.

http://lyndensculpturegarden.org

IN THIS ISSUE

501(c)(3) status approved

Boatshop on the Road

Float Your Boat Day!

Bay View School launches "Redcat"

Family Boatbuilding Workshop

Survey


THANK YOU!







Work truck
donated to AHB

All Hands Boatworks finally has a  worktruck for its "boatshop on the road" programs, thanks to the generosity of founding member Betsy Horsfield. The used GMC Suburban served her well for many years, hauling its share of kayaks and bicycles on many oudoor adventures. Now the truck will bring educational boat building projects to youths throughout Milwaukee!
Thank you, Betsy!
Watch video of 
"Redcat" launch
Students, staff and partners at Bay View Middle and High School celebrated the launch of a Bevin's Skiff constructed by 8th-grade students as part of a collaboration involving the school, Artists Working in Education, Inc. and All Hands Boatworks, Inc. The project was supported by the Greater Milwaukee Foundation's Mary L. Nohl Fund and WaterStone Bank. The boat was christened the "Redcat" and launched into the lagoon at Humboldt Park, a Milwaukee County park close to the school. Click on link below.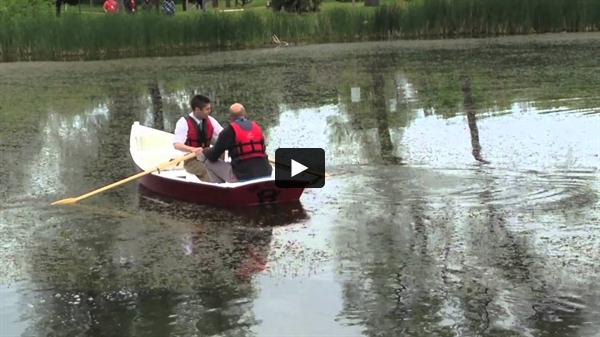 GRAB AN OAR!
YOU can help BUILD All Hands Boatworks
by getting involved.
TELL OTHERS ABOUT US --
friends, teachers, youth workers, business sponsors...
VISIT one of our Building To Teach
"in-residency" projects.
DONATE to support our youth.

PARTICIPATE on the Education Programs Committee

VOLUNTEER to be trained as a boatbuilding educator or help behind-the-scenes.
Let's start a conversation. 
We'd love to hear from you!
Contact:
Bill Nimke, Founder
bill@allhandsboatworks.org
(262) 290-0228


CONTACT DETAILS

All Hands Boatworks, Inc.
1845 N. Farwell Ave.,
Suite 100
Milwaukee, WI 53202
Phone: (262)290-0228
For all inquiries, 
please email -  
 

bill@allhandsboatworks.org



All Hands Boatworks is a member of the Teaching With Small Boats Alliance.

All Hands Boatworks is a certified Building To Teach trainer.

All Hands Boatworks, Inc. is a tax-exempt charitable organization under sections 501(c)(3) and 170 of the Internal Revenue Code.