Alpha Rho Chapter Wins The Eyes of Texas Campus Tradition Award

Alpha Rho Chapter at the University of Texas at Austin won possibly the most prestigious (and mysterious) award at the University of Texas - "The Eyes of Texas Campus Tradition Award." The annual award is given to only two student organizations and is selected entirely by The Eyes of Texas, a secret society founded on the UT campus in 1975. Members of the society are campus leaders who anonymously serve The University of Texas at Austin campus. 
IMPORTANT CHAPTER REMINDERS

The spring semester is almost complete and summer break is just around the corner! Do yourself and your chapter a favor and tie up any loose ends before the semester closes.The following is a list of chapter business items your chapter needs to complete in the Officer Portal before closing shop for the summer:

Submit and pay for all recent pledge and initiates added to your chapter profile.

Update officers 

Report graduating seniors

Pay balance on outstanding invoices

Finish 2014 Charter Reaffirmation and pay AAMDs

Complete project reports for National Service Week and Spring Youth Service Day

If your chapter has a December 31 year end, complete the required reporting to the IRS by May 15. 

Submit your COE/PPOE Application before July 31! Click here to learn more about the COE/PPOE Application Process
Remember, the items listed above impact your chapter's good standing with the Fraternity. With the National Convention coming up this December, it is important that your chapter stay ahead of chapter business to keep from scrambling next fall. Contact the Alpha Phi Omega National Office at 816-373-8667 with any questions or concerns you have regarding the items listed above.
COE/PPOE Applications Due in Chapter Officer Portal by 7/31

Mu Zeta Chapter,
2012 PPOE Award Recipient
Chapter of Excellence (COE) and Pledge Program of Excellence (PPOE) awards recognize those chapters whose programs of Leadership, Friendship and Service promote growth, retention and stability for the active chapter, while providing a positive, inviting and educational environment for prospective and new members. Recipients of this year's award will be recognized at the 2014 National Convention in Chicago.
Before submitting your application, please ensure all requirements are filled out and submitted through the Chapter Officer Portal before completing the COE/PPOE Application. Any missing requirements will result in a failed submission. Applications MUST be complete and submitted on or before July 31 in order to be eligible.

Earn your Membership Academy and Membership University Diploma!!!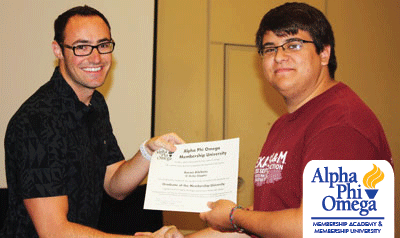 Brother Jeremy Thatcher hands Brother Aaron Kitchens his diploma at the 2013 Membership University in St. Louis, Missouri.
There are still plenty of seats available at the Membership Academy and Membership University locations in May, June and July! For only $35 (which covers food, lodging and supplies) you get an amazing program packed with information and the opportunity to hear from other chapters with similar membership challenges and experiences! Still not sure if it's worth the $35 and the time? Check out these testimonies from Membership Academy and Membership University graduates...

Laura, 2013 Membership University Graduate
"It is definitely a must for large chapters. There were great take aways to bring back to my home chapter and it was an amazing opportunity to get feedback and opinions from other chapters struggling from the same thing. It is a great experience and extremely informative!"

Annemarie, 2011 Membership Academy Graduate
"Can I just say a HUGE thank you to the staff of this Membership Academy and to all of the help that has been given to Alpha Phi Omega - Psi Omega? Our rush just finished and on Thursday, we'll have a total of 9-10 pledges! More than double than in the spring and the largest class in years!"

Click here for more information on upcoming Membership University weekends...

Click here for more information on upcoming Membership Academy weekends...


Upcoming Deadlines and Events


MAY


05/01: John Mack Scholarship Application Deadline
05/01: Fall Pledge Class Namesake Honoree Nomination Deadline
05/01: Spring Youth Service Day Reporting Deadline
05/11: Mother's Day
05/16-18: Sectional Chair Academy, Cincinnati, Ohio
05/26: Memorial Day
05/30-06/01: Membership Academy, Austin, Texas
05/30-06/01: Membership Academy, Kansas City, Missouri



JUNE


06/06-08: Membership Academy, Greater DC Area
06/06-08: Membership University, Greater DC Area
06/06-08: Membership Academy, Indianapolis
06/15: Father's Day
06/20-22: APO LEADS Serve, Detroit, Michigan
06/20-22: APO LEADS Serve, Houston, Texas

JULY
07/04: Independence Day
07/18-20: Membership Academy, Albany, New York
07/18-20: Membership University, Los Angeles
07/18-20: APO LEADS Serve, Hartford, CT
07/31: COE/PPOE Application Deadline
07/31: End of APO Fiscal Year

Click here to view a complete calendar at 

www.apo.org
Video of the Month: Beta Chapter at the University of Pittsburgh
Is your chapter working hard to create fun,informational and educational videos for recruitment, etc.? Share your efforts with brothers across the nation by nominating your video for the Video of the Month. Simply post your video to YouTube, then send a link to the Torch Topics Editorial Staff at publications@apo.org .

Dynamic Officer Transitions
By Emily Lowndes, Associate Director of Chapter Services
Do you ever feel like your chapter's officer transition operates "too little, too late"? You are not alone. Officer transition is vital to chapter success, but oftentimes chapters rush this process. New officers get tossed a box of materials and are expected to pick up right where the outgoing officer left off.
If this sounds familiar, consider adjusting your transition plan from one that is static and occurs only as new officers are elected to one that is dynamic and occurs throughout the entire term of office. Click here to learn more about how your chapter can make officer transition more dynamic.