Delta Gamma Chapter Removes Graffiti in Athens Community
Article courtesy of WOUB Public Media
By Steve Robb - Athens Messenger staff reporter

More than 30 Ohio University students did their part Saturday to make Athens look better by volunteering to remove graffiti downtown.
The Targeting Area Graffiti (TAG) task force organized the event in which about 40 people participated, nearly all of them Ohio University students.
"There is graffiti all over Athens. It just doesn't look good," said OU student Tracey Engle. She volunteered for Saturday's cleanup effort, saying, "It just helps the community look nicer."
Engle belongs to Alpha Phi Omega National Service Fraternity, and several members participated Saturday. Other OU students signed up through the Campus Involvement Center.
Congratulations on an amazing service project, brothers! Click here to read the rest of this article
Brother Brian Anderson Receives Presidential Early Career Award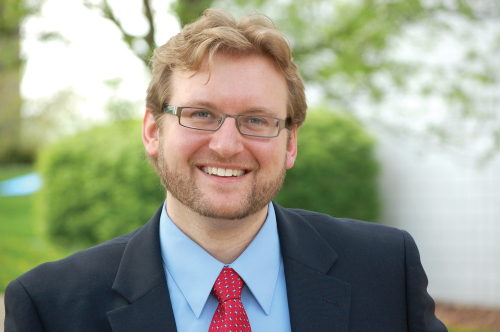 Brother Brian Anderson (Photo courtesy of West Virginia University)
Brother Anderson, Lambda Omicron '98 and GE Plastics Material Engineering Professor of Chemical Engineering at West Virginia University, has been selected as a recipient of the Presidential Early Career Awards for Scientists and Engineers, the highest honor bestowed by the United States Government on science and engineering professionals in the early stages of their independent research careers.
Anderson was nominated for the award by the Department of Energy, one of 13 federal departments and agencies that join together annually to nominate the most meritorious scientists and engineers whose early accomplishments show the greatest promise for assuring America's preeminence in science and engineering and contributing to the awarding agencies' missions.
CALLING ALL APO PHOTOGRAPHERS!!
Have you captured a few amazing moments with your brothers at meetings, fellowship events or service projects? Do you want to share these awesome pictures with APO brothers across the country? 

The Fraternity is looking for quality, high resolution images to share on www.apo.org, the National Facebook page and in various APO communications! Pictures must be at least 1400x600 pixels in size.

Share your images by submitting them to the Fraternity on www.apo.org.
Photo credit by Lucas Chung, Gamma Beta '07
Bureau of Labor Statistics Reports 10-year Low for Volunteerism
in the U.S.
Volunteering fell to the lowest rate in 2013 since the government has been measuring it, the Bureau of Labor Statistics reported Tuesday.
Roughly 62.6 million Americans volunteered through or for an organization at least once between September 2012 and September 2013, according to the BLS, or about 25.4 percent of adult Americans.
In 2002, the first time that the BLS conducted its survey on volunteerism, the rate was 27.6 percent. The decline last year was also a 1.1 percentage point drop from 2012.
Volunteerism has declined in each of the past three years. But it isn't clear whether the decline last year marks a broader trend away from volunteerism or an aberration. It also isn't apparent what might have caused Americans to volunteer less.
Click here
to read the rest of this article on WashingtonExaminer.com
Video of the Month: Sigma Nu Chapter at Delaware Valley College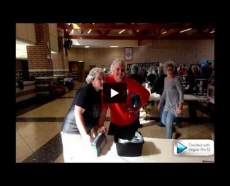 Is your chapter working hard to create fun, informational and educational videos for recruitment, etc.? Share your efforts with brothers across the nation by nominating your video for the Video of the Month. Simply post your video to YouTube, then send a link to the Torch Topics Editorial Staff at publications@apo.org .

2014 Fall Pledge Class Namesake Honoree Nominations - Due 5/1

Each year, the Fraternity selects an honoree after whom to name the Fall Pledge Class - someone who reflects the Fraternity's Cardinal Principles of Leadership, Friendship and Service.
The criteria used in considering nominations are:
For nominees whose accomplishments are within the Fraternity (including chapter advisors), we are looking for those who have had a significant and positive impact at the regional level, at minimum, over a sustained period of time.

For those nominated for work outside of Alpha Phi Omega, we are looking for persons who have had a comparable impact at the national level, over a sustained period of time.
Do you know someone who fits these descriptions? Click here to find out how to nominate at Fall Pledge Class Namesake Honoree...
Support APO by Joining the Society of Life Members!
The Society of Life Members is an opportunity for members to financially support the long-term stability of the Fraternity. 

Your dedication to the principles of Alpha Phi Omega through your support of the Society of Life Members also helps to ensure the long-term growth of the Fraternity and development of new programs.Contributions made through the Society of Life Members are held and invested by the Alpha Phi Omega Endowment and provide permanent benefits to the Fraternity for years to come.

Society of Life Member gifts provide a way for both students and alumni to contribute to the Endowment. Students may join the Society of Life Members for only $50; alumni may join for $100. 

Click here to learn more about joining the Society of Life Members...