Delta Gamma Chapter Removes Graffiti in Athens Community
Article courtesy of WOUB Public Media
By Steve Robb - Athens Messenger staff reporter

More than 30 Ohio University students did their part Saturday to make Athens look better by volunteering to remove graffiti downtown.
The Targeting Area Graffiti (TAG) task force organized the event in which about 40 people participated, nearly all of them Ohio University students.
"There is graffiti all over Athens. It just doesn't look good," said OU student Tracey Engle. She volunteered for Saturday's cleanup effort, saying, "It just helps the community look nicer."
Engle belongs to Alpha Phi Omega National Service Fraternity, and several members participated Saturday. Other OU students signed up through the Campus Involvement Center.
Congratulations on an amazing service project, brothers! Click here to read the rest of this article
Attention ALL Chapters with a Dec. 31 Year End
Chapters with a December 31 year end have a tax filing date of May 15!

Be sure your chapter completes the required 990N and doesn't risk penalities which can result is substantial fees and the risk of losing tax exempt status. If you are unsure of your date contact the National Office at accounting.admin@apo.org.
2014 Fall Pledge Class Namesake Honoree Nominations - Due 5/1
Each year, the Fraternity selects an honoree after whom to name the Fall Pledge Class - someone who reflects the Fraternity's Cardinal Principles of Leadership, Friendship and Service.
The criteria used in considering nominations are:
For nominees whose accomplishments are within the Fraternity (including chapter advisors), we are looking for those who have had a significant and positive impact at the regional level, at minimum, over a sustained period of time.

For those nominated for work outside of Alpha Phi Omega, we are looking for persons who have had a comparable impact at the national level, over a sustained period of time.
Do you know someone who fits these descriptions? Click here to find out how to nominate at Fall Pledge Class Namesake Honoree...
Goal Setting and Planning Ahead
By Brother Laurie Burns, Chapter Consultant
Chapter Assessment and Planning Session (CAPS) is a time for active members to evaluate what they like, don't like and want to change in their chapters, as well as determine the goals for the following term.

CAPS is a helpful tool for officers to gauge the strengths and areas of improvement of the chapter, then set a course of action to do better. Also, if you chapter is looking to achieve recognition for being outstanding, holding CAPS is one of the mandatory requirements for obtaining Chapter Program of Excellence.

So what should your CAPS look like? When should you hold it? What materials will you need? Click here to read the rest of this article.

Photo credit: Brother Francisco Solano, Beta Iota '92



 
Click here to learn more about licensing and trademarks and what it means to your chapter and favorite vendors...

Shop the hundreds of APO licensed vendors...

Video of the Month: Sigma Nu Chapter at Delaware Valley College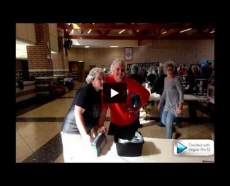 Is your chapter working hard to create fun,informational and educational videos for recruitment, etc.? Share your efforts with brothers across the nation by nominating your video for the Video of the Month. Simply post your video to YouTube, then send a link to the Torch Topics Editorial Staff at publications@apo.org .

Is Your Chapter Ready for Spring Youth Service Day?
This year Spring Youth Service Day and Global Youth Service Day will take place April 11-13, 2014.
Participating in SYSD helps realize Frank Reed Horton's dream that Alpha Phi Omega make the world a better place, particularly through service to "the youth of all nations." A SYSD project is a wonderful opportunity to work together as a fraternity to provide service that leaves a lasting and positive impact on the youth of America. Through projects that guide youth by engaging them in service, we both directly benefit them and inspire them to become the next generation of volunteers.
Start organizing your SYSD event today! Click the handbook above to download your copy of the 2014 Spring Youth Service Day Handbook. 
NOTE: Spring Youth Service Day is a required event for the chapters of APO and therefore a project report (whether a project was done or not) must be submitted by May 1, 2014 through the Chapter Officer Portal.