Complete Important Updates in the Chapter Officer Portal
Summer is almost here! As you end this school year and prepare your chapter for the fall, make sure all needed updates and reports are completed in the Chapter Officer Portal. The following items should be done online through the OP:
• Update your officers
• Pay any outstanding invoices
• Update your membership roster and pay for recent pledges and initiates
• Submit required service project reports
• Report all graduating seniors by June 1
• Submit COE/PPOE applications by July 31

Congratulations to All Graduating Seniors
Congratulations to chapter officers who are graduating this semester! As you explore new things in life, know that your Fraternity experience can go with you. Here are some of the ways to stay involved and remain connected ...

Log in and update your contact information so that you can stay in touch once you leave school.

Attend the National Volunteer Conference July 23-26, 2015, in Baltimore, Maryland. Enjoy time with fellow alumni and explore how you can best serve within the Fraternity.

Join the Society of Life Members to support the future of APO and receive a lifetime subscription to Torch & Trefoil. The one-time cost is $50 if you join within a year of graduation.

Remember: College only lasts a few years. APO brotherhood is for life!

Share Your Opinion, Help Shape Future Communications and Resources
Alpha Phi Omega wants to hear from you! As an officer, you know what works for you and your chapter and what doesn't, and the Fraternity needs your feedback. A private Facebook group is being formed where you can discuss everything from social media to recruitment brochures. Connect with brothers from around the country and let the National Office hear your opinions.

If you would like to participate, email director.communications@apo.org with your name, the best email address to contact you, your chapter and number of members, and your anticipated graduation date.

Everyone is encouraged to submit information, but participation will be determined by the number of people who express interest and demographics represented. Students will be added to the group from a variety of regions, chapters, etc., to make the group as representative of the Fraternity as possible.
Don't Miss APO LEADS Serve This Summer
Learn practical ways to apply servant leadership characteristics and key management skills during APO LEADS Serve! There are four Serve courses being offered this Summer and they are filling up quickly. Make plans now to attend one of the June or July sessions. Click here to register.
Upcoming Deadlines and Events
Click here to log in and view complete calendar details.


May
05/25: Memorial Day
05/31: APO LEADS Launch Online

June
06/01: Report Graduating Seniors in Officer Portal
06/05-07: APO LEADS Serve, Indianapolis, IN
06/05-07: APO LEADS Serve, Syracuse, NY
06/05-07: Membership Academy, Baton Rouge, LA
06/05-07: Membership Academy, Springfield, IL
06/05-07: Membership University, Springfield, IL
06/19-21: Membership Academy, Bellevue, WA

July
07/04: Independence Day
07/10-12: APO LEADS Serve, Pittsburgh, PA
07/10-12: APO LEADS Serve, St. Louis, MO
07/10-12: Membership Academy, Portsmouth, NH
07/17-19: Membership Academy, South Brunswick, NJ
07/17-19: Membership University, South Brunswick, NJ
07/23-26: National Volunteer Conference, Baltimore, MD
07/31: COE/PPOE Application Due in Officer Portal
Learn How to Improve Your Chapter at Membership Academy or University
Brothers brainstormed and shared recruitment ideas during Membership Academy in 2014

Spend a few days in June or July becoming an even better leader for your chapter! Learn from alumni volunteers and share ideas with brothers from chapters across the nation at Membership Academy or Membership University. The cost is only $35 per member for food, lodging and supplies for any of the weekends.

Membership Academy
Get training on recruiting, developing and retaining members. This program is helpful to those involved with extension efforts or chapters that want to improve their membership program. To see more information and register, click here.

Membership University
Geared toward leaders of chapters with 75+ members, this program covers technology, chapter culture, how to build up new leaders and much more. To get the details and sign up, click here.

Get Recognized for Your Work, Apply for COE and PPOE Awards by July 31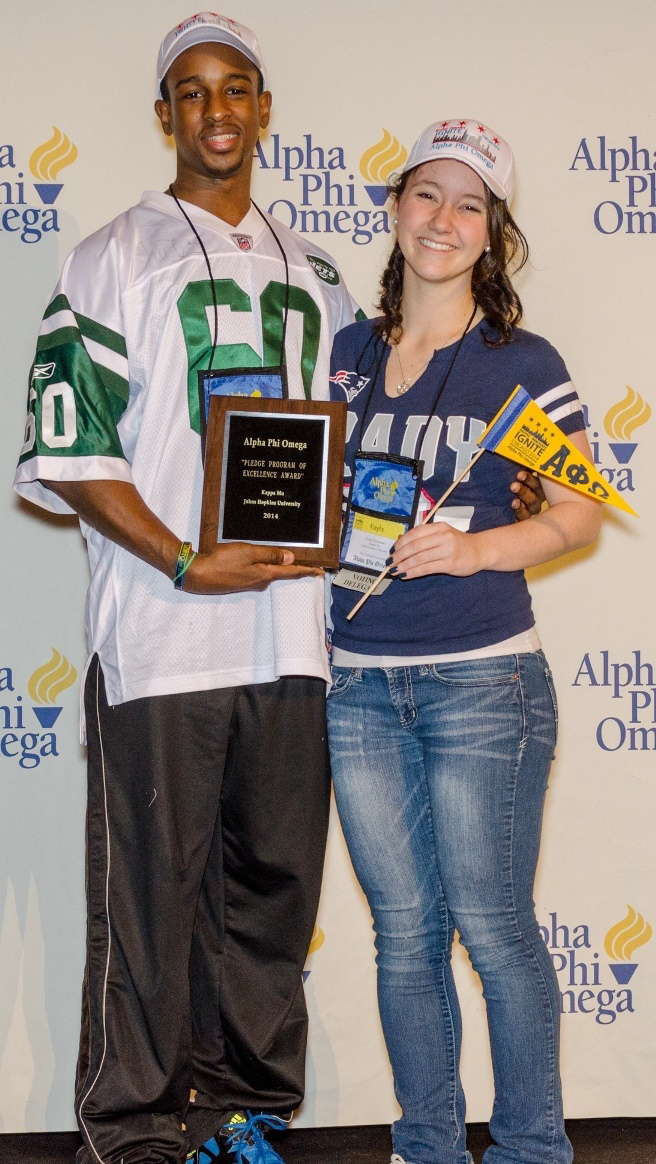 Kappa Mu Chapter, 2014 COE
and PPOE award recipient
If your chapter works hard to create engaging and successful programs then let APO reward your efforts! Apply for the Chapter of Excellence (COE) and Pledge Program of Excellence (PPOE) awards which recognize chapters whose programs promote growth, retention and stability while providing an inviting and educational environment for prospective and new members.

Be sure all requirements are submitted through the Chapter Officer Portal before completing the COE/PPOE Application. Any missing requirements will result in a failed submission. Applications must be complete and submitted through the Officer Portal by July 31 in order to be eligible.