Monday-Friday 8:45 a.m. to 4:45 p.m. CST
Dear
The spring semester is off to a great start for chapter members and we are seeing a lot of great service reports come through the Service Project Database on www.apo.org. As always, APO chapters are spreading Leadership, Friendship and Service on their campuses every chance they get.
If you miss contributing to service projects and would like to participate in your own Spring Youth Service Day project, try writing a letter to a young person you know for Absolutely Incredible Kid Day. This is a great cause created to inspire children and remind them how important they really are.
Enjoy the shift into spring! Before you know it, we will be gathering in Anaheim, California for the 2012 National Convention!
See you soon!
January Video of the Month: Delta Zeta Chapter, University of Pennsylvania in Philadelphia

Delta Zeta Chapter at the University of Pennsylvania in Philadelphia came up with a great recruitment video theme for 2012! What a creative way to share Alpha Phi Omega with your campus and community. Keep up the great work Delta Zeta!
Do you know a chapter that is working hard to create fun, informational and educational videos for recruitment, etc.? Share their efforts with brothers across the nation by nominating them for the March Video of the Month. Send a link of the video to the Alumni Connection Editorial Team.
Enter to Win a $100 Amazon.com Gift Card After Completing This Survey!!!



Click here to complete the Alpha Phi Omega 2012 Communications Survey!
Brother McKenzie Receives Thomas Green Clemson Award for Excellence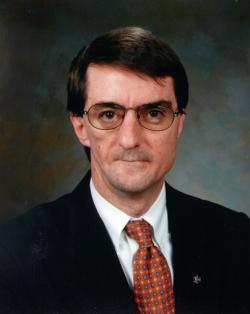 Past President Jack McKenzie
Brother and Past National President Jack A. McKenzie, Gamma Lambda '73 and '93, was awarded the 2011 Thomas Green Clemson Award for Excellence. This award was established in 1999 to honor outstanding faculty and staff who have made significant contributions to academic life at Clemson.

Congratulations Brother McKenzie!
Find out how alumni can help
contribute to the growth of APO
and help the Fraternity reach
500 chapters by 2025 by serving as an extension sponsor.
Click here to find out how you can contribute to the growth and long-term health of Alpha Phi Omega by becoming an extension sponsor.
Calling ALL Advisors! We have a workshop for you! Whether you are an old hat at advising a chapter or brand new! Join us TUESDAY, FEBRUARY 21, 2012 at 9 p.m. CST learn from each other, and gain ideas. We will discuss the responsibilities of advisors, and address your questions. Click here to register for this event...