| | | |
| --- | --- | --- |
| Helmet Vaccine Newsletter- July to September 2011 | | |
Greetings road safety stakeholders,
AIP Foundation staff has been working hard this summer to get ready for the start of the new school year. We are looking forward to launching another round of school-based programs and bringing helmets and road safety knowledge to thousands of children, teachers, and parents.
Please read on for more information about our activities from July to September and updates on noteworthy road traffic safety events.
Sincerely,
Greig Craft
President/CEO
AIP Foundation/ Global Helmet Vaccine Initiative
1. Global
2. Vietnam
News Update
Road safety problems pose dire threat in China - Traffic accidents have become the leading cause of death for people in China aged 45 and younger. Top officials at the Chinese Transportation and Communications Ministry held an emergency meeting on Sunday and ordered officials around the country to improve traffic safety.
Source: International Herald Tribune 26/07/2011
CDC Identifies Global Road Safety as Top 10 Public Health Achievement - Citing the work of the Commission for Global Road Safety, WHO, and the Decade of Action for Road Safety, the U.S. Centers for Disease Control and Prevention (CDC) has identified increased awareness of road safety as one of the ten major public health achievements of the first decade of the 21st Century. To read the report and the nine other achievements, click here.
Source: FIA Foundation 13.07.2011
Launch of UN Decade of Action for Road Safety in Dar es Salaam, Tanzania
July 22, 2011- Dar es Salaam
The UN Decade of Action for Road Safety (2011-2020) was officially launched in Tanzania. The Tanzania Helmet Vaccine Initiative spearheaded the event, led by founder and CEO Alpherio Moris Nchimbi.
The Tanzania Helmet Vaccine Initiative is the local-level NGO implementing the Global Helmet Vaccine Initiative (GHVI) in Tanzania, with a vision of becoming "the lead agency in Tanzania providing modern and quality motorcyclist helmets which meet national standards". The Tanzania Helmet Vaccine Initiative also works "to halt escalating traffic injuries and fatalities in Tanzania through direct intervention and public awareness education".
The Initiative marked this important event by distributing over 500 specialized helmets to the Tanzanian Police Force. This donation was aimed at increasing the safety of the police when they work and travel aboard motorbikes, as well as encouraging community members to follow their example.
Founder and CEO Alpherio Moris Nchimbi holds a Bachelor of Education with majors in Political Science and Public Administration, and has worked for the Tanzania Scout Association and at the Injured People Care Foundation NGO. The other Leadership Council members include Professor Emmanuel Yakobo Mbogo, Chairman of the Leadership Council; Dr. Ahmed M. Makata, Forensic Consultant/Council Director; Johannes Kahatano, Council Director; and Marcius Stephen Sangu, Council Director.
The Tanzania Helmet Vaccine Initiative's accomplishments to date include an announcement made by the President of the United Republic of Tanzania, H.E. Jakaya Mrisho Kikwete, declaring his support. The Ministry of Home Affairs has also vocalized its commitment to the Initiative's efforts.
Greig Craft Meets with President Daniel Ortega in Nicaragua
August 8, 2011- Managua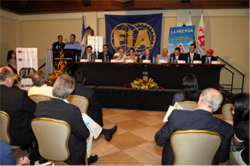 Greig Craft recently travelled to Nicaragua to meet with President Daniel Ortega and representatives from private sector companies working in Nicaragua. Craft accompanied a team from FIA (Foundation Internationale de l'Automobile) including Road Safety Ambassador Michelle Yeoh. President Ortega was enthusiastic about the idea of hosting GHVI programs such as helmet donations for Nicaragua students. This trip to Nicaragua aligns itself with GHVI's strategy- giving locally-based organizations and government bodies the tools and support to improve the traffic safety situation in their own countries, and connecting with private sector partners for resources and consulting purposes.
Safe Kids Worldwide Holds Annual Workshop in Falun, Sweden
September 4, 2011- Falun
Lotte Brondum, AIP Foundation's Regional Development Director, travelled to Falun, Sweden from September 4th to 10th to attend the annual Safe Kids Worldwide workshop. Safe Kids Worldwide is a global organization made up of 22 member countries preventing unintentional child injuries. AIP Foundation is the implementer of Safe Kids programs in Vietnam.
Under the World Health Organization's collaborating center on Community Safety Promotion at the Karolinska Institute in Sweden, Safe Kids Worldwide has developed a model for the establishment of Safe Children Communities.
A Safe Community can be a municipality, a county, a city, or a district working in safety promotion or injury, violence and suicide prevention. Injuries include those related to natural disasters and traffic crashes, and apply to all age groups, genders, and areas.
This new collaboration between Karolinska Insititute, which leads the Safe Community movement, and Safe Kids Worldwide will focus specifically on promoting children's safety. Thus, it will be a significant contribution to preventing unintentional injuries among children around the globe.
News Update
Helmet law has reduced traffic deaths - In this interview featuring Transport Minister Ho Nghia Dung, he discusses Resolution 32's implementation, successful results, and how to further decrease the number of motorbike accidents.
Source: Vietnam News 21/07/2011
Greig Craft Awarded Vietnamese Friendship Medal
July 27, 2011- Hanoi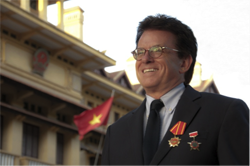 Mr. Greig Craft, President of the AIP Foundation, was awarded Vietnam's highest civilian honor - the prestigious Friendship Medal - for his philanthropic work and contributions to improving road traffic safety in Vietnam. Authorized by the President of Vietnam, the medal was awarded by Minister of Transportation Ho Nghia Dung at a ceremony in Hanoi. Craft was also awarded the Ministry of Transportation medal for his contributions as well as a Certificate of Merit.
"Established in June 1960, the Friendship Medal is Vietnam's highest award given to foreigners. It is presented to those who have aided Vietnam in defending or building our country" said Minister Ho Nghia Dung. He thanked Greig Craft for his "outstanding contributions to road safety initiatives in Vietnam," and added, "Your innovations in the development and design of a tropical motorbike helmet have already saved many lives".
Greig Craft's initiatives have resulted in two Prince Michael International Road Safety Awards; a commendation from US Secretary of State Hillary Clinton, and the first Road Safety Award from FIM (International Federation of Motorcyclists).
Driving Skills Focus Groups Conducted for Campaign
May 2011- Ho Chi Minh City
AIP Foundation is designing a public awareness campaign to encourage safe driving behavior in Ho Chi Minh City. While promoting helmet use is one of AIP Foundation's primary objectives, the organization recognizes that improving driving behaviors also has a large role to play in reducing accidents.
AIP Foundation will develop educational videos for adults, in collaboration with Department of Transportation and the Transportation University. The videos will be shown in driving license centers around Ho Chi Minh City as well as public spaces such as shopping malls, hospitals, and high schools.
Research has been conducted on Vietnamese adults' driving skills knowledge, beliefs, and behaviors through a series of focus groups with high school and university students, young professionals, and parents. Across all focus groups, the following were identified as the most dangerous driving behaviors: speeding, drinking and driving, wearing no helmet, passing a red light, driving in the opposite lane, and using the phone while driving. Moreover, unpredictable behaviors, such as abruptly turning or stopping, were identified in many groups as dangerous. They were often directly related to respondents' dangerous personal experiences. Concepts of good driving entailed avoiding the aforementioned dangerous behaviors, but a general disregard for traffic regulations was felt. The lack and poor implementation of law enforcement was very critically discussed by the groups.
Pedestrian Research Report for Dong Nai Province Completed
August 2011- Ho Chi Minh City
AIP Foundation completed its Pedestrian Research Report, a project with Safe Kids Worldwide and FedEx, which focuses on the road safety situation in Dong Nai province, Vietnam. The study examines child pedestrian behaviors and traffic casualties, as well as primary schools' road safety environments. The study's results aim to function as a database for Dong Nai province, which was identified as "high risk".
Results show a steady increase in the number of road traffic casualties. On average, each day 2,1 young adults between the age of 15 and 19 years received emergency aid at a hospital for being involved in a road traffic crash either as a rider or pedestrian. Motorcycles caused the vast majority of crashes, and almost all crashes were the result of dangerous driving behaviors. The most common car and motorcycle behaviors that caused crashes were "avoiding" and "crossing in the wrong way", and almost all pedestrian crashes were reported to be caused by sudden road crossing. More than half of the cases of emergency aid for traffic crash victims at Dong Nai Pediatric hospital were administered to pedestrians, and a large number of students usually walked to school.
In addition to reporting on the current situation, the Pedestrian Research Report provided suggestions about measures that can be applied at the school level to achieve the greatest positive impact on road safety and students' sense of safety while travelling on the road.
Cam Thuong Primary School Receives Helmet Donation from Diversey Hygiene
September 14, 2011- Hai Duong Province
Diversey Hygiene donated helmets to first grade students at Cam Thuong School in Hai Duong Province through the Helmets for Kids program. The continuation of last year's program also enabled AIP Foundation to replace broken, lost, or tight helmets.
Cam Thuong School is located near Highway No. 5, in a high density traffic area where children are extremely vulnerable to road traffic crashes during rush hour. More than 60% of students ride to school on the back of their parent's motorbike. Traffic safety infrastructure- such as stop lights and zebra crossings- is sparse, putting children at even greater risk of road traffic crashes.
A total of 460 students and 31 teachers participated in a helmet donation ceremony. Other attendees included representatives from Hai Duong People's Committee, Traffic Safety Committee, Dept. of Education and Training, Police Force, as well as many parents. Also in attendance was a representative from Diversey Hygiene, Mr. Stefan Phang, Regional Director, EHS, Security & CSR (Sustainability).
Diversey Hygiene has been a Helmets for Kids sponsor since 2007 and has made a significant impact in the lives of many through children. It is through the sustained, dedicated and enthusiastic support of pioneer sponsors like Diversey Hygiene that AIP Foundation is able to continue its important work in road safety.
News Update
Helmets for passengers planned -H.E. Peou Maly, Deputy Director General of Transport and Deputy Secretary General of the Government's National Road Safety Committee, said he had drafted an amendment to the Traffic Law that would require passengers on motorcycles to wear helmets. This article was published after the Stakeholder Consultative Meeting held by AIP Foundation.
Source: Phnom Penh Post 22/08/2011
Stakeholder Consultative Meeting Held with CDC and IUHPE delegation visits
August 19, 2011- Phnom Penh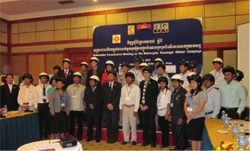 AIP Foundation, in close collaboration with the National Road Safety Committee (NRSC), the General Commissariat of National Police, Ministry of Interior, and the Ministry of Education, Youth, and Sports (MoEYS) held a Stakeholder Consultative Meeting at the Imperial Garden Hotel in Phnom Penh. In 2010, 1,816 traffic fatalities occurred on Cambodian roads. 73% of motorbike accident fatalities suffered head injuries. Passengers are often the victims, yet no law exists which requires them to wear helmets. This meeting was held to discuss an effective action plan for a Motorcycle Passenger Helmet Campaign to be launched this November.
Delegations from the US Centers for Disease Control and Prevention (CDC) and the International Union for Health Promotion and Education (IUHPE) travelled to Cambodia to attend this consultative meeting, and discuss plans for implementation. Additionally, the consultative meeting brought together over 30 attendees from the NRSC, the Ministry of Interior, the MoEYS, other relevant ministries, IO/NGOs, and private sector companies.
In accordance with Cambodia's support of the United Nations Decade of Action for Road Safety (2011-2020), AIP Foundation has been working as the country-level implementer of the Cambodian Helmet Vaccine Initiative (CHVI) since 2010, in an attempt to increase passenger helmet use in Cambodia. AIP Foundation will continue to collaborate closely with members of the Cambodian government to create and carry out Phase II of its 45-month life saving campaign, to advocate for passenger and child helmet use legislation and to increase helmet use rates among motorcycle passengers in target locations (Phnom Penh, Kampong Speu and Kandal).
ANZ Royal Bank sponsors Helmets for Kids Handover Ceremony at York Batr Primary School
July 19, 2011- Phnom Penh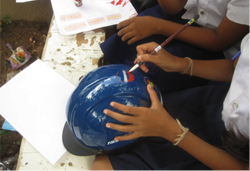 ANZ Royal Bank donated 453 helmets to teachers and students of York Batr Primary School through AIP Foundation's Helmets for Kids program at a Handover Ceremony held at the school. This ceremony concluded a week-long training on road traffic safety and correct helmet usage which was attended by 35 of the school's teachers.
The ceremony was a huge success with over 50 stakeholders in attendance, including members of the WHO, HIB, and CRY, and representatives of government bodies such as the Ministry of Interior, Ministry of Education, Youth and Sport, and the National Road Safety Committee (NRSC). The ceremony was covered by 12 media agencies, and was aired on two major TV channels.
Speakers and guests were especially enthusiastic about the paintings on the school's fences which encourage parents to put helmets on their children's heads. Deputy Secretary General of NRSC H.E Mr. Peou Maly asked AIP Foundation to extend this "life saving program" to other schools located along dangerous national roads. ANZ Royal Bank has generously been donating helmets through our programs since 2007, keeping thousands of children's heads safe.
Road Crash and Victim Information System (RCVIS) Publishes Updated Data
August 2011- Phnom Penh
Cambodia's Road Crash and Victim Information System (RCVIS) published its 2010 Annual Report, a collection of its monthly reports combined and analyzed. In 2010, 5 fatalities per day occurred on Cambodian roads due to road traffic crashes, an increase of 100% over the past six years. There was a 25% increase in the fatality rate since 2006. In comparison to fatality rates per 10,000 registered vehicles in Lao PDR and Vietnam, Cambodia has the highest rate. The annual economic cost of road crashes in 2010 was estimated as 279 million USD, an increase of 13% compared to the cost in 2009.
This report gives stakeholders access to high quality, comprehensive data on the traffic safety situation in Cambodia, as it combines data sources and accounts for underestimation. RCVIS determined that around 20% of road crash fatalities and 85% of injuries were not reported to them.
This data will provide a common baseline for use by many organizations and government bodies in Cambodia. The report also provides suggestions for improving the country's road safety situation based on its findings.
News Update
Phuket Road Toll Trending Down: Helmet Safety Wins Awards - Phuket's ''100 percent helmet'' campaign was adjudged the most successful Royal Thai Police road safety campaign in Thailand for 2010. Only seven deaths were recorded on Phuket roads for July, bringing the tally for the year so far to 72 - five less than for the same period in 2010, according to Phuket Public Health Department figures.
Source: Phuket Wan 18/08/2011
Diversey Hygiene Sponsors a Helmets for Kids Donation and Ceremony
July 5, 2011- Patumtanee Province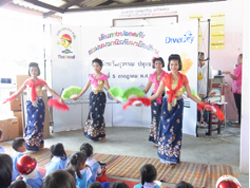 AIP Foundation held a Helmets for Kids event sponsored by Diversey Hygiene at Wat Suwan School in Lomluka, Patumtanee, Thailand. Two hunded and eighty children received life-saving helmets, as well as educational trainings on wearing their helmets correctly and safe road behaviors. A handover ceremony was held where the children symbolically received their helmets and several performances were put on by the students, including a traditional Thai dance. Attendees at the ceremony included a representative from Lamlukka Police, Traffic Inspector Pol. Maj. Nattawut, and staff from Diversey Hygiene and AIP Foundation. The ceremony will encourage high involvement of the school staff, parents, and students in road traffic safety issues, as well as compliance with the new skills and behaviors they have been taught.
AIP Foundation Holds Booth at Time for Action Conference in Bangkok
August 25, 2011- Bangkok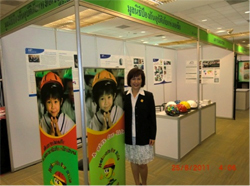 The 10th national convention on road safety, Time for Action, was held at the Bitec Convention Center in Bangna, Bangkok, where AIP Foundation's Thailand staff held a booth. Time for Action was spearheaded by the National Center for Road Safety, a body established by the Thai Prime Ministry in 2009 and headed by the Deputy Prime Minister. This year, approximately 3,000 people participated in the convention.
Time for Action aimed to provide a forum for managers, academics and practitioners in the public and private sectors, as well as local governmental organizations, to review the policies and implementation strategies aimed at preventing and mitigating road accidents. The convention was also an opportunity for participants to suggest public awareness strategies and identify potential partnerships among stakeholders.
The convention's organizing committee consisted of a number of road safety stakeholders such as the Department of Disaster Prevention and Mitigation (DDPM) from the Ministry of Interior, the Ministry of Transport, the Ministry of Health, the Thai Health Foundation, Royal Thai Police, the Office of Insurance Commission, motorbike manufacturers, and several others.
Convention participants visited informational and innovation-focused booths, viewed an academic project competition, and received Road Safety Awards from the Prime Minister for outstanding work and achievements. AIP Foundation's booth informed stakeholders and public attendees about our work in Thailand and our other target countries.
AIP Foundation Thailand participates in National Insurance Week
September 2, 2011- Bangkok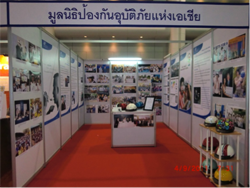 AIP Foundation Thailand participated in National Insurance Week, which was organized by the Office of the Insurance Commission (OIC). AIP Foundation held a booth at the event, along with other key road safety partners such as DDPM (Department of Disaster Prevention and Mitigation), Royal Thai Police, Motorcycle Manufacturer Association, Emergency Medical Institute, and Thai Health Foundations. AIP Foundation's booth displayed public awareness materials and Protec helmets.
UNESCAP Holds Meeting on Road Safety Improvement in Asia and the Pacific
September 27, 2011- Bangkok
On September 27th to 29th, AIP Foundation participated in the expert group meeting on Progress on Road Safety Improvement in Asia and the Pacific organized by UNESCAP in Bangkok. The meeting focused on issues and challenges related to road safety data systems and the monitoring of progress of global and regional road safety goals and targets. The participants also had opportunities to review national updates on road safety goals and recent progress as well as to network and further build regional road safety contacts. AIP Foundation was represented by Mirjam Sidik, Executive Director, and Ratanawadee Winther, Thailand Country Director.
News Update
Police sets up unit for reckless driving - The Police has set up a special unit to handle all complaints by the public related to reckless driving, said Director of Operations, Fred Kiyaga. The establishment of the Traffic Operation Centre is part of efforts to curb the rising number of deaths and injuries associated with road accidents.
Source: New Vision 24/08/2011
UHVI Officially Launches with Motorbike Procession and Celebrity Ambassadors
August 23, 2011- Kampala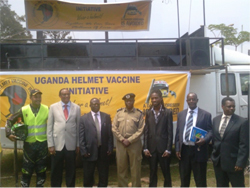 The Uganda Helmet Vaccine Initiative (UHVI) had its public launch on 23rd August 2011. The highlight of this successful event was an impressive motorcycle procession around Kampala to Pan African Square, the capital's center.
Baseline research conducted by the Injury Control Center Uganda (ICCU) for AIP Foundation shows that 30% of boda-boda drivers in Kampala wear helmets, while passenger helmet use is as low as 0,08%. The launch of UHVI sets the stage for the program's planned implementation of a wide-reaching public awareness campaign targeting boda-boda riders and passengers. It also establishes a strong base of stakeholders who will work together to further improve Uganda's road traffic safety situation.
Joining the procession to spread awareness about road traffic safety were the Uganda Police Traffic Department, UHVI's Goodwill Ambassadors singer Bobi Wine and motorsport celebrity Arthur Blick, the Bikers Association of Uganda, and boda-boda (motorbike taxi) drivers. Speakers following the procession included the Minister of Works and Transport, the Minister of Health, the Police Inspector General, UHVI members, and Goodwill Ambassadors. Speeches highlighted the drastic need to reduce road traffic fatalities and injuries in Uganda, the Ugandan government's support of UHVI, and the need for all boda-boda riders to consistently wear helmets.