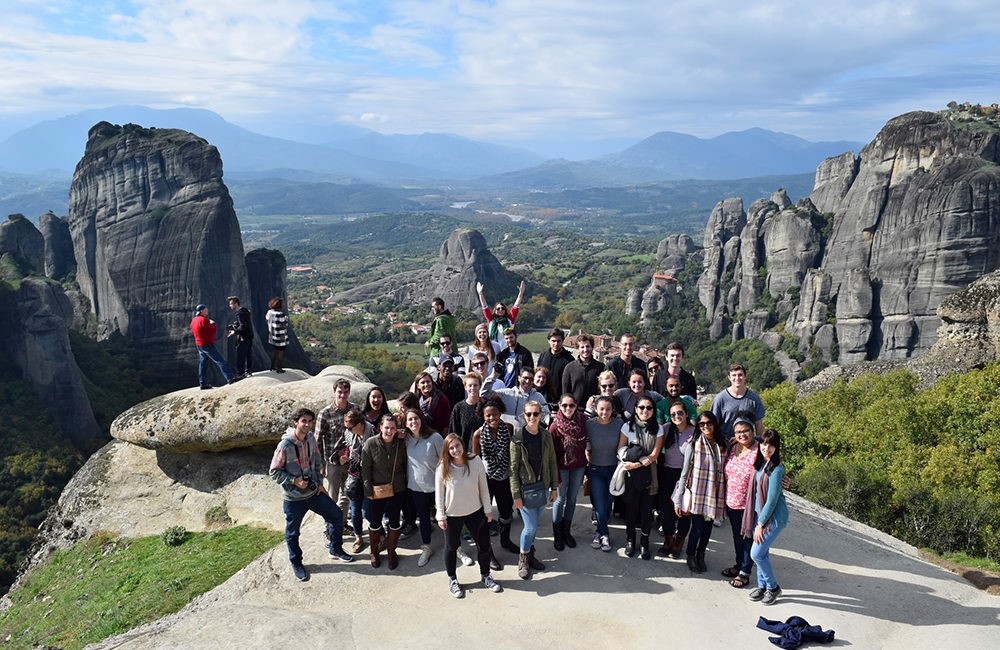 College Year in Athens celebrates its 55th birthday this year. To mark the occasion, Kathimerini, the most prestigious Greek newspaper, has published a wonderful story by Ioanna Fotiadi honoring CYA's legacy in education and study abroad.
Who would have thought that a 15-year-old girl who crossed the Aegean as a refugee in a small boat 95 years ago would become one of Greece's leading cultural and educational ambassadors? Ismene Phylactopoulou, who came to Athens with her family from Smyrna in 1922, may no longer be with us, but her spirit lives on in College Year in Athens, a program founded in 1962 on the idea of bringing foreign students to study in Greece for one or two semesters – quite innovative at the time.
Now in its 55th year, CYA collaborates with more than 400 universities in the United States and has over 9,000 alumni, more than 200 of whom teach at universities in the US and Canada.

The story carefully weaves together our early history, contemporary profile and the colorful experiences of our students. CYA President Mr. Alexis Phylactopoulos guides us through, sharing his candid insights:
"The most important thing my mother brought from Smyrna was her knowledge of English," says her son, Alexis Phylactopoulos, who's been the president of College Year in Athens and the International Center for Hellenic and Mediterranean Studies (DIKEMES) since 1987. Thanks to her language skills, Ismene Phylactopoulou was granted a scholarship at Wellesley College in Massachusetts, where she studied biology before returning to Greece to teach and raise a family. "She always maintained her ties with America, to which she felt a deep sense of gratitude since it was where she expanded her horizons. She wanted to offer other young people that same opportunity," says the CYA president. CYA was founded in 1962 and five students from the US were the first to enroll.
Highlighting our program and the unique experiences we offer students in the environment of Greece:
The school follows the American system and is especially known for its classical studies program. Aside from lessons, the program includes many excursions and experiential activities. Moreover, its collaboration with the American School of Classical Studies at Athens is close and the students are always welcome to attend excavations, most recently in Voula on Athens's southern coast and on the island of Antiparos. Further to classical studies, […] students can chose from courses about the Greek crisis, social media, sustainable development and gender relations in contemporary Greece, among others.
Students [are] set out to gain a deeper understanding of Greek society. "Some prefer to be housed with Greek families, but all take part in a variety of activities and volunteer projects, something that is an integral part of their culture," says Phylactopoulos. In their spare time they teach English at refugee centers, organize creative activities for refugees and serve food at soup kitchens, among other things.
Diving deeper into the student perspective, current full-year student, Madison Orozco talks about her CYA experience:
21-year-old Madison Orozco, an American international relations student said: "I collect material and do research," she says. "You don't notice the crisis just by visiting the tourist hot spots. Now though, I've learned to notice things like closed kiosks, closed businesses, the pawnshops." Twice a week, Orozco washes dishes and serves food to the homeless at a shelter in central Athens. In her free time, she visits museums and churches. She is fascinated by Byzantine iconography.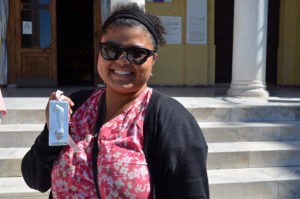 Madison at a visit to Ag. Spiridon as part of her Comparative Religion course
"Americans believe that Greece is just beaches, but the beauty of the country goes much further than its coastlines," she says. "The language, the history, the landscape and its geographical location make Greece a unique attraction for any thoughtful traveler."
---
Read the full Kathimerini story here: Now 55, College Year in Athens continues to teach and inspire