The CYA Summer Session 1 Scoop!
We recently welcomed our first set of Summer 2017 CYA students, eager to embark on a learning experience of a lifetime here in Greece. Our summer courses run over two consecutive four-week sessions from the end of May until the end of July.

These short-term, intensive study abroad courses offer CYA students unique, experience-based opportunities for learning, taking advantage of the sun, the sea, and the vibrant summer culture in Athens and the surrounding islands.
MS321 Excavating the Aegean: The Case of Despotiko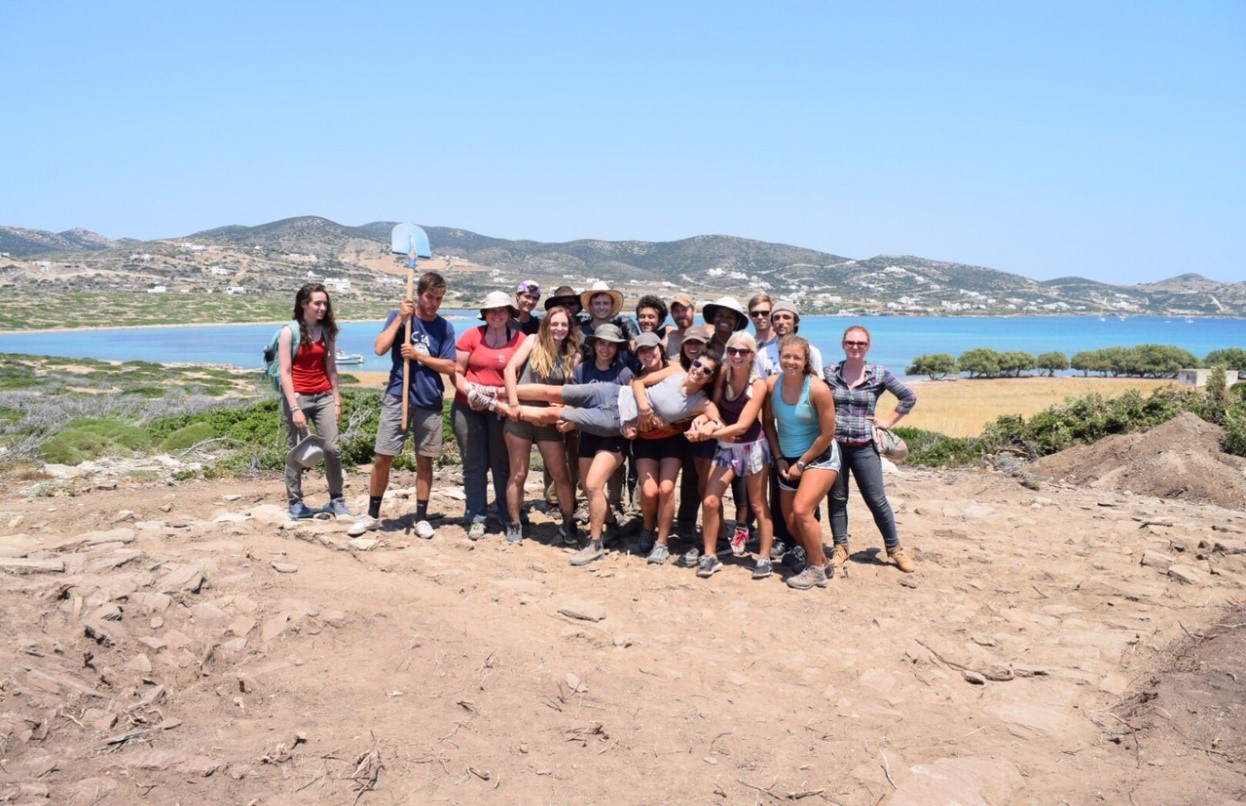 CYA students have been actively involved in the excavation of one of the most prominent sanctuaries of the Aegean - dedicated to Apollo, situated on the uninhabited islet of Despotiko, west of Antiparos, in the center of the Cyclades. Led by Dr. Alexandra Alexandridou, students have been learning about archaeological fieldwork methods and theory and familiarizing themselves with a variety of artifacts of different materials and types, covering a wide chronological range extending from the Early Iron Age (9th-8th c. BC) to the Classical period.

See what else students got up to in Antiparos here!
MS348 Writing in Greece: Travel Writing Forms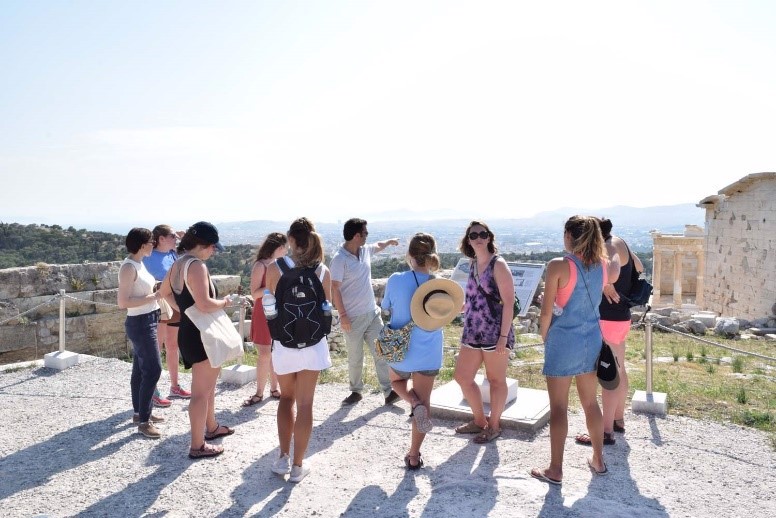 Reading, discussing, debating and creating compelling travel writing all while traveling around Greece was the essence of this summer's travel writing course at CYA, led by Dr. Romana Turina. The course transported students to places such as Poros and Nafplion, where they engaged with their immediate surroundings and learned about storytelling techniques while working on producing their own writing in an array of forms. This experience allowed students to explore the ways writers draw on Greece's rich myths, history, and literary traditions while gaining a deeper understanding of the writing process and the gratification and joy it brings!

Find more about their adventures: Writing at the Acropolis and Discovering inspiration at the Shell Museum in Poros!
MS375 Sustainability Across Time and Spacial Scales in Greek Urban and Island Communities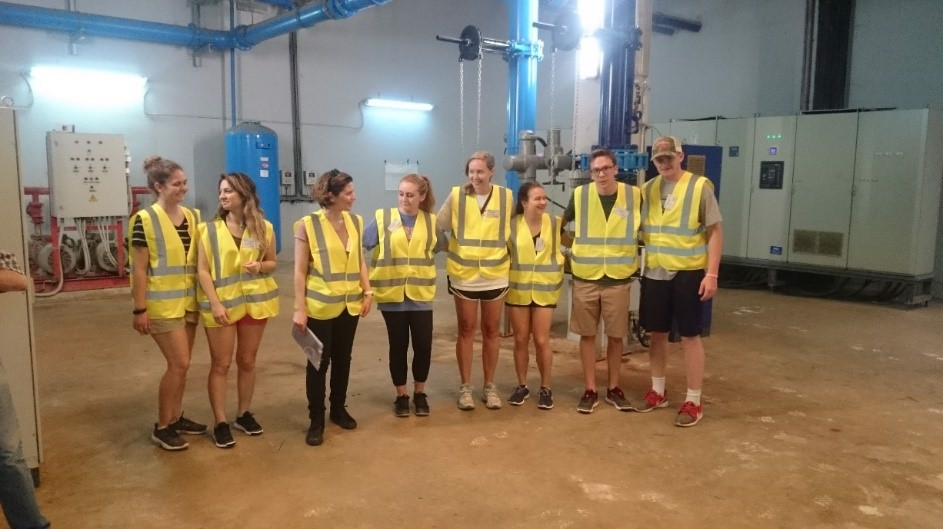 This summer's sustainability course took students on a fascinating journey within Athens and across the Aegean islands to Santorini, Thirasia, Folegandros, and Hydra, where they studied the unique landscape, vernacular architecture, and distinct yet interlinked identities of the islands. Students further examined the subjects of sustainability and adaptation to understand the capacity of these ecosystems and local infrastructure to support extreme touristic development and vastly fluctuating populations.

Course professor, Dr. Evangelia Chatzikonstantinou, also took students on a class trip to Psyttalia Wastewater Treatment Plant, which is the second largest in Europe! Students learned about the sustainability efforts of Attica's water company EΥΔΑΠ from one of their engineers, Mr. Nikolaos Tzouvaras, and discovered how a critical, and often unknown, part of our daily life functions.

Read more about what happened in the sustainability course here!
MS480 Philosophy Summer Seminar in Athens: Philosophy of Action and Knowledge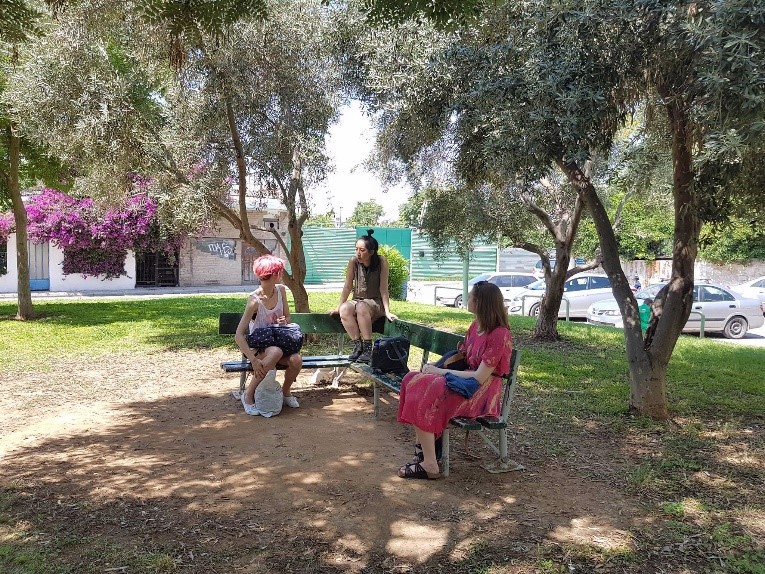 A new addition to this year's summer courses offered at CYA was Philosophy of Action and Knowledge, the first in our series of Philosophy Summer Seminars in Athens (PSSA), led by Dr. Evgenia Mylonaki. We were pleased to welcome distinguished philosopher Dr. John Hyman from the University of Oxford who gave lectures on his book, Action, Knowledge, and Will, presenting his latest research to our Philosophy students.

Throughout the course, students also participated in on-site classes at Plato's Academy and Aristotle's Lyceum and had the option to attend the international conference on Reflection and Non-Positional Self-Consciousness at the University of Patras with John McDowell, Jim Conant, Adrian Haddock, Matt Boyle and Sebastian Roedl, among others.

Read more about the summer philosophy seminar here!
| | |