CYA in the Top 3 Study Abroad Programs of 2017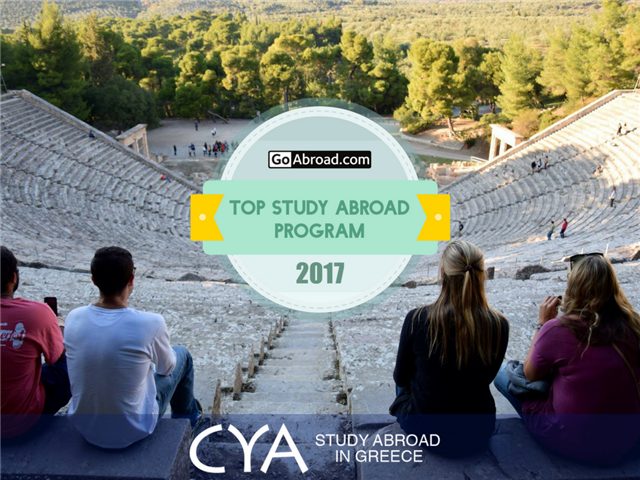 We opened the New Year with the news that CYA had been named one of the top three study abroad programs worldwide by GoAbroad based on student evaluations.

GoAbroad is an international program directory that registers student evaluations on academic programs attended worldwide. It aims to create resources and share international travel opportunities developing new ways to support the international education community across the globe.

Thanks to our team spirit and dedication to our mission, our faculty and staff in Athens and in the US are justifiably proud to be recognized for their efforts.
AIA/SCS Joint Annual meeting in Boston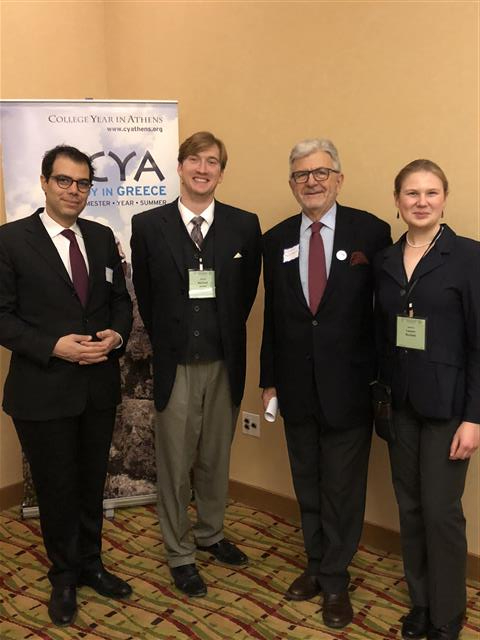 From left: Consul General of Greece in Boston Mr. Stratos Efthymiou, Marshall (Zane) Jordan (CYA '17), Mr. Phylactopoulos, and Lauren Montieth (CYA Fall '16)


On January 5th, CYA hosted its annual reception in conjunction with the joint meeting of the Archaeological Institute of America (AIA) and the Society for Classical Studies (SCS), in Boston. CYA President, Alexis Phylactopoulos, Theoni Scourta (Vice President of Academics), and Robert Pitt (CYA Professor) represented CYA; all three attended the AIA/SCS meeting, where Professor Pitt presented his paper on "New Inscribed Clamps and Dowels from the Athenian Propylaia."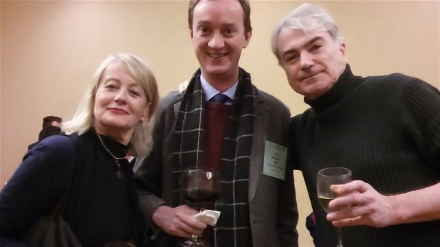 Theoni Scourta, Robert Pitt, and Brittain Smith (College of the Holy Cross)
The CYA team enjoyed meeting and reconnecting with alumni, friends, and colleagues from the Boston area and Archaeology and Classical Studies fields. Despite the freezing Boston temperatures, it was a warm and lively evening; attendees shared favorite memories from Greece and made new connections within the extended CYA family.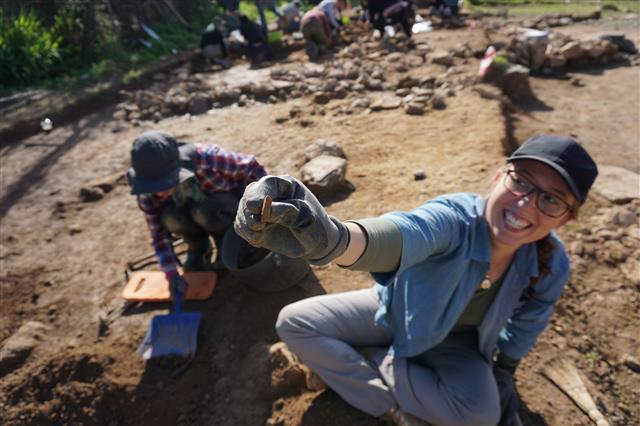 Voula Field School participant Morgan Brooks (University of Melbourne)

CYA commenced its first academic program of 2018 with the Voula Field School winter intersession.

The program led by CYA professors John Karavas (Excavation Director) and Angelos Papadopoulos (Field Supervisor) in cooperation with the Piraeus Ephorate of Prehistoric and Classical Antiquities, invites Archaeology students to Greece to gain hands-on experience excavating the ancient Athenian deme of Aixonides Halai.

In an exciting new collaborative venture between the University of Sydney's Department of Archaeology and CYA, for the very first time, we hosted 20 Archaeology students from Australia who took part in the excavation in the seaside town of Voula.

For some, it was their first opportunity to be involved in an archaeological excavation of this kind, giving them a unique chance to sharpen their practical skills.

CYA students first excavated the site in January 2008 under the direction of the Greek Archeological Service. It contains ruins of large ancient blocks, suggesting the presence of a large and significant public building. Excavations to date have unearthed material from the Byzantine, Roman, Hellenistic and Classical periods, including a sarcophagus, three Roman kilns and a marble lion of as yet unknown date or purpose.
Follow this link to learn more about the excavation.

| | |