CYA Hosting Forum's 3rd European Conference
As we affiliates and alumni of CYA know, the past year has been a time of change and transformation for Greece and broader Europe. U.S. students studying abroad—at CYA and throughout Europe—are experiencing this transition in real time. This October, at The Forum on Education Abroad's Third European Conference, the education abroad community will have the chance to gather and discuss "Living Change: Education Abroad in 21st Century Europe" to better help students "appreciate the past, understand the present and anticipate the future" of their chosen destination (forumea.org). We are thrilled that these conversations will be happening under our roof!
We see it as a great opportunity for our field and for Greece that The Forum has selected CYA as the host institution for this year's European Conference. The Forum develops best practices and standards for education abroad, and it provides training and resources (like the Conference) to education abroad professionals. Its mission is to improve education abroad programs to benefit the students who participate in them. The Third European Conference will involve about 400 attendees—administration and faculty members who either teach or work in Europe or U.S. colleges and universities—who share in this mission. We can't wait to welcome our education abroad colleagues to Athens!
New Summer Course on Migration

This summer, CYA students will be able to take part in a new, very relevant summer course
called The Global Governance of Migration: Emerging Responses to Irregular Migration.
As the title indicates, t
he course
will
cover
emerging responses to irregular migration
,
particularly maritime irregular migration to the EU
,
from a critical and comparative perspective.
CYA courses are designed to bring students on-site to locations relevant to their studies, and this summer course is no exception;
t
he class will travel to the island of Lesvos, currently a main disembarkation point for irregular migrants transiting from Turkey,
and s
tudents will
also spend a few days in Brussels, the center of European decision-making.
Migration is an important topic of current global interest, and we know participants will gain valuable knowledge and skills from this unique course.
For more information, please see the course syllabus, available online now!
Renovations in CYA's Classroom Building
This winter, CYA's classroom building underwent an exciting makeover. While it took some dexterous coordination to have the renovations ready for the new arrivals, we were glad to unveil the building's interior face-lift for our current spring semester students! When students and faculty aren't exploring Athens and greater Greece during on-site classes, they can enjoy their time discussing and debating in refreshed classroom space with improved acoustics and lighting, new hardwood floors, and comfortable desks!
New Communications Course on Social Media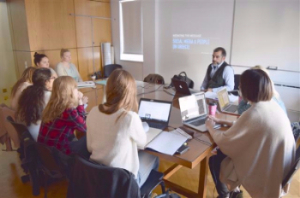 How often do you use social media to discuss or learn about current events? Do you follow presidential candidates on Twitter? Peek at the trending news topics on the Facebook sidebar? Comment on (or chuckle at) your friends' heated political posts? Mediating the Message: Social Media and People (in Greece), a new CYA Communications course taught by professor Demetris Kamaras, explores the implications of social media on Greek political rhetoric, discourse, and even structure.

Present-day Greece is a ripe setting for the new course; during recent "crisis years," online public dialogue has experienced a substantial growth. Individual voices of social media users/voters carry farther and louder online, and news content is put under scrutiny by active cyber-chatters (particularly in Greece, where few are shy about sharing their political opinions!). Students have a chance to observe and analyze first-hand the effects of social media on the greater media industry, social/political movements, public discourse, and contemporary rhetoric and reality regarding the Greek crisis.
Homestay Program A Success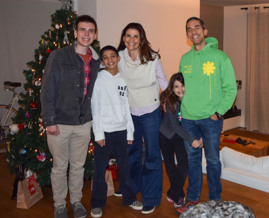 Those familiar with the early days of CYA may remember that homestays were a trademark of CYA at its infancy. The homestay program was revived in Fall 2014,and—thanks to the careful work of Nadia, our wonderful Director of Student Affairs—it has been a huge success! The homestay experience is meant not simply as an alternative to our CYA apartments; it is an enrichment of the study abroad experience, an immersion to Greek culture and the Greek family lifestyle, and an opportunity to gain life-long relationships and a second home halfway across the world.

Each semester, Nadia matches three to four students who have indicated an interest in the program with a host family with complimentary interests, lifestyles, or hobbies. Connor North (pictured below with his host family) was matched with a family in Fall 2015, and he left us with a shining review of his homestay experience. He writes, of his Greek family, "They're a wonderful, exceptionally welcoming family, who did everything in their power to make me feel welcome . . . My host family became my family over the course of the semester." The benefits of choosing homestay? According to Connor, "I accomplished everything that I wanted to when I decided to do a homestay: namely, I got to experience a bigger slice of Greece!!"

Our host families have proven, in true Greek fashion, to be warm and gracious hosts, and homestay students have left Greece feeling connected to and familiar with the country's culture and people. We are proud to offer this opportunity again, and we are hopeful that the program will continue to be a success!