In this e-Post, Dr. John Karavas, CYA professor of Ancient History & Archaeology, has some interesting facts to share about the Halmyris excavation project in Romania and the CYA dig in Voula, a coastal suburb of Athens.
Faculty Represents CYA at the AIA/SCS Joint Annual Meeting in Toronto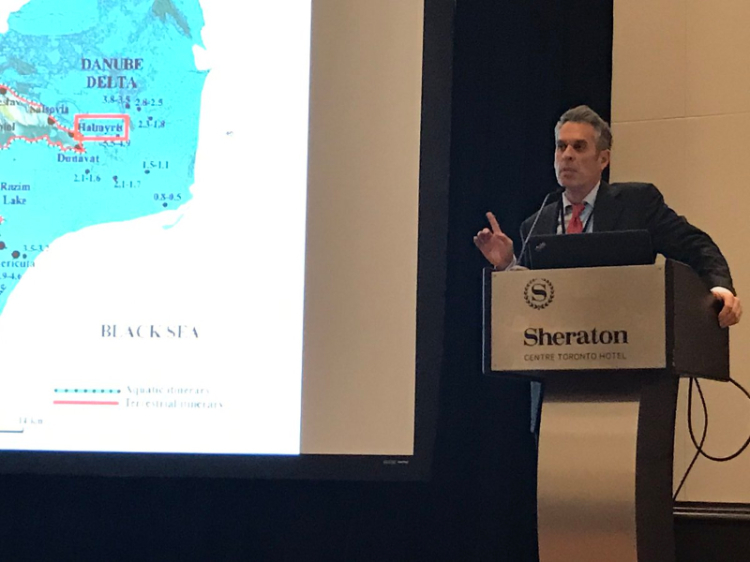 Professor of Ancient History & Archaeology at CYA and director of the Halmyris excavation Dr. John Karavas presented a paper Excavations at Halmyris: A field report of the 2014 – 2016 Seasons at the 118th Annual Meeting of the Archaeological Institute of America (AIA) and the Society for Classical Studies (SCS) which took place on January 7 in Toronto, Canada.

Dr. Karavas presented a preliminary report on his Halmyris excavations, the project he has been running in Romania for the last 10 years. He was at the AIA/SCS conference to not only acquaint people with the site, but also inform people of the various projects he has been working on over last few years, including those in conjunction with CYA.

According to Dr. Karavas: "Halmyris is a multifaceted site; it's a military site, it's a commercial, economic, industrial, political site, and it's a religious site, so it tends to combine very many aspects of life, especially in a region that is not very well known or highlighted. Every summer we employ volunteers from practically all over the planet. We get an average of 40 people per season, a lot of them happen to be people that I used to teach at CYA who had heard of the project and therefore decided to come and join us. Some of them are now nearing the completion of their PhDs.

"We have concentrated all our excavations on the fort, the main focus on our recent excavations. One was a tower, a bastion as it turned out to be, so therefore I described exactly what our principle objectives were, how and if these were achieved and equally how we proceeded to actually excavate it all the way down to the final product. The next thing we were able to fully find were a complex of rooms, which were clearly the barracks…"

The presentation was well attended and the feedback was positive; listeners were very impressed by the site, the methodology of the approach and the findings.
The AIA conference is always an excellent opportunity for CYA to reconnect with old friends and meet new people. Erica Huffman, Director of Alumni Relations, and Theoni Scourta, Vice President for Academic Affairs who also attended the meeting, hosted a wonderful CYA reception for Alumni and Friends. Local area alumni, our faculty, institutional partners and friends enjoyed an evening of congenial conversation and Greek food.
CYA Voula Excavation Winter Session January 10-23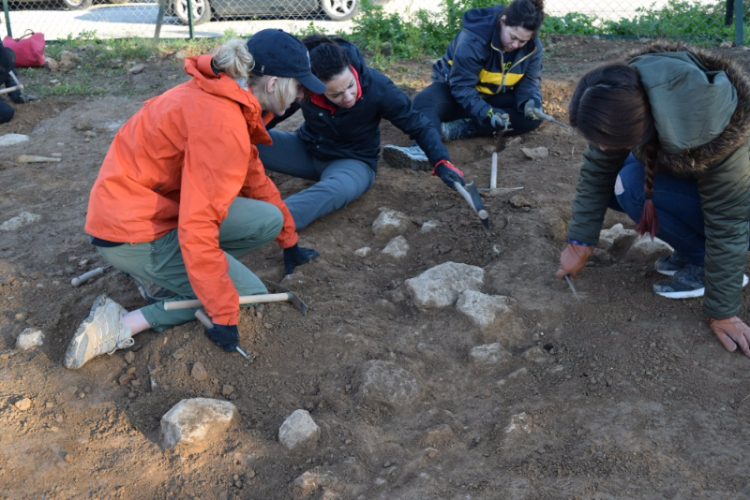 Following the AIA meeting, Dr. Karavas returned to Athens to direct the annual CYA excavation at Voula, accompanied by Eftychia Lygouri and her colleagues, Maria Giamalidi and Anna Maria Anagnostopoulou of the Piraeus Ephorate of Prehistoric and Classical Antiquities.


Excavations at Voula, a site associated with the Aixonides Halai, started in 2009. CYA has been involved in the project since 2011.

"A team of CYA students participated in the excavation. Overall, I would describe it as a success, not only because it acquaints students with the basic principles of methodology and research but also because students learn how to look at the material culture, how to archive and catalogue it; it's a first foresight in discussing aspects of dating, of the importance of the interpretation of this material culture and its conservation. So, in this respect, it went exactly as planned," Dr. Karavas said. "The group's findings were feature rich; they excavated the extension of a room and found an area of a pythos (storage space) and also some interesting material culture. Overall, the project went well," he added.

Read more about the Voula dig on our blog, including a full photo album, here.
| | |