Community of ChristChurch
Faith News Update for April 16, 2020

Virtual Worship Logistics:
If you are not able to join worship via your personal computer, you are welcome to join using your phone. Simply call this number… (253) 215 8782, follow the prompt to enter the Meeting ID: 669 927 281, and you will find yourself in our Zoom worship space.

The virtual doors to our Zoom worship will open at 9:00am.
Holy Communion wil

l be a part of our online worship, so we encourage everyone to prepare by putting together your own communion set from whatever you have handy in your kitchens and pantries. Be creative! For instance, the cup could be wine, juice, water, etc. The bread could be actual bread, a cracker, a tortilla, tortilla chip, etc. Please have these items nearby and handy when you join us online.
Easter 2020: COVID Conversations
During worship this Sunday, we are welcoming Alex Coleman, Senior Program Coordinator for Health Equity Planning and Policy, for Washington County Public Health. I have invited to her to join us for worship and to share a little about some of the challenges, as well as some signs of hope, she and her colleagues in public health are seeing in our communities during the COVID-19 pandemic. Alex's conversation with us will be the first in an Easter season series of conversations, helping us to place ourselves in a larger community context, as we shelter in place and worship from home.

Alex would like to know if you have any specific questions for her as a representative of the Public Health department. Please send any questions you may have to me, Pastor David, at pastordavid@comchristchurch.org, and I will pass them on to Alex before Sunday.
I look forward to seeing you in worship this Sunday!
God's peace,
Pastor David
On Good Friday, April 10th, 2020 the building sale was officially completed. This is the end of one journey and the start of another. We can finally celebrate that this chapter is done. We are so looking forward to continuing to walk together as we find an interim space and then eventually a new permanent home for this loving, welcoming and giving community.
Thank YOU for all the prayers, conversation, guidance and feedback on the path to sell our building. Your Church Council is meeting at least twice a month to work out details on moving forward. You'll see in the article below that we are looking for new Council members. This summer will be a really exciting time to join the Council. Please consider nominating someone (including yourself!). More updates will be coming soon. For now let's all take a collective pause and enjoy this big moment.
Now accepting nominations for Church Council
Do you know someone you think would be great in a leadership role at ChristChurch? We are accepting nominations for a 2-year term. Your Church Council is a gifted and passionate group of people who love Jesus and love this congregation. Nomination forms must be received by Sunday, April 26th. We are accepting nominations via an online form. Here is the online form.
ChristChurch COVID-19: Needs & Response Survey
If you need help or are able to help the community in this health crisis, please fill out this survey to tell us what your needs are or how you can help respond to the needs in our larger community.
COVID-19 Response Opportunity in our Community
Beloveds,
I wanted to share with you a wonderful opportunity for us to be good news to people in our surrounding communities during this COVID-19 pandemic.
Bienestar Oregon Esperanza Fund: COVID-19 Response
Bienestar is a local non-profit serving the low-income housing needs of immigrant families in our area. Gracie Garcia, Resident Services Director for Bienestar, reached out to us recently asking for our help in making sure at-risk families in Bienestar's housing communities get the groceries and essential items they need during this time. Our immigrant population has been one of the hardest hit populations during the pandemic with some of the greatest barriers to accessing services and benefits during this time.
There are two ways you can help out right now…
One way is to make a financial donation to Bienestar. On our ChristChurch web page, if you click on the GIVE button, you will see that one category you can contribute to is Bienestar. Any monies received in this category will be matched by ChristChurch up to $10,000 utilizing the benevolence fund we have set up to satisfy the terms of the sale of our building.

The other way to help is to volunteer in helping to distribute groceries, essential items and grocery food cards directly to families in need. We are working with Gracie at Bienestar and other charitable organizations to develop safe procedures for delivery with masks, gloves and minimal direct human interaction. If you are interested in helping out with this project, please contact me, Pastor David, by e-mail (

pastordavid@comchristchurch.org

.)
Other ways to stay involved & connected:
ChristChurchCrafters HookUp
(VIRTUAL meeting)
Every Saturday @10am
Upcoming meeting:

April 18, 2020
https://zoom.us/j/226185003?pwd=b0tzLzBDaTJlc1RvVEV2dFQyRTZ2QT09

Meeting ID: 226 185 003
During this period of time, we are going to combine the Prayer Shawl and Quilters Groups, plus open it up to any crafters in the ChristChurch family.
People can bring whatever they may be working on, or just come to chat about everyday matters.

ChristChurch
Virtual Coffee Hour Open House
Every Wednesday 10am to Noon
Save this Zoom link:
https://zoom.us/j/301147732?pwd=OHdrNDJDVC9pNkZKVnI5eFRzZXNhQT09



Meeting ID: 301 147 732
We are offering an opportunity for you to visit on Zoom every Wednesday until the social distancing rule is lifted.

The meeting room will be open from 10am -noon on Wednesdays and hosted by Violet Thetford.
This will be an open house format for folks who want to drop in any time during the 2 hours. Feel free to come and go as you like. See ya Wednesday!
Church Member Profile
During this time of social isolation, we thought you might want to hear how people are doing and what they are looking forward to. If you would like to be in an upcoming Faith News please email Rachael.
Sallie Bullock - Reconciling in Christ Team Leader

What are you up to during the COVID 19 stay at home order?
I work at Legacy Health and two days a week I work at the Hospital Emergency Operations Center as the internal communications officer to help plan for the COVID-19 patient surge. It has been so interesting learning firsthand about the things hospitals need to do to keep everyone safe during a crisis. The other days I work from home and manage a team of Physician Liaisons who are struggling with the Stay at Home mandate. I have really had to up my virtual meeting skills. It will be so nice to see everyone in person when we can safely return to work! I am also trying to work out every day, listening to uplifting podcasts like Brene Brown, Gretchen Rubin, and of course Oprah's Supersoul Conversations.


I am also very excited for my daughter's upcoming college graduation, although I am disappointed about not being able to celebrate in person. Here is a photo of the soon to be BSN graduate.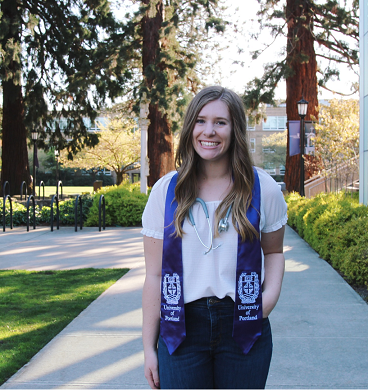 What are you looking forward to getting back into at ChristChurch once we can gather in person again?
I really enjoy our monthly Reconciling in Christ (RIC) potluck meetings on the first Thursday of every month at 6:00 pm. We have zoomed, but it isn't as fun as real gatherings. (Next meeting date is Thursday, May 7th)

What are your ChristChurch dreams for the future?
I think Pastor David and our worship team have done a wonderful job keeping us connected through Zoom and in some ways I think all this sudden change will help us in our ChristChurch transformation and path forward. God has good things in store for us! Just think, when we are finally able to meet as a congregation, we won't care where we are as we will just be happy to be together. Perhaps this will bring us perspective.

How are you finding hope through your faith in these times?
I am seeing people at their best during this crisis. From the front line healthcare workers helping patients survive to the community who are providing meals and donations and showing heartfelt thanks. I am seeing God shine through people!

Your favorite bible verse that offers comfort, hope?
Philippians 4:13: "I can do all things through him who strengthens me."
Electronic Giving
Since we can't pass our offering basket during virtual worship, we encourage you to automate your giving. Electronic giving also offers an easy way to give on a recurring basis.
Go to
https://app.easytithe.com/App/

Giving

/comchristchurch
and select the checkbox 'Make this gift recurring'. You will then be walked through the steps for setting up an account with Easy Tithe.
Community of ChristChurch
This is Christ's church. There is a place for you here.
5170 NE Five Oaks Drive
Hillsboro, OR 97124
(503) 617-9526
Our office is closed due to COVID 19. Staff is working virtually.
Please email us:
Pastor David Eppelsheimer
pastordavid@comchristchurch.org
Administrative & Communications Coordinator, Rachael Jans
Prayer Requests
| | |