Community of ChristChurch
Faith News Update for April 30, 2020

Joining by phone:


If you are not able to join worship via your personal computer, tablet or smartphone you are welcome to join using your phone.
Call this number: 1-669-900-6833

Use the meeting ID: 669 927 281

Enter password 080114
You will find yourself in our Zoom worship space.
Virtual Worship Logistics:

The virtual doors to our Zoom worship will open at 9:00am.
Holy Communion wil

l be a part of our online worship, so we encourage everyone to prepare by putting together your own communion set from whatever you have handy in your kitchens and pantries. Be creative! For instance, the cup could be wine, juice, water, etc. The bread could be actual bread, a cracker, a tortilla, tortilla chip, etc. Please have these items nearby and handy when you join us online.
Easter Season Theme: COVID Conversations
During this Easter Season, we are having a series of conversations during virtual worship to help us to place ourselves in a larger community context, as we shelter in place and worship from home.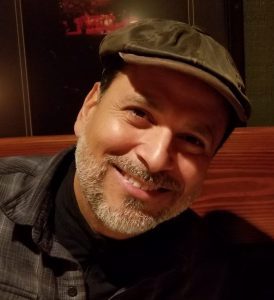 This week for our COVID Conversation during worship we welcome Bishop's Associate for Inter-cultural and Inter-religious Mission, Juan Carlos La Puente Tapia, Oregon Synod (ELCA).

About Juan Carlos La Puente Tapia:
I moved to Portland, Oregon from Peru in 2014 with Rae Anne and our daughter Isabel. It has been a wonderful adventure surrounded by the beauty of the forests, rivers, and mountains. For many years I have been working on supporting organizations and institutions on how to root their work for justice and peace into a relational culture that fosters community dialogue and discernment. Since 2016, working with leaders from the Oregon Synod and other countries, we have been doing theology to enlighten the community dialogue and discernment in communion with those we call our ancestors as a source of compassion and deep hope. All of these efforts have been developed through spiritual and theological mutual accompaniment.

Upcoming Conversations include…
May 10th - Hillsboro Mayor, Steve Callaway
Date TBD - Hillsboro School Board Chair, Erika Lopez.
I look forward to seeing you in worship this Sunday!
God's peace,
Pastor David
COVID-19 Response Opportunity in our Community
Beloveds,
I wanted to share with you a wonderful opportunity for us to be good news to people in our surrounding communities during this COVID-19 pandemic.
Bienestar Oregon Esperanza Fund: COVID-19 Response
Bienestar is a local non-profit serving the low-income housing needs of immigrant families in our area. Gracie Garcia, Resident Services Director for Bienestar, reached out to us recently asking for our help in making sure at-risk families in Bienestar's housing communities get the groceries and essential items they need during this time. Our immigrant population has been one of the hardest hit populations during the pandemic with some of the greatest barriers to accessing services and benefits during this time.
There are two ways you can help out right now…
One way is to make a financial donation to Bienestar. On our ChristChurch web page, if you click on the GIVE button, you will see that one category you can contribute to is Bienestar. Any monies received in this category will be matched by ChristChurch up to $10,000 utilizing the benevolence fund we have set up to satisfy the terms of the sale of our building.

To date, we have already received $1960 in donations, with our matching fund, that makes $3,920. The deadline for funds to be matched is Sunday, May 31st.

The other way to help is to volunteer in helping to distribute groceries, essential items and grocery food cards directly to families in need. A few of our members have already participated in weekly food distributions at Bienestar apartment facilities around Hillsboro, partnering with such organizations as Community Hands Up, All Saint's Episcopal Church and the Oregon Food Bank.
We are working with Gracie at Bienestar and these other charitable organizations to maintain safe procedures for delivery with masks, gloves and minimal direct human interaction. We are using collapsible wagon/carts to facilitate the process. We could also use one more collapsible wagon/cart (example in photo on the right).

If you are interested in helping out or have a wagon/cart, please add your name to this sheet.


God's peace,
Pastor David
Church Member Profile
During this time of social isolation, we thought you might want to hear how people are doing and what they are looking forward to.
If you would like to be in an upcoming Faith News
please email Rachael.
Ilena & Stuart Schultz
What are you up to during the COVID 19 stay at home order?

We are so glad and thankful to have learned of Zoom and had help in getting it loaded onto onto our laptop! Not only has it been wonderful to be able to participate in our worship services and continue our WINGS Book Group via Zoom but we have also had fun having 'Virtual Game Nights' via Zoom with friends and our son and grandson in Las Vegas.


We have been trying to get out for a little drive for a change of scenery and one Friday met and visited with a very interesting 81-year old 4th generation farmer of Mid Valley Farm, a farm that is 150 years old plus. Ilena has learned how to order groceries online and do curbside pick up and Stuart has worked on getting his garden ready and some tomatoes are planted and some beans are up!

We have also been enjoying trying out some new recipes, especially with rhubarb from a friend's yard; rhubarb bread, strawberry rhubarb pie, and rhubarb custard pie. Stuart also made an amazing entree of fresh Columbia River steelhead, spinach, and feta cheese wrapped in phyllo dough! The only problem with trying these new recipes is the extra pounds it puts on even though we are also getting in a walk or bike ride most every day!

We are also frequently commenting how thankful we are that our 50th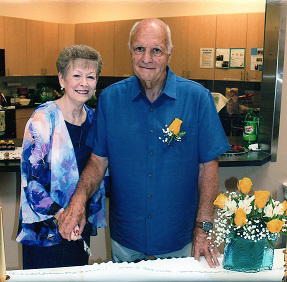 Anniversary was LAST summer so we were able to experience the joy of celebrating it with so many family and friends and that we also were able to have the adventure of traveling to Italy and the Rhine River cruise!
What are you looking forward to getting back into at ChristChurch once we can gather in person again?

We are looking forward to seeing everyone 'in person' and singing and hearing the wonderful praise songs in community again. We greatly appreciate the worship services that Pastor David and our great music team have created for us during this time of physical distancing! We are also looking forward to being back with our Reconciling in Christ group in person and our potlucks (not sure what that may look like when we are able to gather together again).
What are your ChristChurch dreams for the future?

This time of being physically distanced has given us the opportunity for us to truly learn and experience that the 'church' is not a building but our community of siblings in Christ. We dream of being together again no matter where that is! It will be exciting, and maybe sometimes challenging, to see where God leads us to be His hands and His feet to serve our neighbors.
How are you finding hope through your faith in these times?

We find hope in knowing and trusting that God is with us, providing for us,
sustaining us, through these times just as He has through other difficult times in our lives. We are experiencing hope through God's creation and nature. The flowers and trees are blooming, the leaves are opening up on the trees, the grass is greening, the birds are singing and feeding at the bird feeders in our backyard. Spring has arrived, pandemic or no pandemic! On our walks, we love seeing the drawings and messages done with sidewalk chalk, like the one that said, "Remember, smiles are contagious, too!" We have been blessed by friends and neighbors offering and bringing us groceries and supplies and even treats like flowers and wine and even Krispy Kremes!
Your favorite Bible verse that offers comfort, hope?

Romans 8:38
For I am convinced that neither death nor life, neither angels nor demons, neither the present nor the future, nor any powers, neither height nor depth, nor anything else in all creation, will be able to separate us from the love of God that is in Christ Jesus, our Lord.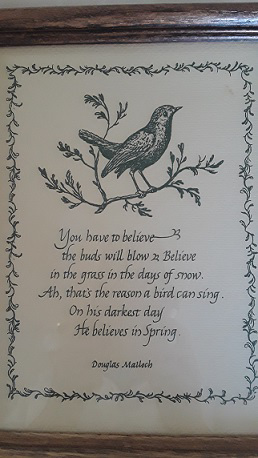 Opportunities to stay connected:
ChristChurchCrafters HookUp
(VIRTUAL meeting)
Every Saturday @10am
https://zoom.us/j/226185003?pwd=b0tzLzBDaTJlc1RvVEV2dFQyRTZ2QT09
Meeting ID: 226 185 003


Password: 012822
During this period of time, we are combining the Prayer Shawl and Quilters Groups, plus open it up to any crafters in the ChristChurch family.
People can bring whatever they may be working on, or just come to chat about everyday matters.
ChristChurch
Virtual Coffee Hour Open House
Every Wednesday 10am to Noon
Save this Zoom link:
https://zoom.us/j/301147732?pwd=OHdrNDJDVC9pNkZKVnI5eFRzZXNhQT09

Meeting ID: 301 147 732


Password: 005805
We are offering an opportunity for you to visit on Zoom every Wednesday until the social distancing rule is lifted.

The meeting room will be open from 10am -noon on Wednesdays and hosted by Violet Thetford.
This will be an open house format for folks who want to drop in any time during the 2 hours. Feel free to come and go as you like. See ya Wednesday!
Virtual Reconciling in Christ Team Meeting
Share our Zoom Worship link with friends!
You are invited to share our Zoom worship link with friends and family.
Our interactive worship might be just what people need in this time of isolation and social distancing. Now is a great time to invite folks to check out our church!

Even people outside of the Portland Metro area can join us!



Two easy ways:
1. On Facebook? Share the worship link to your friends. Make sure to include the meeting ID and password (found at the top of this email).
2. Forward this email.

Electronic Giving
Since we can't pass our offering basket during virtual worship, we encourage you to automate your giving. Electronic giving also offers an easy way to give on a recurring basis.

THANK YOU to everyone that has signed up!
We are so grateful for the response.
Go to
https://app.easytithe.com/App/

Giving

/comchristchurch
and select the checkbox 'Make this gift recurring'. You will then be walked through the steps for setting up an account with Easy Tithe.
Community of ChristChurch
This is Christ's church. There is a place for you here.
5170 NE Five Oaks Drive
Hillsboro, OR 97124
(503) 617-9526
Our office is closed due to COVID 19. Staff is working virtually.
Please email us:
Pastor David Eppelsheimer
pastordavid@comchristchurch.org
Administrative & Communications Coordinator, Rachael Jans
Prayer Requests
| | |