Faith News Update for August 23rd, 2018
August 26th, 2018


9:30am Sunday Worship
with Holy Communion

The Second Way of Love
Scripture Reading:


Matthew 22:34-40
Join us for a recap of key learnings
from the June annual meeting
10:45 am Sunday, August 26th
in the worship space
What does God want FOR ChristChurch?
What does God want FROM ChristChurch?
In preparation for our season of listening, come jump-start your thinking on these and other questions.

Did you know. . .
Those who do nothing, or simply continue doing what they've always done, will assuredly move toward crisis.
The time has come for us to make bold decisions and to step out in faith.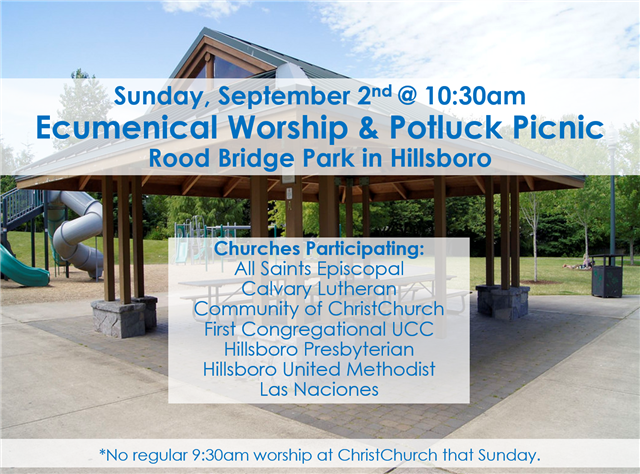 Purpose:
In the spirit of Christ's prayer that "all may be one", the clergy, members, and friends of seven Hillsboro churches will be gathering on Labor Day weekend for worship, fellowship, and fun!

The event is sponsored by All Saints Episcopal, Calvary Lutheran, Community of ChristChurch, Hillsboro First Congregational UCC, Hillsboro Presbyterian, Hillsboro United Methodist, & Las Naciones United Methodist.

All are welcome! Todos son bienvenidos!

Logistics:
After the celebration of Holy Communion together, we will continue to break bread together with a potluck lunch. We have reserved all three pavilions and will provide grilled hotdogs and hamburgers, and ask attendees to bring a drink and/or side dish to share. We'd also like to encourage folks to bring a camp/folding chair, though you can sit in the pavilions if needed. Attendees are encouraged to make their regular offerings to their local church that week, and a special offering will be taken at the park to support Family Promise of Washington County.

Please label your potluck dishes, and help us be "green" by bringing your own reusable tableware/utensils and water bottles. We will have a limited amount of disposable available. There is ample parking, but we encourage you to ride your bike, ride share, or walk if you can - and leave the closest parking spots for those with mobility issues. The park is accessible and there public restrooms nearby. Children are welcome to play on the playground or join in worship with a special art project that is being planned. Lastly, you can help us plan for the number of grill foods we should purchase by RSVPing if you plan to attend!

TO RECAP:

Please bring...
Lawn Chair or Picnic Blanket for Worship
Plates, Utensils, Napkins, Non-alcoholic Beverages.*
A Potluck Dish to Share (Salads, Sides or Desserts).

Burgers, Dogs, Buns and Condiments will be provided.

*Water will be available, along with extra plates, utensils and napkins if needed.


There are two ways to RSVP for this event:

A sign up sheet is available in the Commons today.
Sign up via our Facebook Event...
CLICK HERE!

Rain or shine, we hope to see you there!

Meet Chris Moore:
Interim Coordinator of Administration & Communications for ChristChurch!
Chris is a longtime member who retired last fall and is helping out on a volunteer basis while we recruit a replacement for Rachael Jans. Chris works 9am-4pm Tuesday and Friday, and 1-4 pm Thursday. Stop by the office and say hi!
Community of ChristChurch
5170 NE Five Oaks Drive

Hillsboro, OR 97124
Admin@comchristchurch.org
(503) 617-9526
Tuesday, Thursday and Friday 9am - 4pm

| |