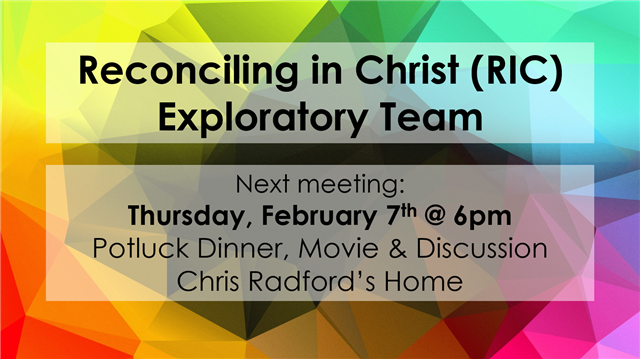 Join the Reconciling in Christ exploratory team for their next meeting on Thursday, Feb 7th at 6pm. At this meeting the team will be having a potluck, watching and discussing a film.


Description of the film:
Through the experiences of five very normal, very Christian, very American families -- including those of former House Majority Leader Richard Gephardt and Episcopal Bishop Gene Robinson -- we discover how people of faith handle, or sometimes tragically fail to handle, having a gay child. Informed by such respected voices as Bishop Desmond Tutu, Harvard's Peter Gomes, Orthodox Rabbi Steve Greenberg, and Reverend Jimmy Creech, this film offers healing, clarity and understanding to anyone caught in the crosshairs of scripture and sexual identity.


This meeting is scheduled to take place off-site at Chris Radford's home.
Please contact Chris to RSVP. This meeting is open to all!

Other Updates:
At the January Church Council meeting, the Council formalized the Reconciling in Christ committee to go through the process of exploring whether this congregation should formally be welcoming of LGBTQ (lesbian, gay, bisexual, transgender, and queer) people.
If you are curious about what Reconciling in Christ is about, we recommend you consider attending this event on Sunday afternoon:
Celebrate the LGBTQ Community
Annual Metro-Area RIC Service
Worship & Potluck

Sunday, January 23rd
4pm - 6pm
Salt & Light Lutheran Church
5431 NE 20th Ave

We will enjoy an inclusive worship service with fantastic music (including the opportunity to be a part of the choir), followed by a potluck dinner.
This annual event for the whole metro area of Portland and SW Washington gives us a chance to deepen our community, strengthen our faith,
and kindle our hope. Full details here.