Community of ChristChurch
Faith News Update for September 12th, 2019
September 15th, 2019
9:30am Sunday Worship
with Holy Communion
Movies that Matter is kicking off this fall with a new format. This year, we will gather each month at a local theater on the west side to watch a film, followed by conversation and refreshments at a nearby pub or restaurant.
Our kick off event will be next Friday, September 20, at the Regal Evergreen Parkway Cinemas for the 7:10 PM showing of Ad Astra. Afterwards, we will meet at the Thirsty Lion for conversation and refreshments.
Tickets:
Tickets for the film are available now online through:
-Regal Cinemas website
- Fandango (Regal Evergreen Parkway & RPX)
-or your favorite online ticketing app.


Please RSVP on Meetup or Facebook and we'll do our best to reserve a table for the after party!
Greetings ChristChurch! I am honored to have been asked to serve our community as
Coordinator for the Isaiah 43:10 Transition Team. My family and I have been part of
ChristChurch since 1999 and I've served in many capacities with Children and Student Ministry,
the Safety Team, the 2013 Listening Team, Worship Team, and the RIC Exploratory Committee.
I've also been on staff as interim administrator and bookkeeper at ChristChurch. I've been an
administrator for the past 30 years and currently work as an Office Manager for a private dental
practice.

As Coordinator for the Isaiah 43:19 Transition Team, I am partnering with the council and
community to identify and complete various tasks to prepare the building for sale and prepare
our community to move in the direction God is calling us. Some of these tasks include sorting
through the things in the building and searching for a new place for our community to gather.
We will look for ways to celebrate our time at Five Oaks Drive and ways to acknowledge our
grief as we say goodbye.

There are plenty of opportunities to help with this process. If there is a certain ministry group or
space in the building that you feel particularly called to serve, please contact me! If you are not
sure how you might fit in with this project, please ask! I am eager to talk to you about specific
ways you can use your time, talent, institutional knowledge, and concern for our community.

Above all, please pray for wisdom, patience, and courage throughout this process and as we
discern God's calling for our next steps.

Most sincerely,
Chris
Christine Radford
Phone or text: (503) 704-2092
Email:
chrisrad4d@gmail.com
Community Event: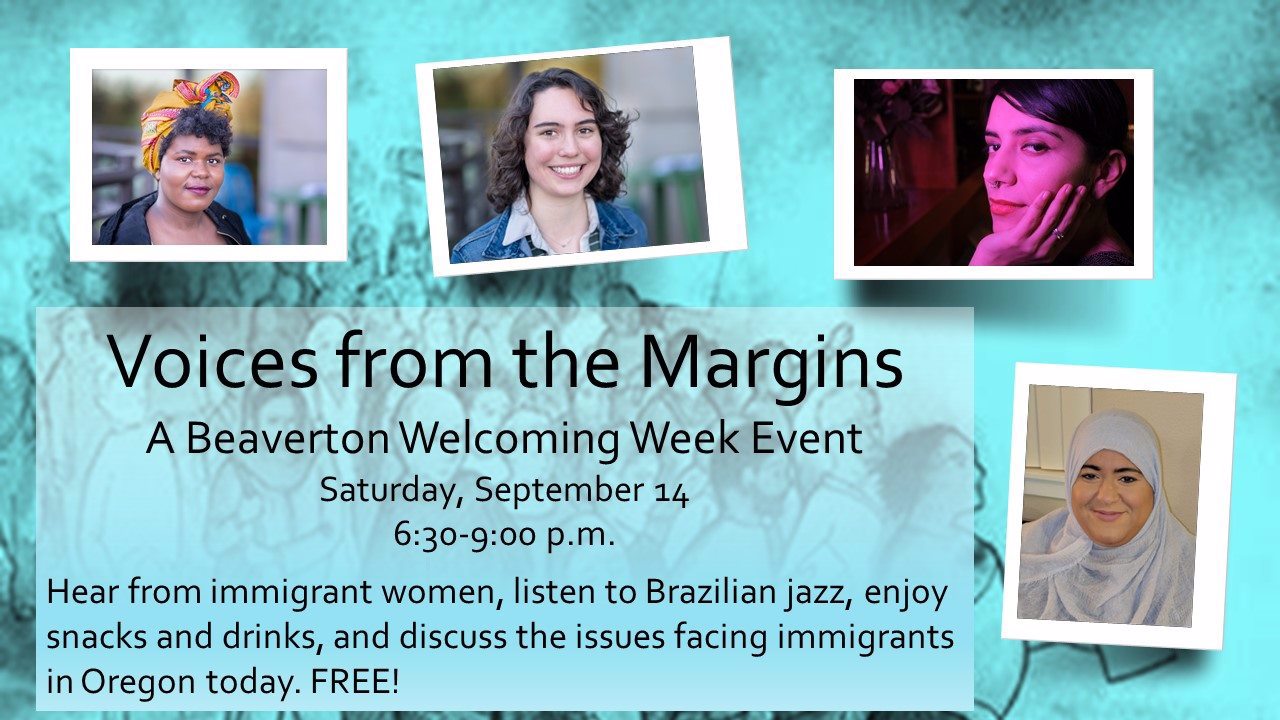 As part of the City of Beaverton's Welcoming Week, Spirit of Grace is hosting an exciting evening showcasing immigrant women's voices. We'll hear from three immigrant women, have small discussion groups, listen to great Brazilian jazz, and offer light refreshments. This event made possibly by a grant from the City of Beaverton.
Full details here.
Community of ChristChurch
5170 NE Five Oaks Drive

Hillsboro, OR 97124
Rachael Jans: Admin@comchristchurch.org
(503) 617-9526
Office hours: Tues, Wed & Thurs 9am - 4pm
| |