Upcoming Events
Italics = added this week
April 2
- Skate City Party 4-6 pm

April 4
- Open House for 2nd, 3rd and 4th grades 5-6 pm (NOTE time change)
- STEAM Night 6-7 pm

April 5
- PTA Board Meeting

April 12
- PBIS Assembly
- Kindergarten Open House 8:30-9 am (NOTE date change)

April 16
- Culver's Restaurant Night 5-8 pm

April 18
- Kindergarten Roundup 6:00-7:00

April 19
- No School

April 22
- SMSD Big 9 Golf Tournament

April 25
- 5th Grade Musical and Open House

April 27
- Dragon Dash

May 2
- Early Dismissal - Professional Learning
- PTA Board Meeting
- Mother/Son Dance 7-9 pm

May 3
- No School - Professional Learning

May 7
- Chipotle Prairie Village Restaurant Night 4-8 pm

May 10
- Field Day

May 13
- Jump Up Day
- Field Day Rain Out

May 17
- PBIS Assembly

May 22
- 6th Grade Graduation

May 23
- Last Day - Early Dismissal
- Variety Show 8:30 am








The Dragon Digest
Your Corinth PTA Newsletter

Hello Corinth Families!

Lots going on this week! Join in on the fun at Skate City on Tuesday afternoon. Also don't forget to stop by STEAM Night on Thursday evening after the Open House for 2nd, 3rd and 4th grades!

Dragon Dash is fast approaching on April 27. Don't forget to register by April 3rd before the price increases.

Here's what's coming up:
April 2: Skate City Party - 4-6 p.m.
April 4: Open House - grades 2, 3 & 4 (5-6 p.m.)
April 4: STEAM Night (6-7 p.m.)
April 12: Kindergarten Open House 8:30-9 a.m.
Leanne Beezley
PTA President


STEAM Night
Thursday, April 4
6:00 – 7:00 pm


Join us to experience Science, Technology, Engineering, Art and Math all in one evening!
Visits from Prairie Oak Nature Center and the Kansas Department of Wildlife
Mad Science and Mathnasium
Art with Mrs. Bogart
Check out Maker Space activities in the Gym
Society for Neuroscience of Kansas City and many more!
We need a few parent volunteers!!!
Please contact Paige Geiger at pgeiger@kumc.edu to lend a hand!! The show can't go on without YOU!

Please join us for an evening of fun and don't forget to stop by after the Open House for 2nd, 3rd and 4th grades!

Skate Party

Monday, April 22nd. Noon shotgut start. Let's bring home the trophy again this year! A shout out to our champion golfers from last year...Charlie Tholl, Curtis Thurston, Tyler Hudson and Parker Hills. Looking for two more foursomes for an afternoon of teeing it for the kids. Contact paulcbarbre@gmail.com.

Running Club


Running Club kicks off April 3rd! K-1st Grades will meet on Wednesdays and 2nd-6th Grades will meet on Thursdays. We need parent volunteers to help with general supervision of the running area to ensure a safe environment for all students. Please see the sign up genius below to volunteer. You can reach out to Maureen Schwartz ( Maureen.schwartz@commercebank.com) or Jill Schumer ( jill.schumer@gmail.com) for any parent volunteer questions. Thank you for your consideration!


Dragon Dash - April 27


Save the date for the annual Corinth Dragon Dash, a 5K run and 1 mile fun run. The race is held annually and all proceeds benefit the Corinth PTA which helps supports the Corinth Math Aide and other community funded positions.

Register for the annual Dragon Dash at: https://runsignup.com/Race/KS/Leawood/CorinthDragonDash


* 5K Run: $23, run begins at 7:45 a.m.
* 1 Mile Fun Run: $12, begins at 7:50 a.m.
* Sleep In (no run, free shirt, join the fun later!) $12
* Be sure to register by April 3rd to avoid a price increase
* Dry Fit Tees are available for an additional $10. Deadline to order Dry Fit Tees has been extended to April 4.


Packet Pickup will be available at Corinth Elementary School in the main lobby during the following dates and times:
* Thursday, April 25: 2:00-6:00 p.m.
* Friday, April 26: 7:30 a.m. - 9:00 a.m. and 2:30-4:00 p.m.
* Saturday, April 27 (Race Day): 6:30 a.m. - 7:30 a.m.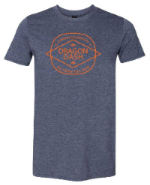 Contact Holly Hagman at hollyhagman@gmail.com for sponsorship opportunities.
Watch for pledge sheets coming home in the next couple of weeks. You can also set up a pledge page for your student through the registration page website.
Corinth Auction Parties


Did you buy an auction party and can't remember the details? See below for all child and adult party information. Additional details will be sent by the hosts
to those that purchased a few weeks before each specific party. If you have any questions - let us know!
Thanks again for your generous support of Corinth Elementary!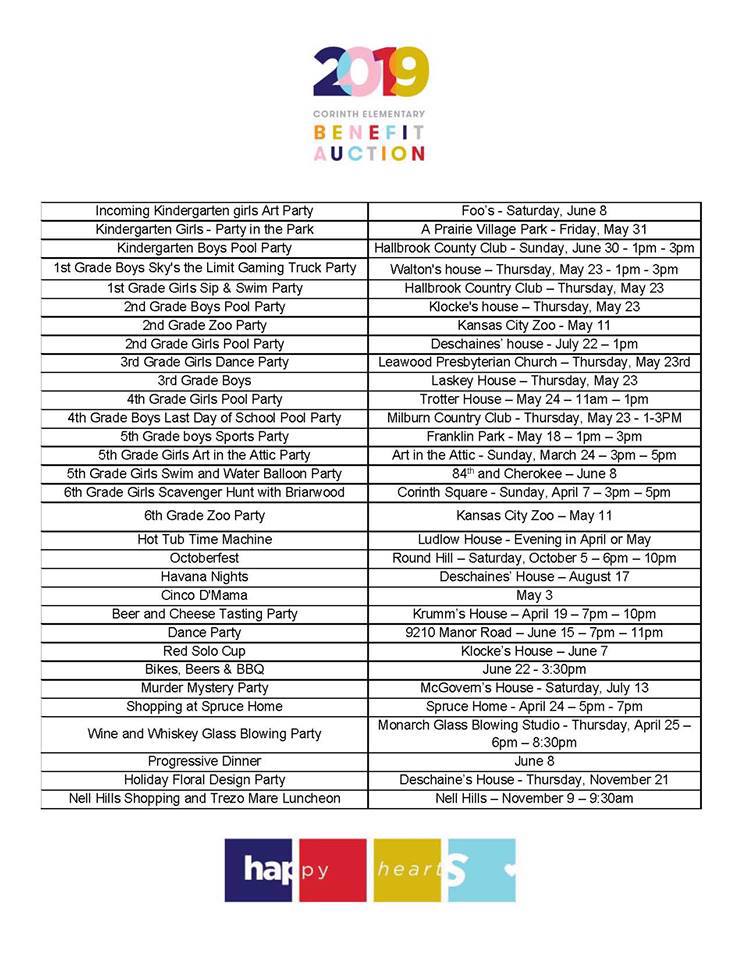 SMSD Parent Education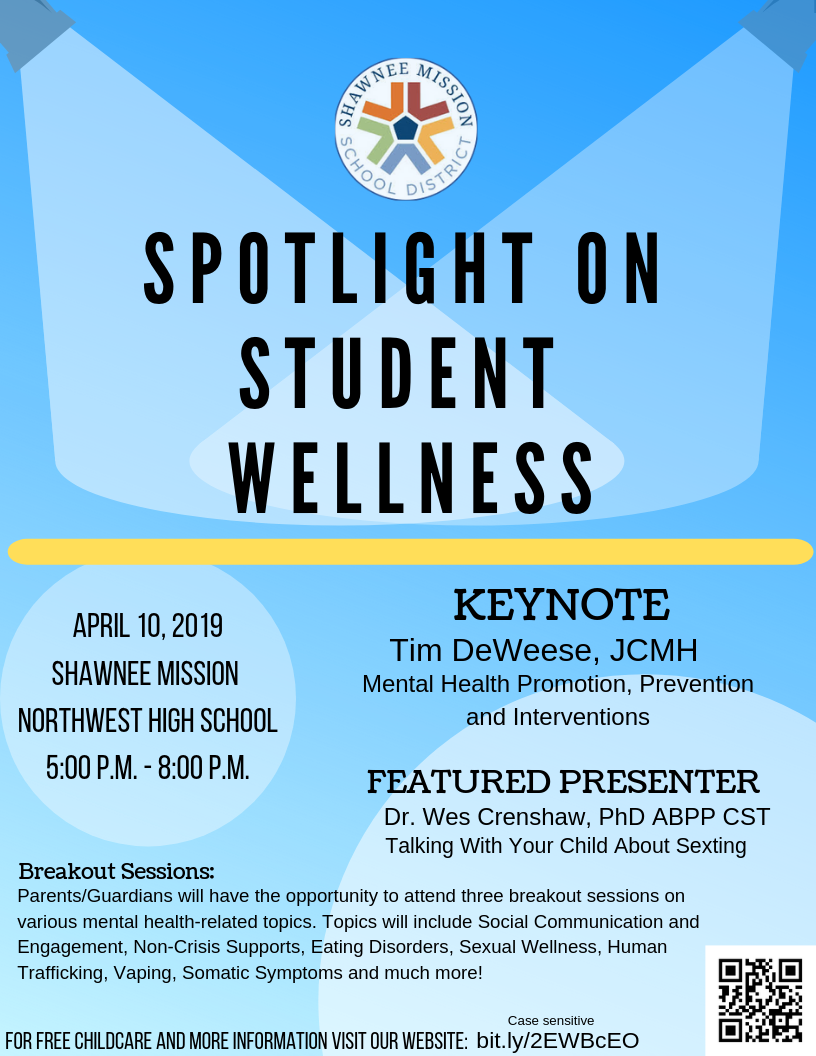 2018-19 COMMITTEE CHAIRS
Auction
Lindsay Peattie, Betsy Ballard
Auditor
Pete Reeves
Book Fair
Christie Walton, Stacia Wiklund,
Debra Rettenmaier, Katie Saylor
Book Fair Event
Cortney Dougherty
Chat N Chew
Amber Lutes
Citizenship
Margaret Chaffee
Directory
Emily Watts
Dragon Dash
Holly Hagman
Dragon Dash Step Up
Stacey Grecian
Facebook
Trisha Sims
Fall Fest
Tracy Kelting, Sally Baratta
Father Daughter Dance
Monica Simoneau
Field Day
Maureen Schwartz
Garden
Melissa Greenstein
Golf Tournament
Paul Barbre
Health and Science Night (STEAM)
Paige Geiger
Hospitality
Jessica Felton, Christina Zahid
Ice Cream Social
Becky Croker
Junior Master Gardeners
Bud Smith
Mother/Son Dance
Nicole Rolofson
New Families
Mandy Starr
Parent Engagement/Education
Jill Jolicoeur, Katie Glasier
Parent Parties
Shannon DeSalvo, Natalie Frank
Reflections
Cortney Dougherty
Restaurant Night
Megan Barbre
Running Club
Maureen Schwartz, Jill Schumer
Room Parent Coordinator
Katherine Reeves, Jen Anast
School Pictures
Brohan Surma
Sign/Marquee
Dragon Dads
Sixth Grade Coordinators
Trisha Sims,Jenn Miller, Emily Watts, Maureen Vogel
Skating Parties
Leanne Beezley
SME Senior Lunch
Stacey Grecian
Spirit Wear
Brooke Schnurr, Elizabeth Chilcote
Staff Appreciation
Jessica Felton, Natalie Frank
Timber Ridge (formally Tall Oaks)
Jill Fraley, Stephanie Cherra, Colby Ritter,Trisha Sims, Racheal Rider, Stephanie Tegtmeier, Angie Lucas
Used Book Sale
Jill Jolicoeur, Katie Glasier
Veteran's Day
Lindsay Peattie
Walking School Bus
Elizabeth Chilcote
Yearbook
Molly Brammer Flynn
Youth in Action
Kimberly Levitan, Stephanie Cherra
Variety/Talent Show
Kristi Ecton
Volunteer Coordinator
Sarah Mackay
2018-19 PTA BOARD
President: Leanne Beezley
President-Elect: Dave Benditt
Treasurer:

Shelby Krumm
Assistant Treasurer: Annie Oliveri
Corresponding Secretary: Nicole Rolofson
Recording Secretary: Gretchen Selberg
VP - Ways and Means: Betsy Ballard and Lindsay Peattie
VP Legislation: Mandi Hunter
VP Membership: Emily Watts
VP Academic Enrichment: Bridget Hoffman
Do you know any new Corinth families? Please forward this email to them! They can CLICK HERE to sign up to receive future Corinth PTA emails.

No longer need to be on our mailing list? See below to unsubscribe.