Upcoming Events
Italics = added this week
May 8
- Walk/Bike to School

May 10
- Field Day

May 13-17
- Staff Appreciation Week
- Tues: Bring a flower
- Wed: Bring a card

May 13
- Jump Up Day
- Field Day Rain Out

May 14
- Chipotle Prairie Village Restaurant Night 4-8 pm

May 17
- PBIS Assembly

May 21
- Kindergarten Graduation

May 22
- 6th Grade Graduation

May 23
- Last Day - Early Dismissal
- Variety Show 8:30 am








The Dragon Digest
Your Corinth PTA Newsletter

Hello Corinth Families!

Happy Cinco de Mayo! Wow, only 2-1/2 weeks of school left before summer.

The new 2019-2020 PTA Board was officially voted in by the general membership on Thursday. Congratuations to our new board!

President: Dave Benditt
President-Elect: Joe Bush
Treasurer: Annie Oliveri
Assistant Treasurer: Shelby Krumm
Corresponding Secretary: Nicole Rolofson
Recording Secretary: Corie English
VP Ways and Means: Betsy Ballard and Lindsay Peattie
VP Legislation: Mandi Hunter
VP Membership: Lily Stork
VP Academic Enrichment: Carla Lien
VP Experiences/Community Events: Bridget Hoffman


Here's what's coming up:
May 8: Walk/Bike to School
May 10: Field Day
May 13: Jump Up Day
May 13: Bring a flower for a teacher/staff member
May 14: Bring a card for a teacher/staff member
May 14: Chipotle Restaurant Night
Leanne Beezley
PTA President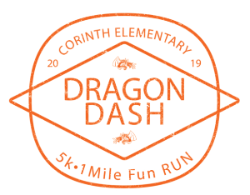 Dragon Dash a Huge Success
A huge thank you to all involved in making the Dragon Dash another success! Our awesome Dragon Dash committee made sure the 578 participants had a great time and were well fed by our amazing sponsors.
Thanks to Holly Hagman, Heidi Atlas, Maria Benevidas, Kristy Ecton, Kendra Gage, Kate Gasper, Stacey Grecian, Jill Jolicoeur, Tiffany King, Nicole Rolofson, Maureen Schwartz and Megan Wilkens for all their time and energy.
Thank you to all the volunteers who kept the race running smoothly, handled packet pick up and made set up and clean up a breeze!!
Our last big thank you goes to our generous sponsors! Please give them a high five, a hug or some extra business!


First Watch Daytime Cafe, Foo's Fabulous Custard, Salty Iguana, Orange Theory, Hunter Family Vision, Papa Keno's Pizza, Complete Family Dentistry, Prairie Fire Apparel, APW Plumbing Heating and Cooling, Shawnee Mission Pediatrics, PA, Commerce Bank, Stanley Pediatric Dentistry, Spokes Cafe and Cyclery, Keyzio, Cosentino's Price Chopper, DJ Crush, Corie English Photography, Duck Donuts, and the Shawnee Mission Post.
We will have a table set up in the school lobby after school on
Wednesday, May 8th
until 4:30pm to sell the extra race shirts. $10/tshirt and $15/ dry fit shirts. If you were unable to pick up your packet, please email Holly at
hollyhagman@gmail.com
and she will have it available for pick up that day and time as well. For those who are waiting on your correct size dry fit shirt, we will be touch as soon as they have been printed and are ready.
Mother/Son Skate


A huge thank you to the Mother/Son Skate committee including Nicole Rolofson,
Leslie Laskey,

Heidi Atlas,

Maria Elena Schlicting,

Gretchen Stuart,

Jerri Magruder and

Kari Smith. And, to the volunteers that helped the evening of the event...

Sarah Casey,

Debra Rettenmaier and

Adam Laskey.

Thank you to all who attended the event, it was a huge success!
Staff Appreciation Thank You


Thank you for those of you who volunteered your time and money to bring yummy snacks for the Staff on April 12th. Valorie Coffland, Kara Bush, Heidi Atlas, Jami Woods, Lisa Homan, Jenne Bryant, Lindsay Hargens, Tracy Kelting, Debra Rettenmaier, Jill Jolicoeur, Becky McElduff, Kristi McNearney, Lindsay Peattie, Sara Bloomfield, Katie Maupin, Ali Bunten, Holly Justice and Jessica Felton. The staff really appreciated it and it helps make the day special for them! Thank you!
Walk Bike or Roll - May 8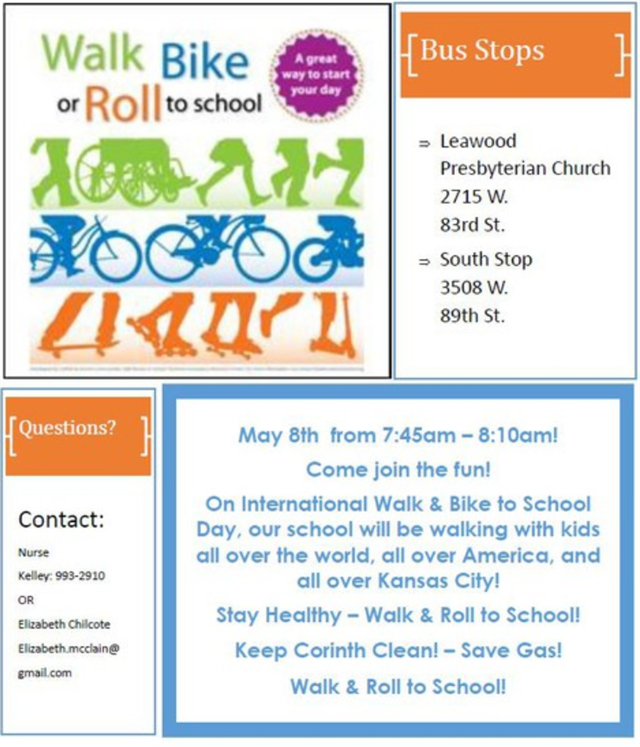 Field Day - May 10


FIELD DAY will be held on Friday, May 10th (Rainout will be Monday, May 13th)
4th – 5th Graders 9:00-11:15
Kindergarten 12:30 – 2:00
1st – 3rd Graders 12:45 – 2:45
As with previous years, 6th Graders will help coordinate the activities, however we will still need parent volunteers to prep and oversee stations at the event. Please use the Sign Up Genius below to volunteer to assist. This is a great way to help out and ensure your Dragons have a fun field day!
https://www.signupgenius.com/go/10c0f49a8a92ba3fe3-field4
Contact Maureen Schwartz ( Maureen.schwartz@commercebank.com) with any questions.
Staff Appreciation - May 13-17
Staff Appreciation Week is May 13-17: Our wonderful staff will be receiving a special treat each day of the week, but the most important part of the week will be these two special items that come from YOU!
Tuesday May 14– Bring a flower for your teacher or staff member
Thursday May 16– Bring a special note or card for your teacher or staff member
Thank you for your participation in this important Corinth tradition!
Chipotle Restaurant Night - May 14

School Supplies Available to Order!
Corinth School Supply page is live! We are participating in a school supplies program with Yubbler.com this year. When you purchase your school supplies on Yubbler.com, our school will receive 50% of the profits! Look for a flyer in your backpack mail with more details.
One click ordering makes back-to-school shopping simple!
All lists are teacher approved
Parents can customize orders (buy only what you need)
Quality, name-brand products you trust
Low prices and free next-day shipping to your home
The school gets half the profits!
Register for a coupon code here:
https://www.yubbler.com/Yub/Details/26896?couponreg=true

Remember to order by July 31, 2019 so you get your supplies before the 1st day of school.


Discount schedule:
May orders, up to 15% off
June orders, up to 10% off
July orders, up to 5% off
2018-19 COMMITTEE CHAIRS
Auction
Lindsay Peattie, Betsy Ballard
Auditor
Pete Reeves
Book Fair
Christie Walton, Stacia Wiklund,
Debra Rettenmaier, Katie Saylor
Book Fair Event
Cortney Dougherty
Chat N Chew
Amber Lutes
Citizenship
Margaret Chaffee
Directory
Emily Watts
Dragon Dash
Holly Hagman
Dragon Dash Step Up
Stacey Grecian
Facebook
Trisha Sims
Fall Fest
Tracy Kelting, Sally Baratta
Father Daughter Dance
Monica Simoneau
Field Day
Maureen Schwartz
Garden
Melissa Greenstein
Golf Tournament
Paul Barbre
Health and Science Night (STEAM)
Paige Geiger
Hospitality
Jessica Felton, Christina Zahid
Ice Cream Social
Becky Croker
Junior Master Gardeners
Bud Smith
Mother/Son Dance
Nicole Rolofson
New Families
Mandy Starr
Parent Engagement/Education
Jill Jolicoeur, Katie Glasier
Parent Parties
Shannon DeSalvo, Natalie Frank
Reflections
Cortney Dougherty
Restaurant Night
Megan Barbre
Running Club
Maureen Schwartz, Jill Schumer
Room Parent Coordinator
Katherine Reeves, Jen Anast
School Pictures
Brohan Surma
Sign/Marquee
Dragon Dads
Sixth Grade Coordinators
Trisha Sims,Jenn Miller, Emily Watts, Maureen Vogel
Skating Parties
Leanne Beezley
SME Senior Lunch
Stacey Grecian
Spirit Wear
Brooke Schnurr, Elizabeth Chilcote
Staff Appreciation
Jessica Felton, Natalie Frank
Timber Ridge (formally Tall Oaks)
Jill Fraley, Stephanie Cherra, Colby Ritter,Trisha Sims, Racheal Rider, Stephanie Tegtmeier, Angie Lucas
Used Book Sale
Jill Jolicoeur, Katie Glasier
Veteran's Day
Lindsay Peattie
Walking School Bus
Elizabeth Chilcote
Yearbook
Molly Brammer Flynn
Youth in Action
Kimberly Levitan, Stephanie Cherra
Variety/Talent Show
Kristi Ecton
Volunteer Coordinator
Sarah Mackay
2018-19 PTA BOARD
President: Leanne Beezley
President-Elect: Dave Benditt
Treasurer:

Shelby Krumm
Assistant Treasurer: Annie Oliveri
Corresponding Secretary: Nicole Rolofson
Recording Secretary: Gretchen Selberg
VP - Ways and Means: Betsy Ballard and Lindsay Peattie
VP Legislation: Mandi Hunter
VP Membership: Emily Watts
VP Academic Enrichment: Bridget Hoffman
Do you know any new Corinth families? Please forward this email to them! They can CLICK HERE to sign up to receive future Corinth PTA emails.

No longer need to be on our mailing list? See below to unsubscribe.