Upcoming Events
Italics = added this week
August 21
- Back to School Night (parents only)
5:30 - Grades 4-6
6:00 - General PTA Mtg.
6:30 - Grades K-3

August 30
- MVP Training (8:15 a.m. and 6 p.m.)

September 4
-No school - Labor Day

September 7
- PTA Board Meeting
- Fall Fest 5:30-8:00

September 11
- Culver's Night, 5-8 p.m.

September 14
- Early Dismissal - Professional Learning
- 2nd Grade Parent Party

September 15
- 1st Grade Parent Party

September 18
- Picture Day

Week of Sept 17
- Lunch on the Lawn
Mon - 1st and 6th
Wed - 2nd and 5th
Thurs - 4th
Fri - Kindergarten and 3rd
* Note changes due to picture day on Sept 18

September 22
- Kindergarten Parent Party

September 28
- 4th Grade Parent Party

September 29
- 6th Grade Parent Party

October 5
- 1st Qtr PBIS Assembly
- PTA Board Meeting

October 6
- 5th Grade Parent Party

October 9
- Chipotle Restaurant Night in PV, 4-8 p.m.

October 11
- Early Dismissal
- End of 1st Qtr

October 12
- No school - teacher workday

October 18
- Parent Conferences (4-8 pm)
- Preschool Fun Night (6-7 pm)

October 20
- 3rd Grade Parent Party

October 31
- Halloween Parade (2 pm)
- Classroom Parties (2:15 pm)




The Dragon Digest
Your Corinth PTA Newsletter

Hello, Corinth Families!

Back to School Night is this week! Please join us on Tuesday, August 21 to meet the teachers and learn more about the PTA (parents only event).
5:30 - Grades 4-6

6:00 - General PTA Meeting in the Gym
6:30 - Grades K-3
Fall Fest is Friday, September 7th. The committee is looking for volunteers to make the event a success. Without volunteers the games and rides won't be available. Please consider volunteering your time!

Don't forget to pay your PTA Membership dues to get access to the online Corinth directory. While in the directory be sure to update your child(ren)'s Directory listing(s). Be sure to select their new teacher as this information doesn't automatically populate.

Have a great week!
Leanne Beezley
PTA President
Fall Fest
FALL INTO CORINTH
Join us at our annual fun family fall fest event.
Friday, September 7, 5:30-8:00 p.m.
We are so excited for this year's Fall Fest! What a fun way to kick off the school year with one of the most fun evenings of the year! Just a quick reminder this is a parent run event. Without volunteers the games and rides will not be available. As in years past, each family attending the fall fest is expected to volunteer one shift to make this huge annual event a continued success. Luckily that leaves plenty of time to enjoy the night with your family! This year we are unable to rely on youth volunteers as heavily as we have in past years so we desperately need adult volunteers.

Please take a moment to visit the signup genius and volunteer for one shift, or email our volunteer coordinators and they will happily get you signed up.
https://m.signupgenius.com/#!/showSignUp/904044cacac2f4-corinth1
Christie Walton christiejwalton@yahoo.com
Debra Rettenmaier rettendew@aol.com
Without your help this event will not be a continued success!
PTA Membership
JOIN THE PTA TODAY!
As we start off the new school year, please take a moment to pay your PTA dues for the year. Dues can be paid by check with the attached form or online with your credit card or PayPal through the Corinth directory under the PTA tab. Dues are $10 per adult.
By joining the Corinth PTA, you are also joining Kansas PTA and National PTA, and aligning yourself with the largest children's advocacy group in the country.
PTA membership will provide you with full access to the Corinth directory.

Please remember to update your student's teacher information when you pay your dues.

Thank you!
Corinth Dragons Online Directory

( directory.corinthdragons.com)
Remember to update your student's listing in the online directory! Please do not make a duplicate entry. Your information from last year will be in there.
Login to the directory

From Account drop down menu on the right select Edit Listing

Edit your Profile

Enter teacher name for each student (don't forget this step)

Make any changes to address or contact information

Hit Update Directory Button at the bottom of the screen
If you have forgotten your username or password information, there is a new reset feature. Text RESET to 913.380.1465 and you will be able to reset your login credentials.
New Corinth families go to the directory website and choose Add Listing from the menu at the top of the screen. Enter all of your information and hit the Update Directory Button when you are finished.
To put the directory app on your phone - open the directory website on your phone and it will give you the option of putting the directory icon on your home screen. This is a very handy.
Once you have paid your PTA dues for the year you will have full access to the directory.
Staff Breakfast

Thank you to the following, who donated all the yummy food items for the Staff Inservice Breakfast! The teachers LOVED all the goodies you all brought!


Tiffani Knipp, Heidi Atlas, Jami Woods, Holly Hagman, Katie Glasier, Trisha Sims, Lindsay Hargens, Joanie Beaulieu, Holly Justice, Debra Rattenmaier, Liz Benditt, Megan Barbre, Sarah Mackay, Betsy Ballard, Jenne Bryant, Kristy Ecton, Kristin Fink, Jessica Klocke, Mandi Starr, Lindsay Peattie, Alison Bunten, Andrea Young, Natalie Frank, Corie English, Lisa Homan, Jessica Felton, Kristi Mcnearney, Katie Maupin, Gretchen Stewart and Kari Smith
Thank you again!
Fall Fundraising Parties
Donate to support our PTA including our Social Worker, Math Specialist, field trips, Maker's Space and more!
A donation of $125 per child is suggested. Donations of all sizes are sincerely appreciated! Watch for an Invitation & Donation Envelope two weeks prior to the party. Checks should be made out to Corinth PTA or you can pay online through the directory. These are casual, adult only events to reconnect with old friends, and to meet new ones! Many thanks to this year's party hosts!
Kindergarten
Saturday, Sept 22 at the home of Ali and Marc Larsen
First Grade
Saturday, Sept 15 at the home of Julie and Dan Schroeder
Second Grade
Friday, Sept 14 at the home of Katie and John Lubin
Third Grade
Saturday, Oct 20 at the home of Jill and Dave Jolicoeur
Fourth Grade
Friday, Sept 28 at the home of Mandi and Tucker Trotter
Fifth Grade
Saturday, Oct 6 at the home of Jamie and Lewis Galloway
Sixth Grade
Saturday, Sept 29 at the home of Lauren Huey and Lance Larson

All parties are from 7:30 - 11p.m. unless otherwise noted.


2019 Corinth Auction
The
2019 Corinth Auction
may be seven months away, but planning is underway to make it the best yet. As Corinth PTA's largest fundraiser, we need YOUR help in making it a success! There are so many ways to support the event, such as hosting a parent or grade level party. In the past, parent hosted parties have been an auction favorite. These theme parties are targeted to a specific grade level or can be adults only. If you have a fun idea and are interested in hosting a party this year, contact
Jessica Klocke
or
Stacey Grecian
for more information. Want to get involved with the auction in other ways? Contact
Betsy Ballard
or
Lindsay Peattie
to learn more.
New Families
Are you new to the Corinth Elementary community? Do you need help figuring out what a Dragon Dad is or how to navigate the car line? It isn't always easy learning the acronyms used at a new school or where you can turn to for information. We've tried to make it easier for our new families by giving you a contact. Mandy Starr will help answer your questions or point you in the right direction when she can't.

Please feel free to reach out with any Corinth Elementary question, big or small. Email ALBinOz2003@yahoo.com or Phone 913-972-4360
Looking for Committee Chairs
We're still looking to fill two chair positions. We need a volunteer to coordinate the Skating Parties as well as a chair for the Talent Show. If interested, please contact Leanne Beezley. If we don't find chairs soon, these events may not be able to happen. Please help out if you can!!
2018-2019 Committee Chairs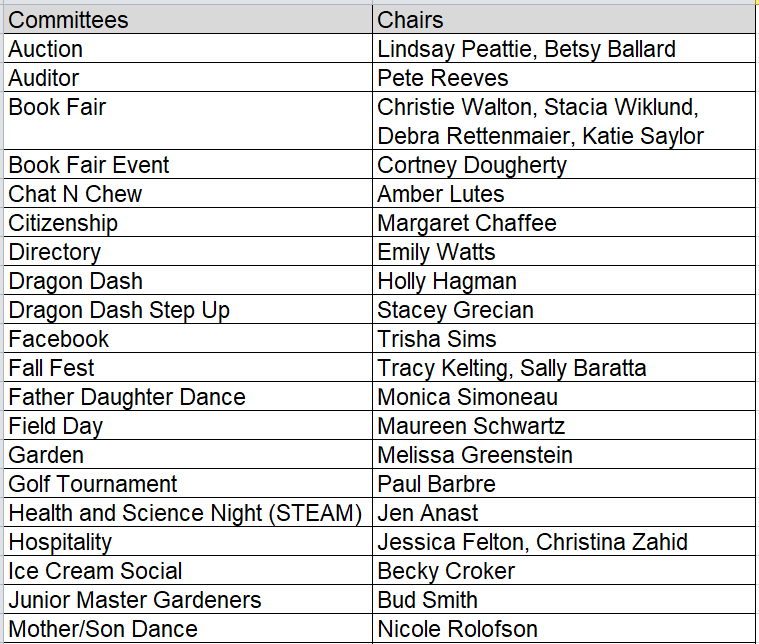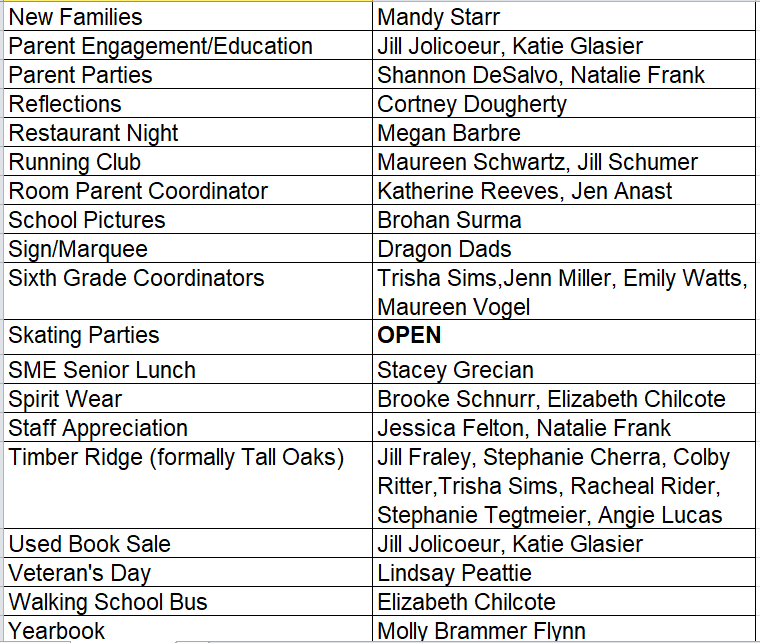 2018-19 PTA BOARD
President: Leanne Beezley
President-Elect: Dave Benditt
Treasurer:

Shelby Krumm
Assistant Treasurer: Annie Oliveri
Corresponding Secretary: Nicole Rolofson
Recording Secretary: Gretchen Selberg
VP - Ways and Means: Betsy Ballard and Lindsay Peattie
VP Legislation: Mandi Hunter
VP Membership: Emily Watts
VP Academic Enrichment: Bridget Hoffman
Do you know any new Corinth families? Please forward this email to them! They can CLICK HERE to sign up to receive future Corinth PTA emails.

No longer need to be on our mailing list? See below to unsubscribe.