How To Set Up Your Own One Day Photo Safari
,

do you enjoy taking candid pictures in "touristy" locations?
Most of us live near a vacation destination that out-of-town visitors find appealing.

These locales are great if you want a personal mini-vacation day where you can hone your photographic skills.

Here in Florida there's no shortage of beautiful places where locals & tourists congregate. My guess is that you have someplace near your home that would give you an excellent one-day photo safari.
I'd like to offer some ideas and tips you might use to have a fun, adventurous day on your own or with likeminded photographers.

South Beach Has Historic Architectural Design.
This Neighborhood Is Active & Vibrant.
My son, David, owns Leica Store Miami. He conducted a morning "boot camp" for new Leica SL camera owners in Miami's South Beach and at Loomis Park in Miami Beach.

I'll be using some of the 25 photos David took and posted on Facebook to suggest simple techniques you can use to get great pictures.

I hope you'll find these tips useful.

Best regards,



Dale
Take Pictures That Reflect a Reporter's View of a Special Place
Sometimes just a straight shot can be an excellent starting point in telling your visual story.

What makes this seemingly straightforward picture work?
The palm trees, blue sky and green grass all say "Sunny Florida."

Buildings are Art-Deco, harkening back to the 1940s & 50s.

Cars and trucks bring us to the present; when the picture was taken. The contrasting periods make the shot interesting...just like South Beach.


Can you see how the composition & choice of colors balance this picture?




The reds of the vehicles on the left are picked up in the red sign and awning on the right. The red "line" is carried through with the object being carried by the pedestrian and in the tail light of the pick-up truck.

The blue awning in the center brings your eye there. The vertical Colony sign provides a focal point.

This composition uses the Rule of Thirds both vertically & horizontally.
Capture Images From Unusual Angles
A "different" grab shot of an activity can be a great way to show the spirit of a place.
David's ground level view created an awesome image.
Roller Blading In The Park

Design Elements Lead the Viewer's Eye

The legs of the skaters say "youth."

Directionality of movement brings the eye to the beach.

Note the great use of shadow. The palm tree's shadow tells the tropical story and give the picture part of its strong design.

The Rule of Thirds, vertically & horizontally, is employed for visual effect.
Shoot Visual Design Elements

Simple items or objects can add interest to your story.

Depth of Field Can Separate Objects From Background

Action Pictures Tell Great Stories
Dramatic color & movement will create dynamic images.

Utilize broad fields of color to separate a subject from background images. Or...

Use framing shapes for a powerful central image in an otherwised cluttered photo.

A Face Is Only Part of a Portrait
The shape, form and functionality of the human body are beautiful to behold.
Activity & emotion allowed David to capture a portrait that truly tells a story.

Directionality created a sense of movement & excitement.

The ropes lead your eye into the picture.

The man's eyes bring yours down to the crux of the story; his painful exertion.


Lighting plays a key role. Note how the highlights on the man's shoulder and bicep stop your eye from leaving the picture and bring you back to his facial expression.
People + Artistic Designs = Photographic Art
Art is everywhere in America. When you show how artist's creations intermingle with our lives you can create some beautiful images.
Don't Forget Our Four-Legged Friends
Animals in public places are an important part of every cityscape.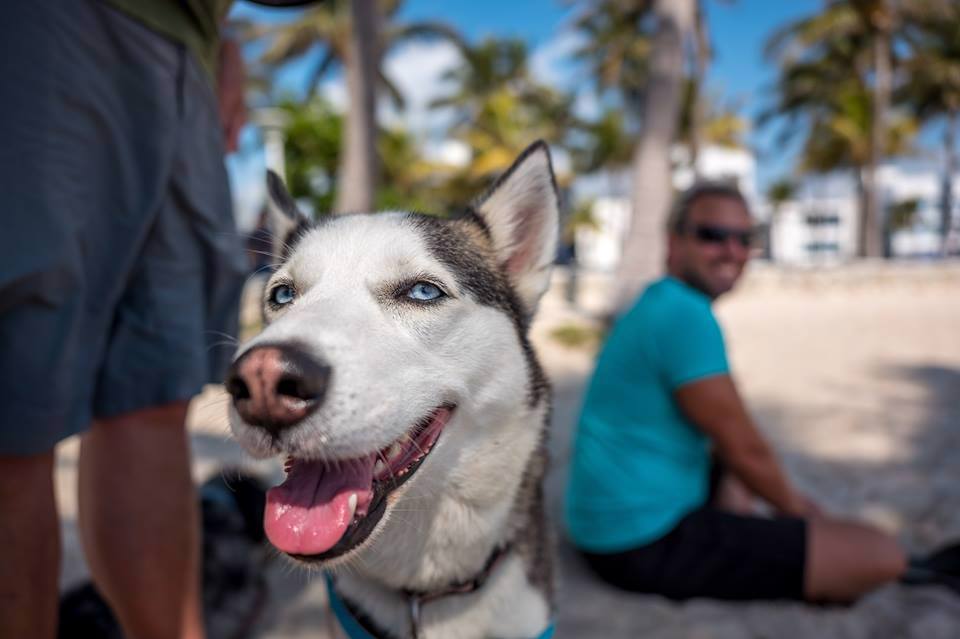 Pets With Their Owners Can Give You Impressive Portraits

Why this picture works:
Selective Focus - The dog is tack sharp. His owner is visually connected based upon line of sight but slightly out of focus.

Color Linkage - The dog's blue eyes are strikingly beautiful. But, what holds the picture together is the blue of the eyes, the similar color of the owner's shirt, the blue sky and the very subdued bluish dress on the left (which brings your eye back to the dog.)

Photographer's Etiquette:

I've had a lot of street photographers tell me that it's legal to take a picture of anyone...adult, child or animal...in a public place. That may be the law, but I don't think it's right. Good manners dictate to me that you should ask a parent if you want to take his or her child's picture. The same is true for people in an activity on a beach in a public park...or if you want to take a picture of a pet.

Are there exceptions where discreet shooting is OK? Maybe. But, I suggest that when you undertake this type of urban photo safari that you include the people and animals you take pictures of in the fun.

It will improve your day...and not disrupt theirs.
Our Goal Is To Give You Creative Choices
When You're Ready To Make Prints ... We produce some of the best photographic prints, enlargements and photo art in the U.S. We've worked with America's photographers since 1974.
Quick Links For Online Ordering

iPrints Professional (ROES) has thousands of photo print sizes and products. It's designed for serious amateurs, professional photographers and power users.
iPrints is an easy-to-use site for amateurs and consumers. You'll be able to get pro-quality photographic prints with no learning curve!
iPrints Mobile lets you easily order beautiful prints directly from your iPhone or Android.
If You Need Any Help...
Please call or visit our laboratory store if you

live in South Florida.
We're here to help!
2960 Simms St., Hollywood, FL 33020

(800) 327-1776 • (954) 925-0105

Customer Service Hours:




M - F 10AM - 5PM • Sat 10AM - 2PM




info@dalelabs.com




www.dalelabs.com



| | |