Great Gift Ideas for Home and Family
The "Underwater Dogs" Photo Book
Who knew that dogs have such mesmerizing expressions when they're swimming underwater?
These fantastic shots by photographer Seth Casteel have won rave reviews worldwide.
The book contains more than 80 photos and would be an entertaining gift for virtually anyone.
Price Range: Around $12 for hardcover.
The Makey Makey
It's a little hard to describe, but
the Makey Makey lets the user transform anything into a computer keyboard.
Use a potato as a computer mouse, for example, or play video games by stepping on pieces of foil. According to the positive user reviews, kids and young adults like this as much as their elders think they should. :)
Price Range: Around $50.
The Do Good Hammock
People rave about the comfort and coolness of these colorful hammocks,
handmade by the Mlabri people in Thailand. Using traditional weaving skills to make hammocks has helped the Mlabri establish some independence and an economic foothold after their nomadic jungle lifestyle fell prey to deforestation and warfare a few decades ago. Each extra-wide hammock is made with 3 miles of soft cord and can hold up to 400 pounds.
Price Range: Around $195.
Stemless Aerating Wine Glasses
Simply swirl these ridged glasses to aerate wine
and unlock its aroma without having to wait for a bottle to breathe. According to the seller, this process can also reduce the amount of alcohol that enters the bloodstream by up to 30%.
Price Range: Around $20 for a set of four glasses.
And because where there is wine, there are often wine stains...
The 'Chateau Spill' Red Wine Stain Remover
Created using classic Kiwi ingenuity,
this biodegradable wine stain remover is safe to use on both white and colored fabrics
- and according to user reviews, it actually works.
Price Range: Around $10
.
The Push-Button Inflatable Neck Pillow
People love the fact that
this neck pillow deflates down to a small carrying size,
and users give it high marks for comfort and post-sale customer support. It pumps up within 30 to 60 seconds via a manual button pump (no batteries required).
Price Range: Around $25.
Bottle Opening Pint Glass
Two bottle openers are built right into this classic style pint glass
- one on the side, for pop top bottles, and one on the bottom that works for twist tops. This is a fun gift for the person who appreciates carbonated beverages, and it's dishwasher-safe.
Price Range: Around $12 per glass.
For the Misplacer of Eyeglasses:

The Owl Eyeglasses Holder

Hand carved by Fair Trade artisans in India,
this ornamental wooden owl keeps eyeglasses from getting lost
or ending up underfoot. There's also a peacock version, along with several other unique designs on the Uncommon Goods website.
Price Range: Around $24.
For the Would-Be Dog 'Trainer':

Bad Dog® Glass Tumblers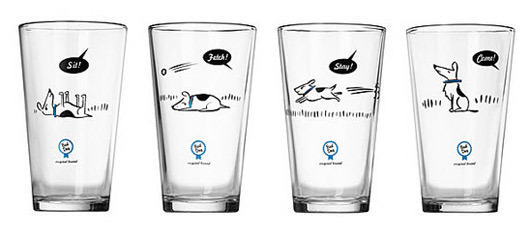 Image courtesy of UncommonGoods.com
These whimsical pint glass tumblers help dog owners
celebrate the challenges of training Fido
, with a cute pooch doing exactly the opposite of the command he's hearing.
Price Range: Around $35 for a set of four glasses.
The Cat Crib
Finally, something that might keep the cat off of the furniture!
The Cat Crib creates a cozy space for cats to nest below the seats of chairs
and underneath small end tables.
Price Range: Around $22.
When Home Is the Outdoors:

The Picnic Backpack
Getting away from it all is easier with an
over-the-shoulder backpack that comes with everything needed for a picnic for two.
The inner pocket is insulated to keep food hot or cold, and a handy exterior pocket contains plates, silverware, cups, napkins, and even a wine bottle opener.
Price Range: Around $48.
The Uncommon Goods website also sells a
Sunset Wine Tote
(a wine-only version of the Picnic Backpack) for around $40. Both have received very good user reviews.
The Land Shark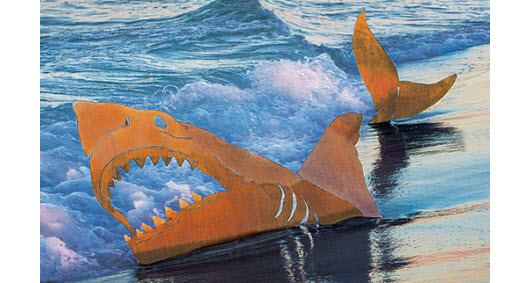 Image courtesy of UncommonGoods.com
If you're stumped on a gift idea for that special someone who needs something truly unique (or who just loves sharks),
this two-piece lawn ornament is likely to bring smiles
- and it certainly fits the category of 'not your typical present'. :) Each one is handmade in Arizona by artisan Chris Crooks, and the line is highly rated by users.
Price Range: Around $180.
Or, if you're just looking for a stocking stuffer...
The Hog Wild Unicorn Popper
Yes, it looks ridiculous - but
this inexpensive toy gets rave reviews, and adults appear to enjoy it too
. (The balls can cover long distances without hurting anyone, so they're good for home play
and
office cubicle warfare.) It comes in many other varieties, including penguins, reindeer, and sharks.
Not for children under 3 years old.
Price Range: Around $10.

Note: Links to online shopping sources are included for efficiency's sake, but most items are available at various locations, including non-online stores. This is not intended to recommend any particular shopping resource. Item graphics courtesy of Amazon.com, Jet.com and UncommonGoods.com.