1. Inspect water hoses and fittings.
When water is under pressure it only takes a few minutes for a broken connection to create a big mess. (Just imagine what could happen over the span of a few days!)
Check the clothes washer, sinks, and toilets:
Replace any rubber or plastic hoses with ones made of braided nylon, such as the one pictured below. (This is important.)
Inspect fittings to make sure they are fastened tightly.
Look for rust on metal items that could indicate impending failure.
Tip:
Consider installing an auto shut-off device at the clothes washer
(the biggest culprit when it comes to water damage). Here are two options:
->
The Floodstop:
A water sensor detects the leak and turns off water to the washing machine. Currently around $185 on Amazon.
->
The Timeout Automatic Shutoff:
This device cuts off the water to your washer unless you pull a lever, which opens up the water supply for 1 to 2.5 hours while you do laundry. Currently around $45 at Home Depot. (Read the reviews for installation tips.)
2. Clear debris from the roof, gutters, and downspouts.
A heavy downpour while you're gone could result in debris blocking downspouts,
causing water to overflow and seep behind exterior siding. (Over the long term this also causes decay at soffits and eaves.)
Check gutters and downspouts to make sure they are clear of debris.
If water is not already diverted away from the home, install splash blocks so that moisture doesn't accumulate near the foundation.
3. Check for fire hazards.
Many electrical fires start because of problems that are easy to detect. With that in mind, be sure to do the following:
Look for frayed electrical cords.
Make sure outlets are not overloaded.
Do not use regular extension cords for air conditioners. (Air conditioners use so much energy that they can cause standard extension cords to overheat.)
Tip:
Did you know that keeping piles of moist lawn clippings too close to your home is also a fire hazard?
Large quantities of moist grass in stacks or bags can create a chemical reaction that produces enough heat to eventually start a fire.
4. Don't forget old-fashioned home security.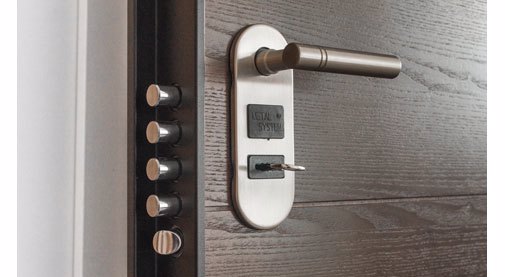 Regardless of whether or not you have a high-tech security system, you can
make your home less of a target to criminals by keeping your absence "under the radar".
Arrange with a friend or neighbor to pick up packages left at your door.
Ask someone to move your garbage bins away from the curb after collection day.
Put your newspaper subscription and mail on hold.
Set the timing for interior lights so that they are on during the evening.
Make sure valuable items are not easily visible from windows.
Ask a neighbor to park a car in your driveway occasionally.
Arrange to have the lawn mowed while you are gone.
Remove spare keys that may be hidden outside. (Most burglars know where to look.)

5. Do a last-minute sweep.
These final items will help ensure that you have a pleasant return.
Discard any perishables in the refrigerator.
Take out all trash and run the garbage disposal.
Check that all windows and doors are securely locked, including the door leading from the garage to the home.
Unplug appliances such as the toaster, coffee maker, and dryer.
Turn off the main water supply. (If you need to keep it on, turn off individual supplies at the washer, sinks, and toilets.)
Tip: When you turn the main water supply back on, open up one or two faucets first.
This prevents too much pressure from building up in the system.
Print out this handy checklist!
All of the information above (and a packing list of often-forgotten items) is contained in the 2-page checklist linked to below.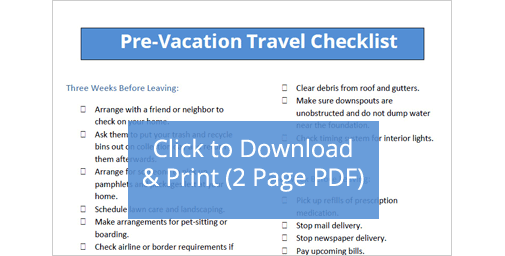 Just click
here
or on the image to open up the printable pdf version.