5 Ways to Increase Home Value
1. Spruce Up Curb Appeal.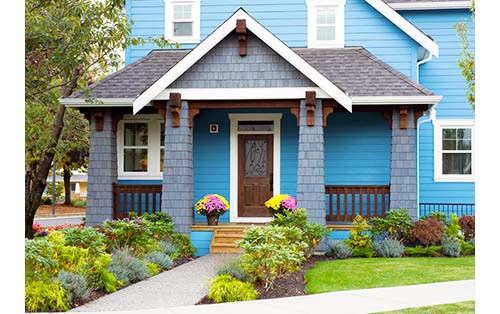 A home's curb appeal is its "first impression" moment, so it's important to make that moment as pleasant as possible. Here are some ways to do that.

- Replace or add exterior plants.
Has any shrubbery become straggly or grown in the wrong direction over the years? Sometimes plants that started out as a good fit need to be trimmed back, reshaped, or replaced.
Tip: Clean lines along landscaping borders are pleasing to the eye and will guide people towards your home.

- Paint or replace the front door.
A contrasting front door color becomes the focal point of your home's exterior and issues a visual invitation.
Tip: Using a color that contrasts strongly with the trim or the main house color allows the door to "pop".
- Replace house numbers and exterior lighting.
This is an easy upgrade that makes a huge difference. At the same time, it's worth checking to see if a new doormat would be a good finishing touch.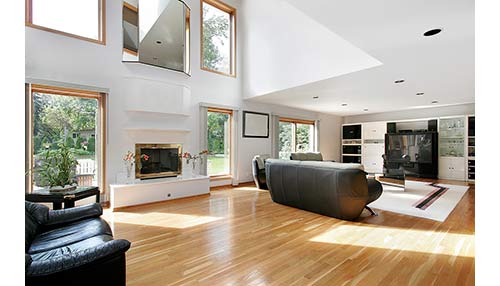 Most people love homes with abundant natural light. Granted, if parts of your home already get strong afternoon sun you may have already taken steps to keep those areas from becoming too hot, but it's far more common for homeowners to look for ways to add light to a home.
- Install a skylight.
These are sometimes less hassle and expense than people expect, although the extent of work varies depending on the situation. Skylights are always a good option to explore when you're getting the roof replaced.
- Install a solar tube or sun tunnel.
These are perfect for hallways and small rooms where a traditional skylight won't fit.
Velux
and
Solatube
are two popular brands.
- Turn a window into a glass door.
Are there any rooms in your home where a window could be replaced by a glass slider or French doors? It's a great way to create a much more open feel.
3. Create Alternative Living Options.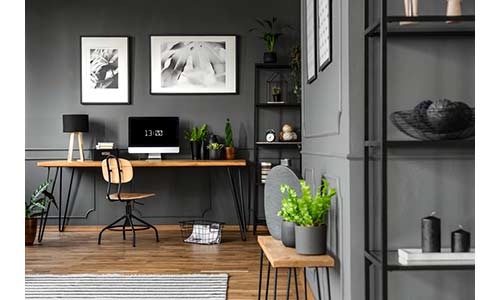 These days it's extremely helpful to have spaces that allow for work and study from home situations, as well as extended living options.
- Make a flex area.
Any space that allows someone to be at home while working or playing separately is a huge value booster. The ideal situation is to have a separate office or play space, but there are many examples online showing how people have turned closets into home offices.
- Create an ADU (Additional Dwelling Unit).
More and more seniors are opting to age in place, which sometimes means living with their children. Anything you can do to create an additional dwelling space that has good accessibility, such as a separate living area with a level entry, will add value to your home.
4. Repaint with Fresh Colors.
One of the fastest, least expensive ways to revive a home's interior is by giving it a fresh coat of paint.
Tip: If the primary goal is good resale value, it's a good idea to play it somewhat safe. This probably means saying no to "Aegean Teal" even though it's Benjamin Moore's Color of the Year. :)
Here are some examples of warm neutrals that have widespread appeal, whether you're selling a home or just want a good color for everyday living.

- Sherwin Williams Kilim Beige
A soft neutral that goes well in rooms with white trim, although it can work with some colors of wood trim.
- Sherwin Williams Softer Tan
This is very similar to Kilim Beige but just a touch cooler. It's a good choice for rooms that have blue, gray, or green flooring and decor colors.
- Sherwin Williams Agreeable Gray
A popular warm gray that coordinates well with SW Pure White as a ceiling color. (It's important to choose the correct shade of white in order for this gray to not appear too blue in some lighting situations.)
Tip: Be sure to compare paint swatches carefully! Undertones of blue, gray, or pink can turn your warm colors into cool ones.
Also, make sure there's a good contrast between the wall color and the trim. In a room that has both warm toned flooring and cabinets, it may be best to choose a semi-cool paint color in order to not overwhelm the space.
5. Open Up Interior Spaces.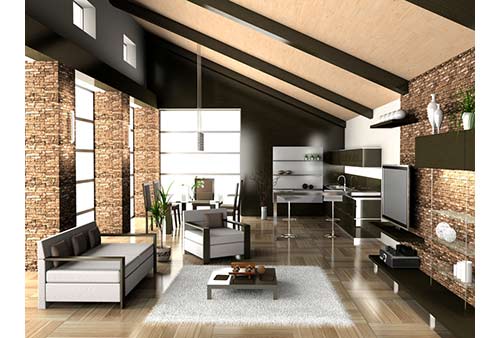 While the open floor plan trend has leveled off somewhat now that more people are working and studying from home, there is still a lot to be gained by opening up a closed off floor plan.
- Turn a full wall into a half wall.
Where this is an option, it can greatly improve how open a house feels, as well as its natural light.

- De-clutter.
It's common for a home to end up with areas that would appear more open if some non-essential furniture or decor were rearranged or removed.
Tip: Try taking a fresh look at each room and think of your gaze as though it were a current of water. Where does the "flow" get blocked or diverted? (This includes visual diversions, such as a rug or other surface with an overly busy pattern.)
This technique can help you find areas where moving or removing items will make the space feel larger and more inviting.
Do you have questions about these tips, or would you like any other information? Please feel free to reply to this email to get personalized recommendations specifically for your home.