1. Keep the flooring style continuous.
Small spaces appear larger when there is no break in the flooring style.
This means that rather than having tile in the entryway and hardwood in an adjoining room, for example, it may be best to opt for all hardwood, tile, or carpet. If you do use different flooring types, keeping materials similar in color can produce the same type of result.
2. Decorate with light colors in similar shades.
Most interior decorating experts say light colors tend to make rooms feel larger. A common piece of advice is to
use a light overall color scheme, with coordinating colors that do not contrast too strongly.
This also applies to curtains and window treatments, which can be from the same color scheme as the walls, or made of sheer material.
3. Use larger floor tiles.
Many people assume that a small space requires a small floor pattern, but in fact the opposite is often true. (Notice the large tiles in the photo above.)
It's worth bringing home flooring samples to see if larger tiles or wider wood planks make the area look bigger
.
4. Go for furniture that "shows some leg".
Rooms look bigger when you can see more floor space.
This is why furniture that has exposed legs and a main furniture piece that is well elevated above the floor can really open up a room.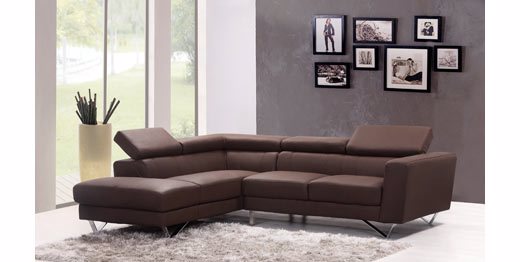 5. Choose clear table tops.
For a small dining room or breakfast nook,
consider using a table that has a clear or frosted glass top
in order to not create a complete visual block. Another way to make smaller areas like this feel as large as possible is to choose armless chairs.
6. Don't push furniture up against the wall.
Furniture placed directly next to the wall can make a small area feel "stuffed".
Allow for some space between the furniture and the wall, or place pieces at an angle to the wall in order to make the room appear larger.
7. Draw attention to the ceiling.
"Draw the eye upward" is the advice interior design experts often give when it comes to decorating small rooms. A good way to do this is to
paint the ceiling a lighter color than the walls,
so that a subtle variation in shade causes the ceiling to stand out slightly.
Adding lighting
that accentuates the ceiling achieves the same result, as you can see in the photo below.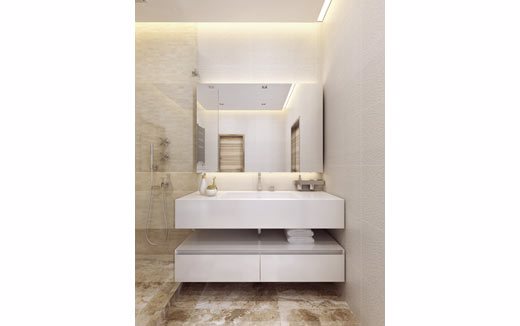 (Notice also the large tiles and the floating vanity that shows the floor.)
Bonus Tip:
Interior design experts often talk about the "Cantaloupe Rule", which states that
if a decor item is smaller than a cantaloupe, there's a good chance it will make a small space look cluttered.
(Although, it's also worth remembering that most style rules could stand to be broken at some point. :)