A Look Ahead to the 2017 Housing Market
Interest Rates:
Many financial experts expect rates to rise by around .50% to 1.0% over the next year,
most likely starting with a small hike in December 2016.
With 30-year mortgage rates currently at around 3.50%, this is not a huge setback. Although a significant increase would push some people out of the market and modify price range expectations for others, it's worth noting that in 2005 people were falling over themselves to buy and refinance at 5.50%. (And in October of 1981 home buyers were signing off on mortgages with rates of over 18% - a fact that seems almost unbelievable now.)
Political Changes:
Considering today's extreme political climate, it's a bit ironic that
neither of the two presidential candidates is expected to have a huge effect on the housing market if elected.
Neither has said they want to do away with the mortgage interest tax deduction, and because real estate is no longer a crisis topic it has been notably absent from political discussions. Many housing experts agree, however, that uncertainty regarding the upcoming election has pushed some buyers and sellers into "wait and see" mode.
Supply and Demand:
Housing inventory in many areas of the country is still unusually low, and while this is expected to moderate as builders catch up from their recession slowdown, it won't happen overnight. In the meantime,
if the economy stays relatively healthy it will continue to support substantial buyer demand.
Buying activity could intensify at least in the short term if people feel the need to make a move before interest rates go up significantly.
Tip:
You'll often see real estate news articles mention trends in
"sales prices"
and in
"sales volume"
as though they were indicators of the same thing, when often they are not.
The next time you hear that "sales are down", look at what prices and market times are doing.
If market times are maintaining or dropping and prices are trending upwards, this is a sign that the number of home sales is limited by short supply, not by lack of demand.
---
Decor Tip: How to Place Art Over a Fireplace

When placing art over a fireplace, look for something that is around two-thirds the width of the mantel.
(Interior decorators often recommend staying between 50% and 75% of the mantel width.) It is fine to use several smaller items arranged horizontally, as long as the total width falls within that range.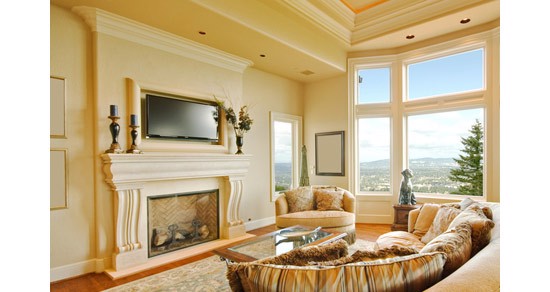 Tip:
Another guideline is to keep the art the same width as the fireplace opening.
How high?
The goal is to keep the decor visually anchored, which typically means hanging it no more than 10 to 12 inches above the mantel. Depending on the style of fireplace and art work, lower down or even directly on the mantel may look best.
---
Is Your Dryer Vent Overdue for Cleaning?

It's easy to forget about cleaning the dryer vent because it is an "out of sight, out of mind" kind of thing - but
clogged dryer vents cause thousands of home fires every year
, and home inspectors recommend cleaning them at least annually.
Warning Signs of a Clogged Dryer Vent:
- It takes longer than a 50-minute cycle to dry clothes.
- The top of the dryer is hot to the touch.
- You smell or see moisture inside or outside of your dryer.
- Lint is visible from your external dryer vent exit.
- There is little air flow coming out of the external vent.
If it has been over a year since the last cleaning (and especially if you notice any of the warning signs above), it would be a great idea to schedule one soon.
Note:
This is different from the standard house duct cleaning offered by many heating contractors, which typically does not include the dryer vent.
DIY Option:
The
Gardus Linteater System
is one of several highly rated do-it-yourself dryer vent cleaning kits available on Amazon. (Currently around $28.)