Whether home is an in-city condo or a mountain lodge, it's never fun to suddenly hear the dismal "thump" of a bird hitting a window.
(Researchers say that window strikes account for between 365 million to 988 million bird deaths per year in the U.S. alone!)
In addition to taking a big toll on bird populations, it's safe to say that the sight of a deceased bird underneath the window is not exactly something recommended by the "Better Homes and Gardens" curb appeal team.
Acopian Bird Savers to the Rescue
People give mixed reviews of bird deterrent window stickers and the sometimes funky-looking feather or foil string curtains, but here's the good news:
A simple invention called Acopian Bird Savers has an extremely high success rate, looks good, and offers both a pre-made and an easy do-it-yourself option.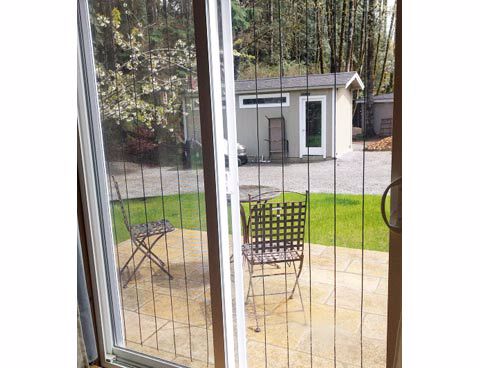 Bird Savers consist of 8-mil parachute cord attached to a horizontal cord or a thin vinyl strip that is easily found at hardware stores. Cords hang 4.25 inches apart, a narrow enough space to deflect even a hummingbird.
Remarkably, even birds that don't see the cords have enough time to veer away as soon as the cords touch their wings
- unlike window stickers, which are useless if the bird doesn't see them.
Users report success rates of 90% to 100%.
Here's more information at the Acopian Bird Savers website.
---
Did you know that a bee can visit up to 5,000 flowers per day? Wild bee populations are in decline for a number of reasons, so now is a great time to create a bee-friendly environment. The good news is that even a window ledge or balcony flower box can be helpful!
What bee experts want you to know:
1. Plant flowers with single flower tops.
Simple, single-headed flowers make it easy for bees to reach pollen and nectar. It is much harder for them to penetrate double-headed flower tops, and many highly ornamental flowers contain little or no pollinator food.
2. Bees don't like red flowers.
Experts say that bees are attracted to blue, violet, purple, and white flowers, but the photoreceptors in their eyes cause red flowers to appear black.
3. Ask for plants that have not been treated with neonicotinoids.
A few years ago, researchers found that some big box stores were selling bee-friendly plant species that had been treated with high levels of neonicotinoids (neonics), the pesticide group that kills bees or causes them to suffer from deadly disorientation.
Home Depot and Lowes have pledged to phase out neonics by the end of 2018 and 2019, respectively,
according to the National Wildlife Federation. (Currently around 20% of Home Depot's plants have been treated with neonics and are now labeled as such.)
4. Bees need a water source, especially during dry weather.
Bees like shallow water, which is why experts recommend placing rocks or twigs in a pan of water so that they have something to land on.
This article from The Honey Company
shows how to use a chicken waterer, while the bee waterer pictured here sells for less than $5 on Amazon.
5. Steer clear of neonicotinoid pesticides.
The National Wildlife Federation recommends not using products that contain imidacloprid, acetamiprid, dinotefuran, clothianidin or thiamethoxam.
6. Plan for blooms throughout many seasons.
Use this great season-by-season list from Buzz About Bees for suggestions.
(The list starts around a third of the way down the page.)