Fall Garden and Home Maintenance Tips

1. Plant shrubs, trees, and spring greens.
Trees and shrubs that are planted in the fall have months to develop a healthy root system
before they need to spend energy on growing new foliage. Fall is also the time to plant spring greens such as broccoli, onions and cauliflower. Here's a helpful
explanation of what vegetables to plant in the fall
.
2. Drain gasoline from powered appliances.
This is an easy one to forget about, but it's important. Stale gasoline can cause gummy deposits and engine death in lawn equipment.
3. Plant spring-blooming bulbs.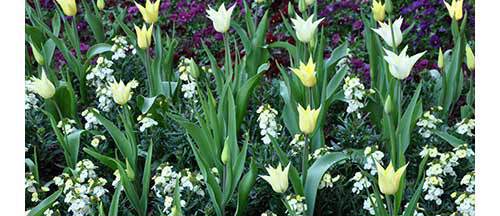 Fall is the right time to plant bulbs such as daffodils, tulips, lilies, crocuses and hyacinths. Choosing varieties that bloom at different times will give you good color throughout the spring. Experts recommend putting bulbs in the ground around six weeks before the first frost.
4. Protect garden beds with mulch.
You can create your own organic mulch by mowing and collecting fall leaves. (The neighbors are usually happy to contribute!) Another option is to create a permanent leaf pile that degrades throughout the year, which will provide a constant supply of mulch.
5. Hold off on pruning.
Finally, something to
not
do. :)
Pruning in the fall stimulates new growth when plants are about to go dormant
,
according to Rodale's Organic Life
. They and other experts recommend waiting until mid-winter or spring to prune plants, shrubs, and trees.
6. Service the heating system.
It's that time again! Experts recommend getting forced air furnaces cleaned once a year. Filters may need to be changed or cleaned every month or so during cold weather, especially if pets live in the home.


8. Clean the fireplace.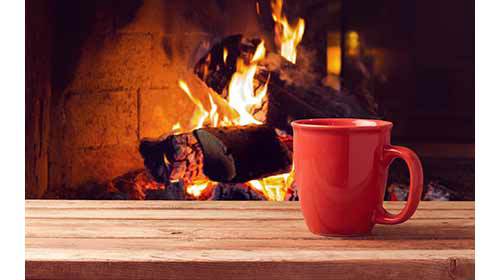 Are you planning to cozy up to a fire this winter? Before cool weather sets in it's a good idea to have any wood-burning fireplaces and chimneys cleaned if they haven't been serviced within the past year.
Gas fireplaces require less maintenance, but they still collect dust and need occasional servicing in order to remain efficient.
7. Replace smoke and CO alarm batteries.
Many people replace their alarm batteries once a year to be on the safe side. If you do this, the end of Daylight Saving Time (coming up on November 7) is a good milestone to use as a reminder.
Some newer CO and smoke alarms have a sealed lithium battery that lasts 10 years. They're more expensive but create less waste and help pay for themselves by not requiring battery replacements.
9. Check fire extinguishers.
It's easy to let this one slip, but fire extinguishers should be checked regularly. The needle on the pressure gauge should be in the green "charged" area.
10. Help houseplants transition to winter.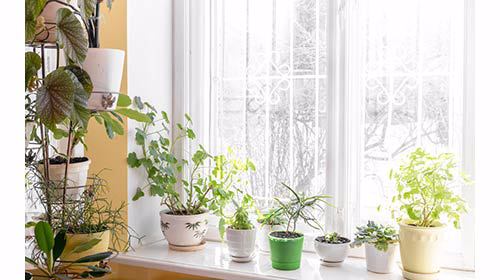 Houseplants need less water and fertilizer in the fall because they're entering a rest period. They still need sufficient light, so moving them to an area near a window may help them when days are shorter.
The
Get Busy Gardening website
recommends
not
repotting plants in the fall because that would stimulate new growth. (The exception would be if the plant has become root bound.)
11. Protect exterior water faucets.
If your home's exterior faucets are frost-free this may not be necessary, but if they are not you can protect them with insulated faucet covers. During extremely cold weather it may also be a good idea to turn off the water supply and drain the faucets.
12. Clean out gutters and downspouts.

Water should always drain away from the foundation of your home so that it doesn't create moisture problems in the crawl space or structure. Splash blocks and flexible hoses that attach to downspouts are sold in hardware stores and can be used to channel water in the right direction.


13. Seal gaps to keep out pests.
Did you know that an adult mouse can fit through a hole the size of a dime? Mice and other would-be tenants tend to enter houses during the fall as they seek refuge from colder weather. Check your home's exterior and seal up even the smallest gaps you see. Common culprits are holes in the screens over crawl space, attic and dryer vents.


14. Help out migrating birds.
True, this probably falls more under the category of "nest maintenance". :) Many birds who migrate for thousands of miles to reach wintering grounds are seeing food sources and resting spots along the way disappear because of wildfires.
High energy bird food such as Black Oil Sunflower seeds
can provide a big boost in helping them reach their destinations.