It's the season of giving, but finding exactly the right present isn't always simple! Here's a helpful list of gift ideas that also make great housewarming presents throughout the year.

Dennis and Jane and Lee Guertin
(952) 451-4989 Dennis

(952) 451-5217 Jane


Great Gift Ideas for Home and Family
Automatic Pan Stirrer with Timer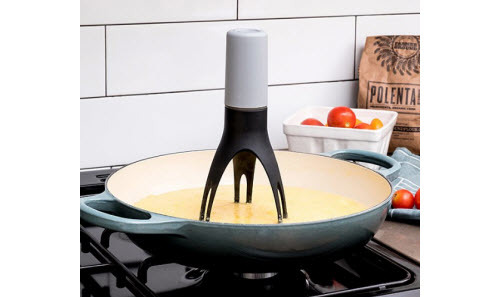 This unusual gift saves time in the kitchen
when a simmering or low-heat liquid dish requires continuous stirring. (It gets enthusiastically positive reviews on the Uncommon Goods website.)
Price: Around $25.
Go Fetch Magnetic Bottle Opener

Dog lovers will appreciate this
cute wood and stainless steel bottle opener
that pries off bottle caps and holds them obediently in its mouth. Good dog! :)
Price: Around $15.
Anatomy of Sports Coasters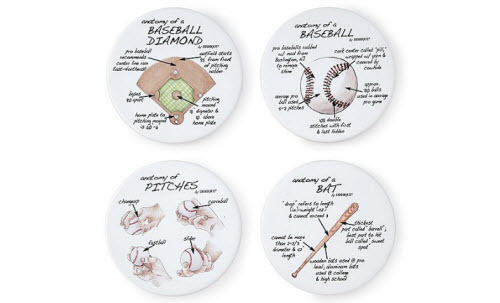 Four sandstone and cork coasters decorated with whimsical illustrations
explain the finer details of your sport of choice. Choose from baseball, football, soccer, golf, skiing, and more.
Price: Around $45 for the set of four.
Fix It Kit (in Pink or Black)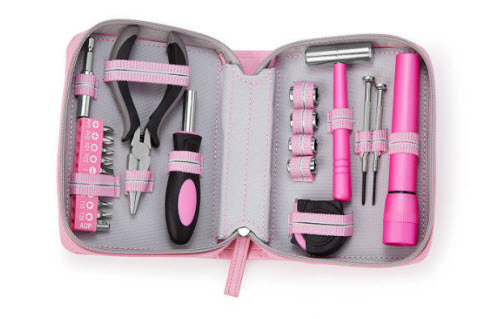 A really handy toolkit for small household "fix it" situations.
This set includes long-nose pliers, 10 screwdriver bits, and an LED flashlight, among other tools.
Price: Around $30.
The Cat Shaming 2020 Calendar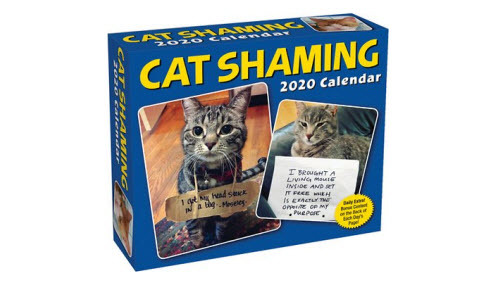 This calendar delivers a chuckle a day,
with humorous taglines describing the shenanigans of cats caught red handed when they weren't on their best behavior.
Price Range: Around $14.

Electric Wine Opener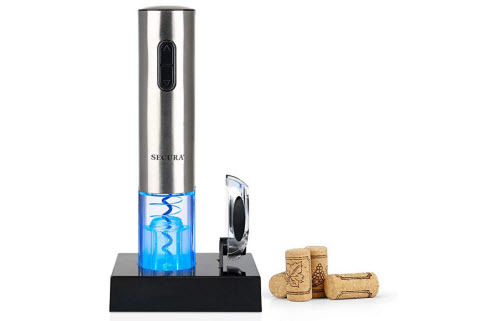 Opening a bottle of wine is as easy as pushing a button with this rechargeable electric opener. Another button releases the cork, making it an especially handy gadget for anyone who has arthritis or reduced hand strength.
Price Range: Around $20.
World Map Coloring Tablecloth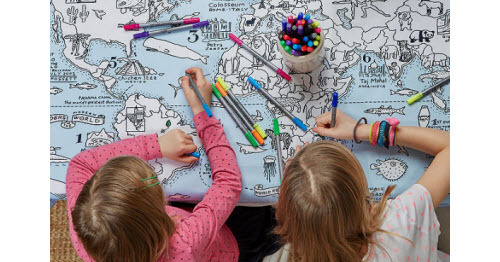 Kids can spend hours coloring this cotton tablecloth that comes with hand-drawn countries, animals, and landmarks
from around the globe. Includes ten markers that wash out completely so the tablecloth can be colored again.
Price: Around $30.

Stylish Self-Inking Return Address Stamp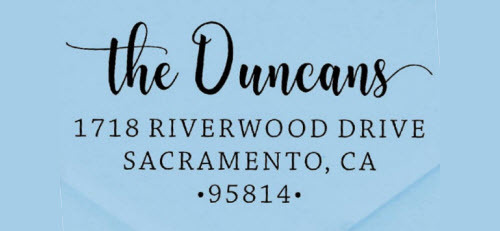 A custom return address stamp
is the kind of thing most people never get around to ordering for themselves, but they love to receive as a gift. A handy window lets you see exactly where the stamp impression will be placed.
Price: Around $20.
Bamboo Cheese Board and Knife Set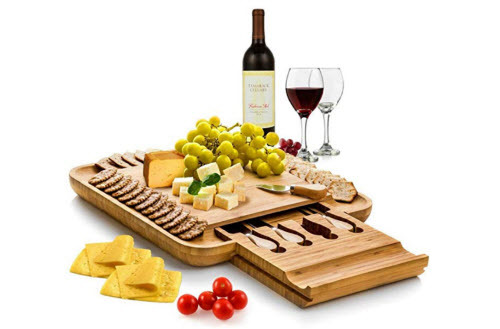 This bamboo cheese board comes with four different cheese knives that store conveniently in a drawer that slides into the board.
Price: Around $55.
For the Person Who Says "Don't Get Me Anything":

Donate a Farm Animal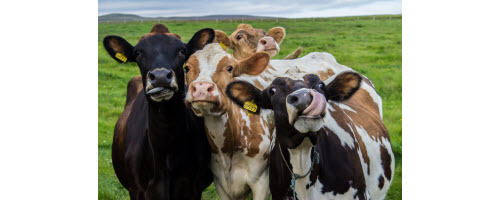 "A cow, not a cup" is the motto of Heifer International,
a non-profit that donates farm animals and livestock training to under-served populations. If there's someone on your gift list who doesn't need or want anything, a donation in their name might be the perfect way to show you're thinking of them.
Price Range: Starting at $20.
Note: Links to online shopping sources are included for efficiency's sake, but items may be available at various locations, including non-online stores. This is not intended to recommend any particular shopping resource. Item images courtesy of Amazon.com, Etsy.com, Chewy.com, and UncommonGoods.com.

What the lawyers make us say: The information here is not presented as expert legal or financial advice. Please use your best judgment and consult professionals when necessary.
Contact Us for Market Information
Are you curious about your home's current market value, or do you have a question about home buying? Just reply to this email, or call us at 952-442-1300.
View Our Featured Home Listings
Links that Make Life Easier
Sometimes real estate-related, sometimes not... these are assorted links that come in handy:
25 Indoor Winter Activities for Kids
Creative indoor craft and play ideas for kids this winter.

Photopea - Free Image Editor
A free online image editor that looks and acts a lot like Photoshop. It even accepts Photoshop PSD files.

Spiced Pumpkin Bread Recipe
A deliciously moist and easy-to-make pumpkin bread. (Tip: Even better with brown sugar sprinkled liberally over the top just before putting it in the oven.)



---
(Screenshot courtesy of Tammy Davis and SunnySkyz.com)

An overly enthusiastic Boxer stole hearts on the Internet when it was filmed putting its own twist on an exercise during a dog obedience class. The friendly pooch was so overjoyed to rejoin its owner that... well, it's a little hard to describe. :)

Click here or on the image above to watch the video on the family-friendly SunnySkyz website.


Your Resource for Real Estate
Are you thinking of buying or selling a home in the next year, or could you use some remodeling advice? Even if you just need the name of a good service provider, please remember that we're always here to help you. We welcome the opportunity to serve you, your friends and associates with our expertise and recommendations.
Please give us a call today at (952) 442-1300 if we can be of assistance!
If you are currently working with another agent this is not an attempt to solicit that business.
©Copyright 2019 Tools For Real Estate