What's really happening out there?
For the first time since the last recession,
many areas in the U.S. are starting to see a consistent increase in housing inventory
. At the same time, demand appears to be decreasing somewhat due to rising (although still historically low) interest rates and higher home prices.
Real estate markets follow the laws of supply and demand, so with increased supply and/or lower demand it's normal to expect prices to respond by stabilizing, dropping, or appreciating at a slower rate.
What do experts predict?
In general,
many experts predict a lower rate of appreciation over the next year.
CoreLogic, a data and analytics company, expects to see home prices increase by 5.1% between July 2018 and July 2019. A panel of industry experts surveyed by Zillow predicted that prices would increase by 4.1% in 2019.
Are conditions similar to 2006?
While the price appreciation in recent years feels very similar, our economic landscape today has some big differences compared to the years before the last recession.
1) Lower balances on home equity lines.
Home equity lines have been on a downward trend since 2009, according to the New York Federal Reserve. It used to be common for homeowners to casually tap into their home's equity, to the extent that in 2006 they carried $140 trillion of home equity line debt. As of 2018 that number has dropped by more than 50%, to around $67 trillion.
2) Tighter lending standards.
Even though it's easy to find articles bemoaning the fact that lax home loan guidelines are back in play, the numbers tell a different story.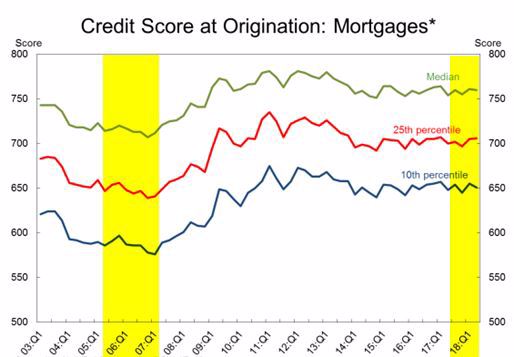 Chart courtesy of New York Federal Reserve. Data Source: New York Fed Consumer Credit Panel/Equifax.
*Credit score is Equifax Riskscore 3.0; First-lien mortgage only.
As you can see from the yellow highlighted sections in the graph above, the median credit score at mortgage loan origination in 2018 is far higher than it was during the 2006 to 2007 period prior to the recession.
3) People with very high credit scores hold more equity.
Borrowers with FICO credit scores of 780 or above currently hold around 50% of the equity in mortgaged real estate, compared to 40% in 2006.
4) No one wants to get burned again.
Many consumers were caught off guard by the Great Recession, and no one wants that to happen again. So, while it seems in hindsight that a large part of the population was overly complacent during the years leading up to the recession, it's almost a sure thing that many people are now leaning in the opposite direction.
Tips moving forward: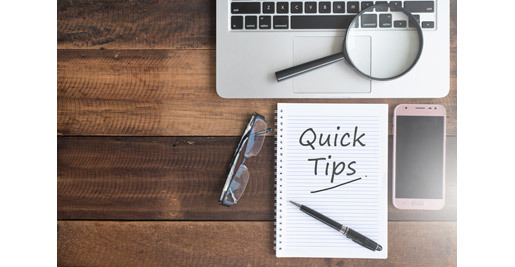 Here are some pointers to help put real estate news into context:
Tip 1:
When home sales decline while prices increase and market times shorten, this means sales are limited by low supply, not low demand. It's a good sign for sellers.
Tip 2:
When home sales decline while prices stabilize or drop and market times get longer, this means lower demand is negatively affecting sales. It's a good sign for buyers.
Tip 3:
When reading about home value trends, it's important to distinguish between actual home prices and the rate of appreciation. Any positive rate of appreciation means prices are increasing. Therefore, even if the rate dropped by 80%, home prices would still be trending upwards.
Why we need to read headlines with a grain of salt:
"The U.S. Housing Market Looks Headed for Its Worst Slowdown in Years"
, yells the title of a recent Bloomberg Business
article
(one you're likely to see topping the list of online search results about the topic). It sounds terrible, but what does this
really
tell us?
Here's an example of why headlines can appear to say a lot while actually saying very little.
1) The term "years" is not defined in the title, so it could mean five years, fifty years, or any period of time longer than one year.
2) Home prices in the U.S. have been increasing since 2012. If this is the period of time the article is referring to, virtually
any
slowdown - even just a lower rate of yearly price appreciation - qualifies as "the worst slowdown in years".
The bottom line:
Headlines are written to be read. :) This means that, as usual, it's up to consumers to filter out the substance from the sauce.