Popular Bathroom Remodel Trends



Experts are seeing a shift towards a "natural and organic" influence on today's contemporary style, according to the National Kitchen and Bath Association. Expect to see greater emphasis on minimalism, clean lines, and Nature-based finishes.
Here are some of the top current trends.

Curbless Walk-In Showers
Curbless showers have been topping the bathroom "must have" list for several years, and they appear to still be going strong - in part because they offer easier access for people with limited mobility.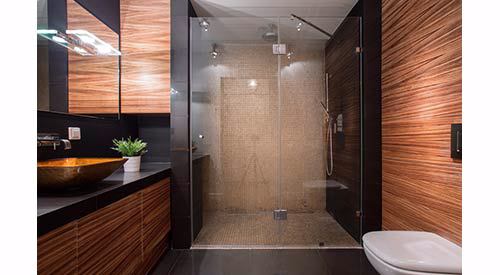 Because there's no threshold at the shower door, it's possible to extend the main floor tile throughout the shower area. This is a modern look that can make the entire bathroom look larger.
Touchless Faucets and Lighting
It's not surprising that touchless fixtures and lighting are part of a quickly growing trend. "Smart" faucets activate by sensing the movement of a hand or arm when it is waved over the top of the faucet, or by the motion of a person's hands under the faucet head.
Quartz and Porcelain Slab Tile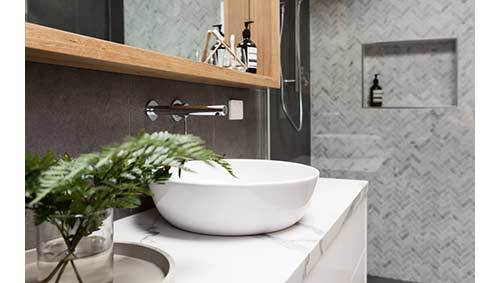 Engineered quartz has been extremely popular for years, but porcelain slab is gaining as a preferred option for bathroom countertops, walls, and floors.
Porcelain has low porosity and is naturally resistant to staining, making it much easier to maintain than marble and some other natural stones. It can also be installed in very large, thin slabs, sometimes no thicker than a quarter of an inch. Using large slabs means few or no grout lines - an added perk!
Bathrooms commonly end up with overhead lighting as the only light source, but this can leave the room feeling overly bright and lacking in ambiance.
Designer Maria Roussos of Schemes and Spaces suggests incorporating several lighting options, such as task lighting for the vanity and LED lighting underneath cabinets for when you just want background illumination.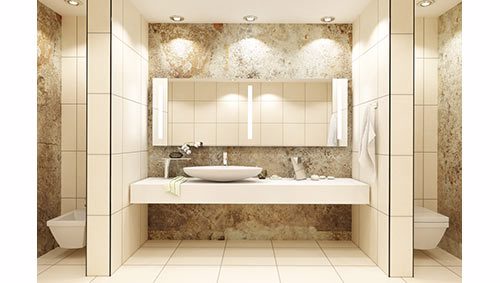 She points out
that positioning lights at the sides of the mirror creates a more natural daylight effect compared to the unflattering angle of overhead lighting.
What's not to love about heated bathroom floors? :) If your home doesn't already have a built-in radiant heat system, an easy option may be to install a low-voltage heated floor mat that's powered by electricity.
Tip: If a heated floor isn't in the remodel plan, luxury vinyl tile or plank might be a consideration. Unlike the vinyl products of days gone by, today's luxury vinyl tile looks very much like stone tile and has a warmer feel.
Tile styles are actually all over the place, ranging from rustic
Zellige tile
(which is notably hard to maintain) to subway tile and the ultra-small penny tile. Big tiles, however, have been popular for years and
even subway tiles are now being used in larger sizes than they were previously.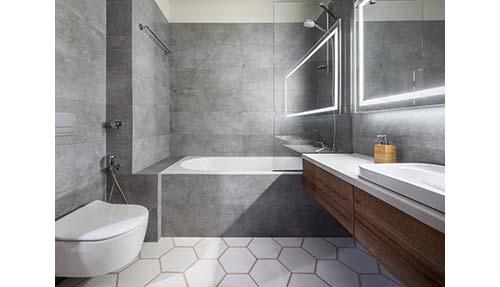 Contrary to what many people believe, large tiles work well in small bathrooms and often make the room look bigger.
Floating vanities are another good way to make a small bathroom look bigger, and who are we kidding - they tend to look good no matter what kind of room they're in!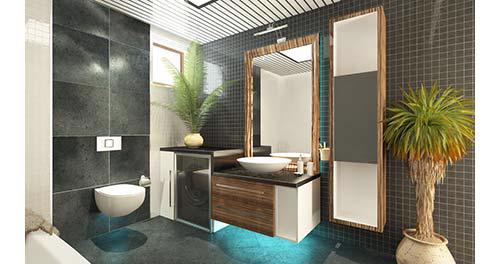 Installing LED lighting on the bottom of the vanity adds a nice touch to the overall effect.
A Warm(ish) Color Scheme
After years of cool grays and bright white, tastes are moving to slightly warmer tones. In many cases this may mean just a slight shift from colors used in previous years.
For example,
Agreeable Gray from Sherwin Williams
is a warm gray that isn't a huge leap from a cool gray, but it makes a noticeable difference in the overall feel of a room. (Agreeable Gray needs to be paired carefully with white; it goes well with Pure White, an off-white from Sherwin Williams.)
Rain Shower Heads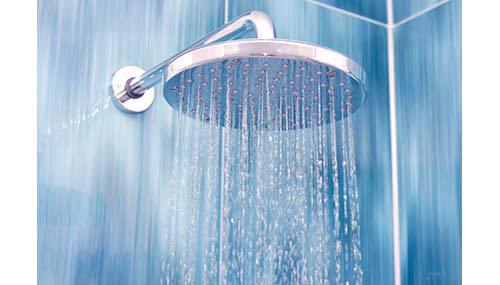 Comfort is king when it comes to popular bathroom trends. Rain shower heads are becoming more mainstream, with some models incorporating aromatherapy, music, and lighting for a spa-like feel. Dual shower heads are popular as well.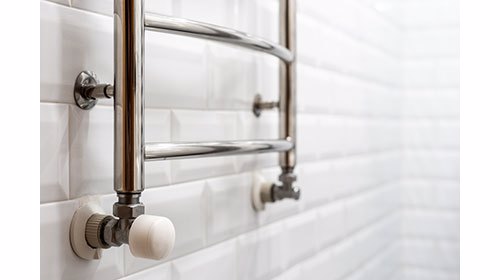 Sometimes it's the little things that make a big difference! A towel warmer rack is an easy and inexpensive upgrade that feels luxurious.
Undermount Sinks
Choosing a sink can be a toss-up between the style you love and the amount of work it will be to maintain.
Undermount sinks are among the most user-friendly because water can be swept directly into the bowl from the countertop. Their elegant look also makes them a good bet in terms of staying power.
Vessel sinks and semi-recessed sinks still have significant appeal due to their "cool factor", even though they take more effort to maintain.