Black Stainless Steel

Black stainless steel appliances and fixtures were hot items at the 2017 Design and Construction Week show.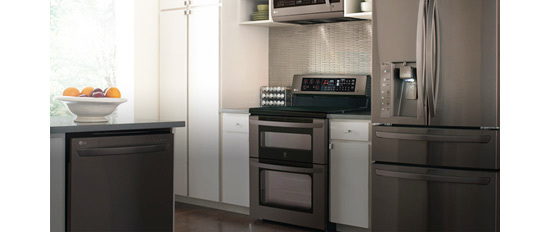 Image courtesy of www.LG.com.
Fad Factor: Low to moderate.
Black stainless steel's matte finish resists fingerprint smudges and has a sleek, elegant look. One downside is that scratches are more noticeable because they show as silver, not black. While this trend is likely to last, traditional stainless may be a safer choice if there's no room for error.
No-Threshold Showers

Large, no-threshold showers with bench seats, grab bars, LED lighting, and rain shower heads are in high demand.
Fad Factor: Low.
Any "age in place" feature that makes a home more usable for people with decreased mobility is likely to be a winner. The proportion of people aged over 65 is expected to grow to over 21 percent of the U.S. population by 2040 (up from 14.5 percent in 2014).
Three-Dimensional Wall Tiles

There are some gorgeous tile designs to choose from these days, and a popular trend is to choose styles that create an uneven wall texture.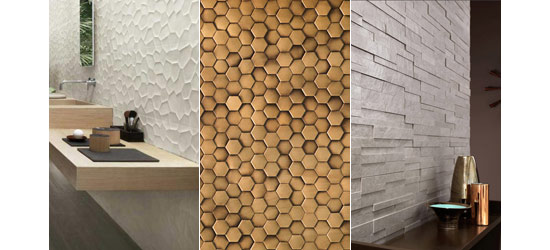 Images courtesy of Ragno, De Castelli, and Lea Ceramiche.

Fad Factor: Moderate to high, depending on style and location.
Three-dimensional tile works beautifully as an accent feature, especially in contrast with a sleek material. In bathrooms and heavily-used areas, however, the extra effort involved in keeping tiles clean could get old quickly.
Tile for Floors and Quartz for Counters

Hardwood is still extremely popular, but it's starting to lose a bit of ground now that there's such a huge selection of wood-look ceramic tile. Quartz for countertops has been going strong for years and continues to be in high demand.
Fad Factor: Low.
Both materials are durable and attractive, two crucial components of a trend with staying power. One thing to keep in mind is that tile floors will have a colder feel compared to hardwood unless there's in-floor heating.
Chevron and Herringbone Patterns

Yes, chevron and herringbone patterns are popping up on both floors and walls in hardwood and tile.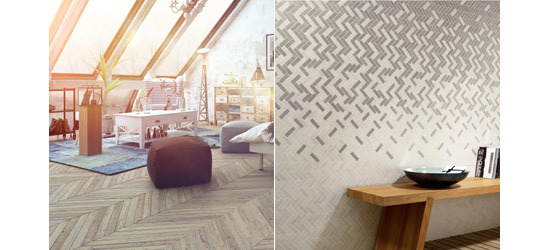 Wall tile image courtesy of Ragno.
Fad Factor: High.
This is a distinctive look that's not functionality-related, so it comes with a higher risk factor. It's more likely to have staying power when the final result doesn't produce a busy or distracting effect.
Gray, White, and Blue

Gray, white, and beige (essentially "greige") have been trendy for the last couple of years and are still going strong. This year blue tones are getting some designer buzz as well.
Fad Factor: Low to moderate.
Extreme versions of any trend are likely to lose favor more quickly. Gray tempered with a soft, warm tone will probably appeal to a wider market over the long term compared to cold dark grey or heavily bleached wood. Blues are a bigger departure from the norm and run a somewhat higher risk of being seen as a former fad in five years.
2016 Trends that Are Still Going Strong:

- Deep Drawers and Slide-Out Shelving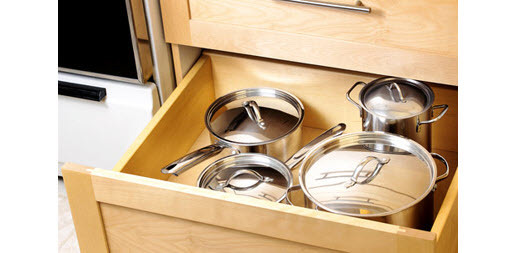 You can't go wrong with this kind of storage.
- White Cabinets for Kitchens
Still extremely popular, often with open shelving.
- Water-Saving Technology
Dual flush toilets and low-flow showerheads are in growing demand.
- Matte Finishes
If anything, the "low gloss" trend is even stronger this year.
- Universal Design
Any "age in place" upgrade is likely to increase market value, whether it's a wheelchair-accessible shower or the addition of an in-law suite.
- Large Planks and Tiles
Improved inkjet technology allows ceramic tile to look like wood and natural stone, and 3-mm-thick sheets come in sizes as large as 5' by 10'.
- Farmhouse Sinks
Still popular, probably because after years of double sinks people enjoy actually being able to fit a large pan with a handle into their sink. :)