The top remodel trends for 2022 are a mix of new with some tried and true. Here's what to expect to see this year, along with tips on a few design ideas that it might be best to approach with caution.

Guertin Family Realty is expanding! Please call us if you are interested in joining Dennis & Jane as a licensed sales associate. No experience required!

Dennis and Jane and Lee Guertin
(952) 451-4989 Dennis

(952) 451-5217 Jane


Popular Remodel Trends for 2022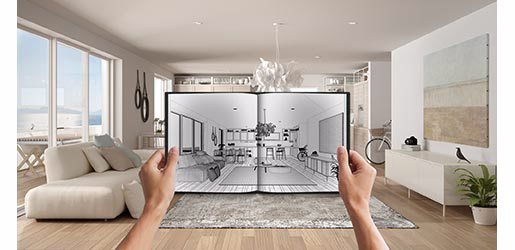 Home Office and Flex Space

The home office trend is still going strong, and homeowners are finding creative ways to repurpose existing spaces for work, gym equipment, and sometimes even a side hustle venture. The option for privacy is a big value booster when it comes to floor plans, along with any high-tech features that can be incorporated.
Multi-Tasking Kitchen Islands
Kitchen islands have always been popular, but now functionality is becoming more of a focus. Islands that have seating as well as space for food preparation and appliances such as a mini-fridge or microwave allow efficient use of space for both socializing and working in the kitchen.
Longer backsplash tiles were a trend throughout 2021, and many designers expect them to continue to have wide appeal. Four by twelve inches is a popular size for kitchen backsplashes and bathroom wall surfaces.
Kitchen Workstation Sinks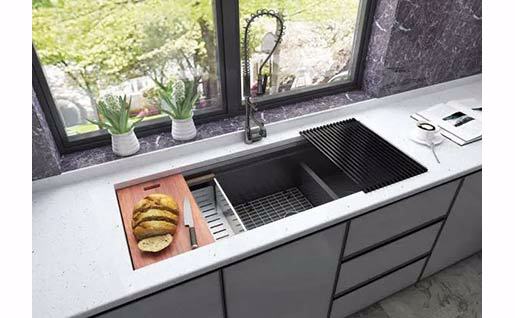 Deep and wide single-basin sinks have been edging out the traditional double sink kitchen setup for years. This trend is now being amplified by workstation sinks that incorporate more space and features for food preparation. One great advantage of many workstation styles is the ability to hide handwashed dishware that would otherwise be in plain view on a traditional drying rack.
Textured Walls

The overall trend in 2022 is a shift towards the feel and comfort of a less polished environment. This is leading to an increase in the use of textured materials on wall surfaces, such as grasscloth, textured paint, and 3D wall tiles.
Green for Decor
Both Sherwin Williams and Benjamin Moore picked a shade of green for their 2022 Color of the Year
(Evergreen Fog and October Mist, respectively). The design website
Houzz
reported a rise of nearly 800% in searches for the term "green tile bathroom" in 2021.

Steam Ovens

Steam ovens are considered "desirable or essential" to around 50% of Millennials and Gen X home buyers, according to the National Association of Home Builders. (Only 19% of Baby Boomers feel the same way.) Steam ovens cook food faster with less loss of nutrients but tend to cost more and require some upkeep.
Darker Colors in the Kitchen

White is still the most popular color scheme for kitchens, but homeowners are finally starting to incorporate more vibrant colors. Browns with an undertone of grey and natural colors throughout the spectrum are expected to gain popularity for cabinets and walls.
Light colors and engineered quartz are still the norm for countertops.

Benjamin Moore's 2022 Color Trends Palette. Image courtesy of Benjamin Moore.
After years of pure white, grey, and greige, warm earth tones are finally back in the mainstream. Designers are seeing more requests for decor schemes sourced from the natural environment, including greens, ochre, and colors associated with the desert Southwest.
Smart Lighting and Appliances
Whether they're controlled by voice, motion, or temperature,
smart appliances and home gadgets are quickly becoming the norm
. People who aren't ready to jump on that train can still increase their home's appeal with small touches, such as by replacing standard wall outlets with ones that incorporate fast USB charging.
Outdoor Living Spaces

Making the outdoors feel like the indoors has been a wildly popular trend for years, and 2022 will be no exception. Covered outdoor kitchens, fireplaces, and entertainment areas extend functional living space and make the entire home feel larger.
Tip: Pre-made pergola kits can be a good DIY option for handy homeowners.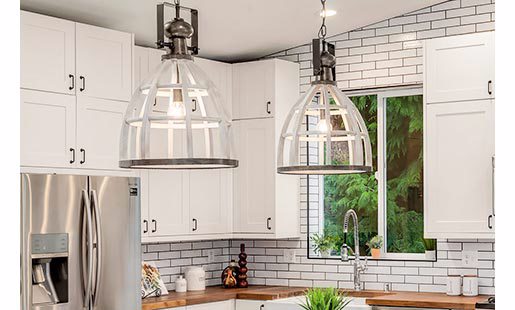 Pendant lighting isn't going away anytime soon, and the Houzz website points out that open or clear lantern styles can make a big statement without impeding range of vision or making a room look crowded.
Sustainable and Wildlife-Friendly Features

Conserving water and using reclaimed building materials go hand in hand with a shift to the more organic decor style of 2022. Homeowners are increasingly making efforts to use drought-tolerant native plants in landscaping projects, while pollinator gardens that sustain bees and butterflies are becoming more common.
Trends That Are Still Going Strong...
- Universal design features that make it easier to age in place.
- Heated floors, especially in bathrooms.
Trends that May Have Less Staying Power...
- No upper kitchen cabinets. (This is a current trend that doesn't create a problem if storage needs are not compromised, but if it results in a shortage of space the trade-off is usually a net negative.)
- Wild wallpaper.
- Strongly patterned surfaces, especially when it comes to flooring.
- High maintenance materials that are hard to clean, such as Heligge tile.
What the lawyers make us say: The information here is not presented as expert legal or financial advice. Please use your best judgment and consult professionals when necessary.
- U.S. home prices rose 18.4 percent year-to-year in October, according to a recent S&P/Case-Shiller report.
- The national average 30-year fixed mortgage rate is in the low 3-percent range.
The November Pending Home Sales Index dropped by 2.7% percent year-to-year, according to the National Association of Realtors®.
View Our Featured Home Listings
Links that Make Life Easier
Sometimes real estate-related, sometimes not... these are assorted links that come in handy:
10 Kitchen Island Features Pros Always Recommend
This is a good article to use as a checklist if you're installing or remodeling a kitchen island.

50 Small Bathroom Design Ideas
Bathroom design tips that work in small spaces, from the HGTV website.

Caramelized Cabbage Butter Pasta
"Caramelized what?" might be an understandable question. :) This easy-to-make recipe is one that could win over even the non-cabbage lovers.


---
Screenshot courtesy of Wimp.com.
An energetic donkey in Arkansas may have just set the new standard for how to show appreciation for a Christmas gift! (Who knew that an inflatable ball would get such a reception?)
Click here
or on the image above to watch the video on the family-friendly Wimp.com site.
Your Resource for Real Estate
Are you thinking of buying or selling a home in the next year, or could you use some remodeling advice? Even if you just need the name of a good service provider, please remember that we're always here to help you. We welcome the opportunity to serve you, your friends and associates with our expertise and recommendations.
Please give us a call today at (952) 442-1300 if we can be of assistance!
The information here is not presented as expert legal or financial advice. Please use your best judgment and consult professionals when necessary.

If you are working with another agent this is not an attempt to solicit that business.
©Copyright 2021 Tools For Real Estate