Fad Factor or Here to Stay?
More Color In Kitchens
White cabinets have been popular for years, but home design experts are calling for more color in 2018.
Bleached wood and mid-tone cabinets coordinated with warmer shades of gray and taupe
are showing up more frequently in remodeling blogs.
Fad Factor: Low.
Warm neutrals are generally a good bet, unless the wood or color looks unusual enough that it veers into "hard to ignore" territory.
Navy, Blue, and Plum - Yes, They're In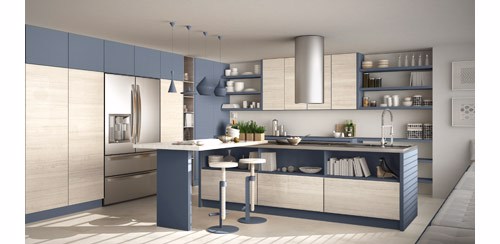 Home design shows are also touting an upsurge in
stronger colors for both kitchens and baths
- specifically, navy, blue, and even plum. (Ultra Violet was Pantone's 2018 Color of the Year.)
Fad Factor: Moderate to High.
Choose these colors for personal enjoyment, but if the goal is to be able to sell a home in seven to ten years without remodeling again, a more neutral color scheme will probably be the safer choice.
Quartz Finally Edges Out Granite
Both materials have been going strong for years, but some industry experts say they are now seeing higher demand for engineered quartz.
Honed and leather finishes are excellent choices
for those who prefer countertops with a matte look.
Fad Factor: Low.
Quartz is popular for many of the same reasons that have kept granite a mainstay for decades, and it is even easier to maintain.
Unusual Variations of Traditional Subway Tile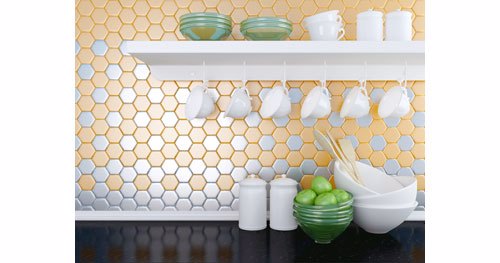 Traditional white subway tile appears to be on its way out, and some designers are calling for variations such as
fish scale and even wallpaper style tile patterns
to take its place.
Fad Factor: Potentially High.
While it's true that homeowners appear to be moving away from traditional white tile, variations that run to the extreme are unlikely to stand the test of time.
Farmhouse Sinks With a Bit More Color
Farmhouse sinks are becoming more and more popular, in large part because they are easier to use than the smaller double sinks that have been the norm for so long.
This year expect to see concrete, stone and quartz versions
edge out traditional white and stainless steel.
Fad Factor: Low.
Anything that increases functionality and has an attractive look, as these typically do, has staying power built into it.
Taupe is Replacing Grey
According to the designers at
Wellborn Forest
, taupe is replacing gray as the new neutral.
Fad Factor: Low,
as long as the shade of taupe isn't dominated by an undertone of green, purple, or another color that is less likely to have staying power compared to an earth tone.
What is Taupe Anyway? If you've asked that question, you're not alone. :) Here's a screenshot that gives an example of the sometimes subtle difference between gray and taupe. (Digital displays may vary in how they show color.)


Concrete Accents
Concrete's natural color scheme ties in with the still-popular trend towards gray tones, and it can also be colored to match specific design goals. Some experts predict that
concrete will be used more frequently for sinks and countertops
, while wall coverings with a concrete look are gaining ground as well.
Fad Factor: Low to Moderate.
Concrete tends to create a classic, minimalist look, and as long as it's not being used for something that demands excessive maintenance it has good potential to remain popular.
Richer Colors Everywhere
Last year designers were calling for turquoise and vivid greens as accent colors, but in 2018
expect to see more rust, camel, and red.
These rich colors contrast well with today's gray and neutral color schemes.
Fad Factor: Low to Moderate,
depending on how they are used. (Camel-colored kitchen cabinets might be a tougher call than a camel-colored couch.)
Still Going Strong:
Age-In-Place Accessibility Features
Wider hallways, handgrips in bathrooms, easy-to-access mother-in-law suites, and anything else that makes a home easier for someone with impaired mobility to use is a win-win.
Smart Storage
Pull-out shelving and "appliance garages" that keep counters uncluttered are extremely popular. Houzz.com recommends creating a dedicated roll-out broom closet by repurposing any unused tall, narrow kitchen space.
Matte and Chrome Finishes for Hardware
Brushed nickel and chrome are still going strong, although this year we are seeing more bronze and copper as well.
Matte Black and Slate Appliances
Tired of white and stainless steel refrigerators, but not ready for a retro color? Many manufacturers are making appliances in sophisticated shades of matte black and gray, which are likely to have more staying power than this year's navy or plum.
The Bottom Line...
The goal for remodeling isn't always to avoid a fad (fads can be fun and might match a homeowner's personal taste) - but when it is,
styles that are both attractive and highly functional are the ones most likely to stand the test of time.