5 Surprising Remodel Trends We'll See In 2019

1. No Upper Cabinets In the Kitchen
Many interior design experts are talking about the growing popularity of kitchens that have no upper cabinets.
It's a clean, clutter-free look that pairs well with today's minimalistic trend, but it doesn't come without a trade-off.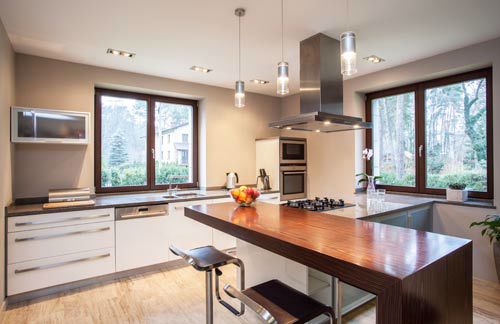 Having no upper cabinets can result in a nice "win" in the looks department as long as the kitchen still has sufficient cabinet space. If the result is a lack of storage, however, it's likely to be a net loss.
Fad Factor: Low to high.
It depends on how much storage space you end up with. The level of functionality you may lose is an excellent deciding factor for most rooms (and especially when it comes to the kitchen).
2. Sinks Made of Bright Metallics
The craze for metallics is one fad that's bucking the current trend of minimalism, which means that
this year you'll see more sinks made of copper and bronze.
Some designers are confidently advising a matte finish, but you don't have to look far to find someone else telling homeowners to boldly go towards the look of shiny gold.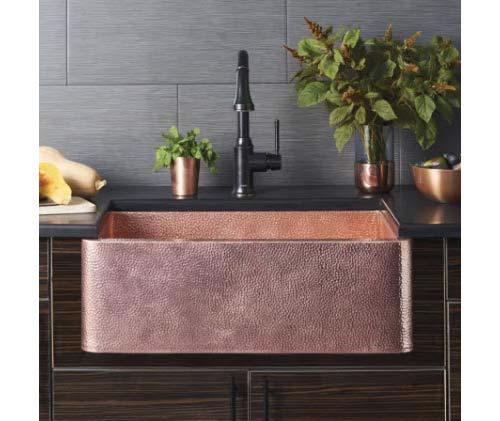 Native Trails Farmhouse Sink, courtesy of Build.com.
If you like features that make a statement but want to play things safe for future resale, an eye-catching style in a matte metallic may be a good option.
Fad Factor: Low to moderate.
As long as a sink style is not too "out there" and the sink itself is a practical design, it's likely to stay reasonably desirable.
3. Terrazzo for Floors, Backsplashes, and Countertops
Terrazzo is a composite material made from chippings of marble, quartz, granite, or glass set into cement. It was popular in the U.S. from the early 1900's through the 1950's.

And now… it's back. :) Here's an example of what it can look like, although it comes in a huge variety of other styles and colors: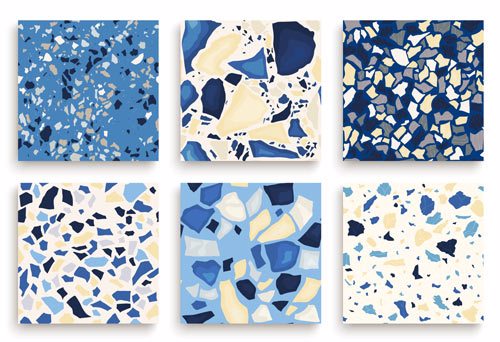 Terrazzo's versatility makes it a good candidate for inventive backsplash designs, which are in high demand right now. It can be poured in place or purchased as ready-to-use tiles.
Fad Factor: Moderate.
With such a wide range of styles available, how durable the Terrazzo trend may be for your home depends a lot on how unusual a pattern you choose.
4. Matte Black and Hunter Green In Kitchens and Baths
Last year gray seemed to be everyone's favorite color, but in 2019 expect to see black and hunter green used more frequently in kitchens and bathrooms.

(This might not be the hunter green that immediately springs to mind. The color showing up in many design blogs is a dusky mix of gray and dark sage, as you can see in Benjamin Moore's 2019 Color Trends palette below.)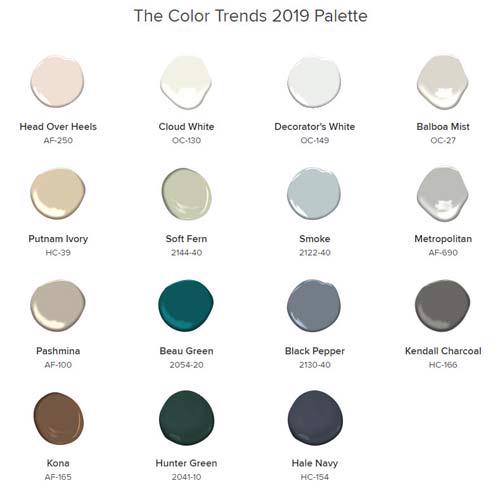 Fad Factor: Moderate.
A black or dark gray color scheme may be a safer option than green.
5. Bold Floral Pattern Wallpaper
Yes, bold and colorful wallpaper is making a comeback... and floral patterns are trending. (But wait, keep reading! :) If you look at current design blogs you'll see a wide range of other fresh styles to choose from.

As long as the thought of wallpaper doesn't make you want to dive into the nearest sensory deprivation chamber, you might enjoy browsing through the LED wallpaper collection from Meystyle, or Piet Boon's amazing concrete-inspired designs.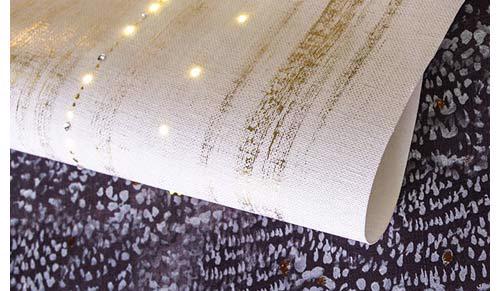 LED wallpaper by Meystyle.
Image courtesy of Meystyle.com.

Fad Factor: Moderate to high, depending on the style. Bold floral designs make a statement that's hard to ignore and can make rooms feel smaller. Patterns that create an understated, contemporary look will have more staying power.



On Their Way Out?

To everything there is a season.... These are the styles some design experts say are losing popularity:

- The all-white kitchen.

- Classic subway tiles.

- Ornate features, such as heavily styled cabinets.

- Gray as a base color scheme.
Still Going Strong

- Deep drawer kitchen cabinets. (Expect these to be around forever.)

- Concrete countertops.

- Boldly colored kitchen appliances.

- Pendant light fixtures.


The Bottom Line...

On any day you can usually find one expert saying a trend is "in" while another says it's going out of fashion. Styles that are both attractive and highly functional are the ones most likely to stand the test of time.