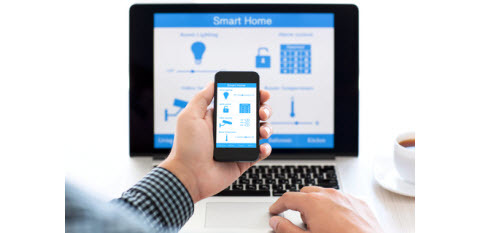 Nearly half of
home renovations in 2015
included home automation, and security was near the top of that upgrade list. With this in mind, it's worth taking a look at automated security systems that consistently get high ratings from the public and online reviews (which is how the term "best" is being used for the purposes of this article).
"DIY home security" typically refers to any system that you purchase and install yourself.
Depending on the brand, you can then have it monitored by an external service, or go completely DIY and monitor it yourself via smartphone and computer notifications.
'Best' Self-Monitored DIY Home Security Systems
iSmartAlarm Home Security
What's to like:
A wide selection of packages, including ones that include streaming video with free cloud storage; A loud alarm built into the hub; Easy to set up; Some integration with Amazon Echo for voice commands via IFTTT technology.
(IFTTT stands for "If this, then that." The technology allows you to create rules for your devices, i.e., "If a motion sensor is activated, then turn on the lights.")
Downsides:
Doesn't integrate with as many accessories as some other systems.
Price:
Packages currently start at around $150 for the non-video Starter Package, and reach $330 for the Pan & Tilt Video Package. A camera can be added to a non-video package.
---
Piper NV
What's to like:
Very simple setup; Compatible with Z-Wave enabled home automation devices; Some integration with Amazon Echo via IFTTT.
Downsides:
It is essentially a video surveillance device that includes a camera, an alarm, and sensors for motion, light, sound, and temperature, all in one unit. While this makes it very simple to install, some reviewers felt it lacked the versatility of other systems.
Price:
Currently around $280 on Amazon.
** Tip: An Amazon reviewer who says it alerted her to an intruder in her home left a detailed list of pros and cons that would be helpful to read if you're considering the PIper NV - the list is linked to here.
---
Samsung SmartThings
What's to like:
Compatible with a huge number of home automation devices; Works with Amazon Echo for voice commands; Uses Z-Wave, Zigbee, and IFTTT technology; Optional professional monitoring by Scout.
Downsides:
Hackers
exposed vulnerabilities
in the SmartThings system during the last year. However, those types of problems are not limited to the Samsung product and are - for now at least - an inherent risk of many home automation systems.
Price:
Around $200 for their Monitoring & Security Bundle, more to add a camera.
'Best' Professionally Monitored DIY Home Security Systems
Simplisafe
What's to like:
No yearly contracts; Low pricing; Cellular backup on all monthly plans; Battery backup; Smash-proof protection; Optional video and video storage; 60-day full refund guarantee.
Downsides:
Lacks Z-Wave technology, so does not integrate with many other home automation devices.
Price:
Around $374 for the Essentials Package, which includes a camera. (Non-camera packages are cheaper). Around $15 per month for basic monitoring, $25 for mobile app control and live streaming video.
**Tip: Simplisafe added video to its offerings very recently, so most online reviews for this service don't mention this option.
---
Frontpoint and LiveWatch
These two services consistently get high ratings and offer more integration with home automation devices than Simplisafe does. Pricing is higher, however, and Frontpoint requires a 1 to 3-year contract with cancellation fees. LiveWatch has a 1-year contract, but lets you leave at any time with no fee.
Price:
Equipment packages vary depending on the contract, but both appear to have $99 starter package offers. Monitoring typically ranges from $30 to $50 per month.
Worth a Look

Abode Security
- This is a newer system, but user reviews have been mostly positive so far, and it integrates with Amazon Echo. It also has optional professional monitoring that you can set up for periods as short as 3 days, which is perfect for when you're going on vacation. Their starter security and automation package costs around $320.
Common brands not on the list include the Iris system from Lowes, because it appears to get a fair number of complaints about the system needing to be re-set frequently, and the Scout hardware, which many users seem to feel goes through batteries very quickly.
Home automation isn't for everyone! If that's the case for you, remember there's nothing wrong with sticking to the tried and true, which comes with its own set of perks. :)