Seasons Greetings and Good Qi from Dr. Chow and all at the East West Academy of Healing Arts
Dear Family of Chow Qigong and friends... Happy Holidays!
Thank you, dear friends for your constant support and doing good for the world.
In this time of Christmas celebration, I send you today our message for ultimate love that is basic in humanity.

In this time of Christmas celebration, God has given us another spot of really good news to be able to truly help the world as is our passionate goal. Now we can really raise monies for our veteran and youth healers, seniors and hospice and other projects! ....

Last week, a publisher approached me to re-publish my book, Miracle Healing From China...Qigong into an e-book as well as a paper-back.....and now we are in the nice exciting crunch of having to get the entire book scanned into digital format (by my student volunteers!) by December 27 so we can expect the release date to be January 30, 2015! It will be promoted world-wide!

This will be in concert with our plans for a world-wide tour schedule for Chow Qigong!

The publisher drew my attention to the excellent reviews of the book on Amazon which I was not aware of.... here are just a few for your perusal....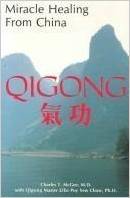 "The stories of healing with Qigong are not exaggerated. Lay people can generate sufficient healing energy using Dr. Chow's methods to be felt by others and to assist healing, in our case, my daughter's very severe ulcerative colitis."
*********
"5.0 out of 5 stars Awesome! It's a must have for anyone interested in Qigong. An excellent book for the beginner and the advanced. Lots of very informative information and sources given. Describes Qigong in the past, present and future. A powerful Qigong system that really does give quick results."
*********
"5.0 out of 5 stars Qigong taught by the Grande Dame of Qigong. If the USA, Dr. Chow's adopted home, had royalty, this healing practitioner would be knighted. I heard about her
from listening to Dr. john Nieters on his podcast 'The Balancing Point', and everything he said about her is true."
*********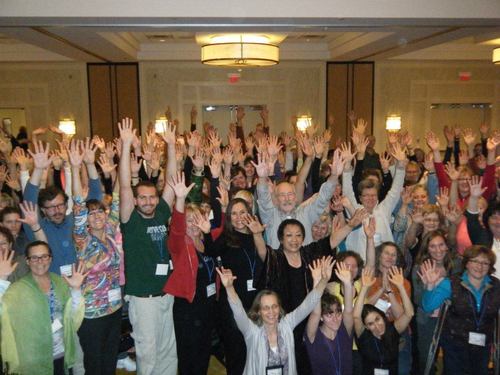 In loving Qi with hugs, laughter and miracles for sound health of body/mind/spirit from the EWAHA Family!





For more information on how to contribute to the EWAHA white paper, please email eastwestqi@aol or call 415-285-9400. In loving Qi with millions of hugs, laughter, and Miracles for sound health of body, mind and spirit!

Dame Dr. Effie Chow, PhD, RN, LicAc(CA), DipAc(NCCAOM), Qigong Grandmaster.

Ruth Sie - E-Zine Editor         

Attack on Parliament Hill:
Chow Qigong Brings Calmness during a Fearful Event
The testimony from Parliamentary Protective Services employee below describes how Chow Qigong brought inner calmness, clearer thinking and peace during a time of high stress and danger. A potent reminder of some of Dr. Chow's basic principles of deep breathing, 8 hugs and 3 belly-aching laughs daily and the powerful impact that they can have for our own livelihood and the lives of others!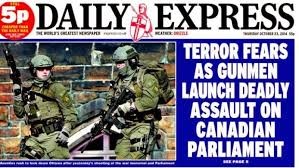 "The Parliament was under attack on October 22, 2014. For over 20 years I held a very responsible position and this was my first such an encounter! The sounds of shooting and people scurrying and screaming greatly frightened me initially. The safety of the Prime Minister, the Members of Parliament and the people were uppermost in my mind. To help me think clearly, I started doing the deep breathing as taught by Dr. Chow. The fear left, then an inner peace came upon me like what I feel during and after Chow Qigong classes! I was able to calmly execute my responsibilities and help calm others. That day and the days after, I taught everybody Dr. Chow's therapeutic philosophy of giving at least 8 hugs and have 3 belly-aching laughs daily. Everybody appreciated it as it helped to reduce the stress from the fearful event. "And another Parliament Protective Services member's testimony: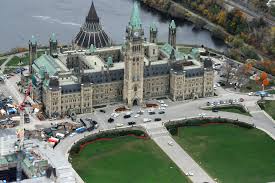 "These few words are simply to acknowledge the great wisdom and rewards acquired from your healing classes. During the incident of Oct. 22, 2014 and as I bestowed upon my duties to Serve & Protect our Parliamentarians, the calmness within my "Qi" served me well. Only a few seconds of deep breathing, searching to claim the calm of my spirit ..., my own "Qi" restored my confidence, energy and guidance. These are the reflections in life's moments of crisis that we realize where our great Teachers & Grandmasters really made a difference. A great believer & student of the "Chow Qigong"."

We are proud to share testimonials from our Chow Qigong students who protected the safety of the Prime Minister and members of Parliament during the recent shooting attack in Ottawa.
Developing Chow
Qigong Program in North of Market Community
In discussion with agencies in the North of Market area, we are creating a potentially a very exciting new program, bringing Natural Medicine, Chow Integrated Healing System/Chow Medical Qigong (CIHS/CMQ) including TCM to the North of Market community. At the Natural Medicine with AHSC, a couple who tried eight years to conceive unsuccessfully tried acupuncture and immediately after nine months gave birth to a baby boy! Qigong and TCM has proven effective with many unresolved long-term conditions of body, mind, spirit and environment!
It is well-known that pockets of San Francisco community like the North of Market area also known as the Tenderloin District, suffers from economic depression and more.

The Tenderloin District is three hundred times more crowded than the rest of San Francisco and in less than 1 square mile contains 37,000 residents living in 586 low income apartment buildings. 26% of the residents live below the poverty line. This results in the highest crime rate of any area in SF, averaging three major crimes per hour. In addition to the residents, 6,000 homeless come to the tenderloin daily.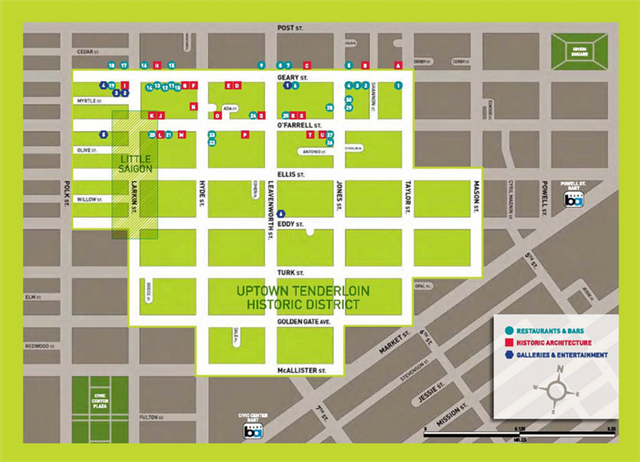 Thousands of people in the North of Market neighborhoods are alone and living in isolation. The true reflection of the community is not what is happening on street corners, but what is happening behind closed doors. With our program, our vision is to reach and draw out the people in the NOM community who are shut in, from the elderly, families, children, veterans, transgender and homeless runaways, to the mentally ill.

It is also known that western medicine has limited results with the physical and emotional pains and family estrangements that persist in economic and social deprivation. (See Escape Fire trailer) Many of these families are of Asian descent. Statistics reveal a troublesome escalating suicide rate in the recent times, PTS is rampant, drop-out rates from mental and medical therapies are also worry-some. Job rehabilitation is almost non-existent.
Many sources are recommending alternative/complementary treatment programs which has in the past 10 years become more accepted, but minimally utilized by the main health system. One such program that is having results where all else have failed is The Chow Integrated Healing System/Chow Medical Qigong (CIHS/CMQ) including Tai Chi Chuan (Taiji).
Though this partnership with the North of Market agencies and businesses, our goal is to contribute to a nationwide effort by giving a Basic Introductory and Level 1 Intensive Chow Medical Qigong Training Program for impoverished communities and help to build a financially rewarding sustainable healing and organizational career as well as build the businesses in NOM.

The main purpose of our program is to:
    1) Quickly assist community members who have sustained a condition that is not healing to receive rapid relief to hopefully total improvement/recovery. This can lead to employability.
    2) Have the individual turn around and assist with others' healing. Training trainers to train!
    3) With practice and improvement of skills, establish a sustainable and viable career in the healing field which is the best expanding opportunity for employment at this time.
    4) Building Integrated Healing System/Chow Medical Qigong Healing Hubs (CIHS/CMQ-HH) nationally and internationally in every possible city and home. The number of (CIHS/CMQ-HH) to be developed is limitless.
    5) As a super plus in our program, we will create a tourist agenda for Cuisine and inexpensive shopping in NOM to draw business from outside population to support and boost business for the local restaurants and other businesses in NOM

We MUST JOIN TOGETHER NOW to make the public enlightened to what we have worked so long for. Through our World Congress on Qigong/TaiChi/TCM, East West Academy of Healing Arts, American Qigong Association and World Qigong Federation, I am inviting everyone to contribute to this program by sharing with us your funding support. I invite you to contact us and state what funding and/or skills you wish to contribute toward this effort.

We look forward to hearing from you soon! 
eastwestqi@aol.com
News & Good
A Successful 3rd International Qigong Symposium &
16th World Congress on Qigong & TCM in Rome, Italy
(Oct 18-20)
We have very exciting news in good to share from Dr. Chow's recent trip to Rome, attending the Third Italian Qigong Symposium. In the article published by Violet Li of the Examiner, read about the many exciting projects including Qigong in schools, hospitals, and drug rehabilitation being conducted to advance the treatment of Alzheimer's Disease, breast cancer, depression and other chronic diseases. Many thanks again to East West Academy of Healing Arts partners, Marisa Vocca and the Nei Dao organization. Join us for many exciting demonstrations, performances, and miracles performed by Grandmaster Effie Chow and many world renowned Masters of Qigong, TCM, and Tai Chi (Taiji) Quan at the upcoming 17th World Congress on Qigong/TCM in June 2015!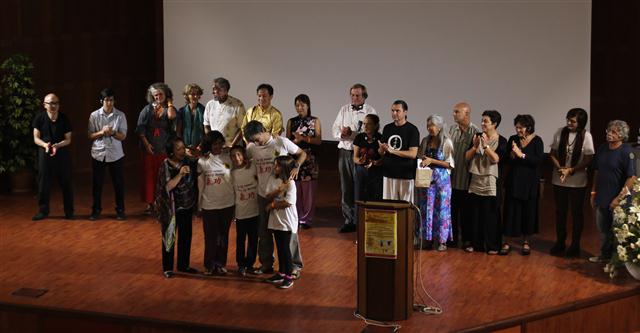 Marisa Vocca Chair 3rd Italian International Symposium and Dr. Effie Chow, Chair of 16th World Congress on Qigong/TCM with all prominent speakers, October 18 to 20, 2014. A very special thanks to our wonderful co-speakers and organizers, dear friends, Marisa Vocca with family members, husband Kenneth, son Nicolas, and daughter Giada who together are responsible for the growth of Qigong in Italy. We call them The Qigong Family of Italy! They are now officially part of the Chow Qigong Family at East West Academy of Healing Arts in San Francisco!

http://neidao.org/en/third_international_symposium.html
FYI - Click here to see video highlights of the 15th World Congress on Qigong / TCM in San Francisco
********************
The Mystical Event Sept 12-14, 2014
in Gatineau, Quebec (near Ottawa, Ontario)

The Mystical Event was attended collectively by over 2000 people and 100 exhibitors Saturday from 10am to 6pm and Sunday 10am to 5pm on Sunday.

Chow Qigong had a 100% success rate! Life-changing and transformational for many in body, mind and spirit! Dr. Chow presented in a new format of using surrogate volunteers up on stage to apply Chow Qigong Therapy –The Empty Force- and requested the rest of attendees to feel the energy connection and let healing be with them as well. There were about 200 people in each of the Conferences which were one hour in duration. Videos were taken. The Healing Circles were 50 minutes in duration with up to 8 people in each of the Healing Circles. Only the first one was videotaped.

In the Conference outcomes, each of the volunteers gained significant and total relief with their conditions, and shown by raising hands, about 95% of the general attendees indicated improvement with their conditions as well!

Read about just a few of the remarkable testimonials from participants who attended this powerful healing event…

Right Eye had years of problem. 5 laser surgeries, last one 2 days ago. Eye feels "scratchy and with large black floaters" vision slightly blurred, worried and depression increasing with deteriorating condition. Demonstrated eye Qi-exercise. 6 minutes Chow Qigong totally relieved condition. Reported that her eyes felt relaxed, could see more clearly and brighter, no "scratchy sensation" and large floaters totally gone! She was elated. Was very emotional, crying as she has been very worried about condition. Said that her whole body stress and tension had improved. More relaxed. Noted that even her hearing and speech were clearer! She is now more hopeful about her life.

Natalie 12 years old. Winner of 5 Awards in Gymnastics. Fractured 5th lumbar vertebrae June, 2014. Severe pain with restricted movements. With Chow Qigong, felt good warmth, and tingling sensation of spine, more at 5th Lumbar fractured area. Circulation to face improved from pale to rosy pink complexion.

Mayor of a small town in Ontario. Had bilateral weak arms and legs for a couple of years becoming weaker. No therapy has been effective. Focused Chow Qigong therapy on the weaker right side. Worked on upper and lower torso power points as well as deep breathing. 5 minutes of CQ. The right arm and leg worked with were now stronger than the originally stronger left side. In movement and walking, he noticed a significant difference and stronger. He will need the left side worked to balance out both sides. He was very excited and positive whereas he had been quite worried and depressed with his condition which had not been helped with other treatments.

*********************
Chow Medical Qigong Advanced Intern Academy Clinic

With blessings from Grandmaster Dr. Effie Chow, the Chow Medical Qigong Advanced Intern Academy has launched with wonderful success. We have seen clients with an array of issues, pain of all types, including a broken hip, cancer, Parkinson's, chronic fatigue, stiff knees, and even a wonderful feline who underwent a tumor removal.

Our graduates host the Intern Clinic very Wednesday from 6pm-8pm, covering a progressive and challenging curriculum over a series of 8 weeks, and offering therapy to participating clients at reduced rates.
Previous Level 1 graduates are especially encouraged to attend and practice teaching and developing the skills of the new Interns. Previous Level 1 Students will have a chance to review and practice what they have learned (we also introduce new skills as well!).
We invite everyone to take advantage of this opportunity. Appointments can be scheduled by emailing eastwestqi@aol.com or by calling Ruth at 415-285-9400.
Read about our exciting results from our past sessions: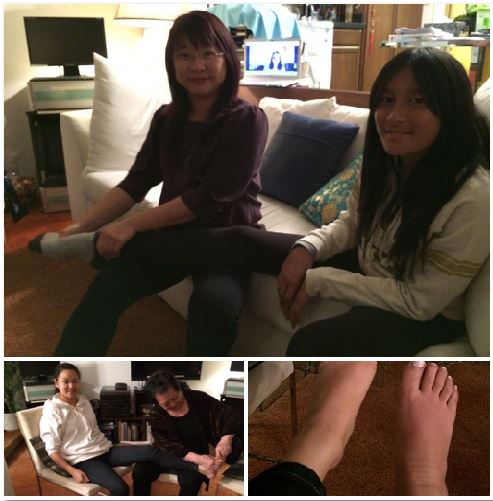 12 year old student at Week 3 Intern Academy Session complained of muscle soreness after P.E. class. She was unable to lift her leg for the evening's foot massage lesson due to the tension and pain in her thigh muscles. Dr. Chow advised using a technique called brushing, bringing immediate relief and relaxation of the muscles after only 15 seconds of application. See how her flexibility has returned and she is able to stretch her leg into position for her mother to perform foot massage on her. Happy smiles all around!

35 year old student at Week 3 Intern Academy Session says, following foot massage by Grandmaster Dr. Chow herself, "I could visually see the difference with my eyes and feel the warmth, lightness, and agility in the movement of both my hands and feet after only 5 minutes of work on each. In addition to learning about the technique, I especially enjoyed learning how each toe, joint, and *phalange was connected to a channel leading to a specific vital organ, and in essence was massaging that organ by awakening the stagnant energy and improving the flow of blood, oxygen, and energy to those vital organs." (*references to "Friends" episodes naturally brought about lots of laughs)

Comparing the results, you can see a much healthier, vibrant complexion and fullness in the left foot after just 5 minutes of massage, in contrast to the cold, lifeless, dull complexion of the right foot. Student complained of experiencing poor circulation to hands and feet throughout her life - she now has a tool to help herself and others that offers immediate results!
Dr. Chow reminds us, "now that you know what you've learned, you must practice, practice, practice to maintain results and long term health!"

A Chow Qigong graduate with a 50 + year "incurable" eye condition originating from birth defects experiences 85% improvement in eyesight after 20 minutes of eye massage by Dr. Chow at our December 17th class. After a treatment in May, this student experienced an instant 20 % improvement to a lifetime of low vision. With regular meditation and Chow Qigong exercises, this student's vision has improved another 10% in the past 7 months. The sources of his defective vision are due to nystagmus, astigmatism and an apparent lack of cones and/or rods in the eyes (organic pixels) usually associated with albinism. Dr. Chow has also noticed some limitation to his peripheral vision. He is halfway to fulfilling one goal to have enough vision to acquire a standard driver's license for the first time.
Click below to read more about his full story on our blog and visit www.eastwestqi.com to sign up for classes in your area to heal yourself and others!


THE 17TH ANNUAL WORLD CONGRESS
ON QIGONG / TCM
Date: MAY/JUNE 2015
Location: SAN FRANCISCO, CA
The World Congress on Qigong/ TCM (WCQ/TCM), the leading international educational event of its kind. From spectacular feats & amazing demonstrations, powerful all-day workshops to innovative keynote speakers, we invite all to join in this global movement to further complementary alternative medicine!
 Exciting festivities of the 2015 17th WCQTCM include: science symposium, Traditional Chinese Tea served all weekend, Gala Awards Banquet, Spectacular performances in Qi-Healing and Martial Arts, Dinner with Entertainment, Music and Dance. Read and see more HERE.
The Congress aims to advance the education of nThe Congress aims to advance the education of natural health practitioners as well as educating the beginner on health and well-being. Applying for CEUs for acupuncturists, physicians, nurses, massage therapists and more! It supports the development of clinical research, and facilitates the delivery of high-quality natural healthcare worldwide. Therefore this educational event will feature as usual, a plethora of world renown experts, including Qigong, Tai Chi and Martial Arts masters, Traditional Chinese Medicine doctors, physicians, and clinical researchers, as well as other healthcare professionals involved in modern western medicine and natural health care. There will be an exhibition performance of 350 more Tai Chi/Qigong/Martial Arts experts! Join us!

Now recieving applications for presenters, co-sponsors, exhibitors, volunteers and nominations for awards of the year.
Get involved early, be part of our fun International Qigong Family!

Stay tuned for more news about dates and locations by visiting our website at:
http://eastwestqi.com/worldcongress/

The video trailer on the First Annual Grand TaiChi/Qigong/KungFu Exhibition in San Francisco:

We send much love with hugs and laughter from East West Academy of Healing Arts.
Stay updated of our activities through our website, Facebook and Twitter! 
- HEADLINES -
ATTACK ON PARLIAMENT HILL
MAINSTREAMING MEDICAL QIGONG
• Developing Chow Qigong Program in North of Market Community
NEWS & GOOD
• A Successful 3rd International Qigong Symposium & 16th World Congress on Qigong & TCM in Rome, Italy (Oct 18-20)
• The Mystical Event in Gatineau, Quebec (Sep 13-14)
• Weekly Intern Academy
• Free Chow Qigong Exercises Practice Every Sunday in Golden Gate Park
UPCOMING EVENTS
• Level 1 Intensive CQ Training San Francisco (Feb-May 2015)
• Level 1 Intensive CQ Training Ottawa, Ontario, Canada (Mar-Jun 2015)
• Basic CQ Introductory Schedule worldwide with CEUs for Nurses/Acupuncturists/physicians (Jan-Dec 2015)
• World Tai Chi and Qigong Day (Apr 25, 2015)
• Rome, Italy Spring, 2015
• 17th World Congress on Qigong/TaiChi/KungFu/TCM (May/June 2015)
• New York Basic Sept. 19-20, 2015
IN EVERY ISSUE
• Veterans Programs
• Youth Programs
• Free Practice Programs
• Daily noon Free international healing meditation
Watch the new video interview of Dr. Chow by Superhuman Institute "A Life Lived Well" Dec 4, 2014 Scared Crow Productions.
Our training programs begin in: San Francisco February 7-8, 2015 and Ottawa March, 2015. World Congress on Qigong/Tai Chi/TCM June,2015. Visit our website: eastwestqi.com/classes to register and for more info!
Here's something that might interest those of you who consider yourselves "First Adopters" of new technology. A friend just presented this to me, and I got truly excited about it...

Introducing "SPACE," The First Ever Wearable Computer Computer and telephone tech in a pair of glasses that you wear!

It is the cutting edge of technology - The first ever "Wearable" Computer... Nothing like Google Glasses or the Apple Smart Watch. It's a real computer that can do anything any other computer can do, plus more.

I value your opinion, and want to share this with you. See the link below, and watch the first video, and then the SPACE computer video with the family.

CLICK HERE to learn more.

You may find it as intriguing as I do, and there's also an option to add a few dollars to you bank account, if you see this company's vision... I equate this technology's future to were the smart phone was a few years ago. The only difference is, this new wearable technolgy products will not be sold in stores. It will only be available through independent consultants.

Look forward to your thoughts at eastwestqi@aol.com!
Chow Qigong
Program for Veterans and Youth!
We offer Chow Medical Qigong program for Veterans and families. Another focus is the Youth who are undergoing an epidemic of "Bullying" Behavior which is causing a rising incidence of killings and suicides!
+ We specialize in & have results in a short time with conditions such as the sufferings of pain and PTSD suffered by both veterans & youth.
+ Will serve veterans and youth free if necessary & have already been doing so for many. Scholarships for our classes are available
+ Veterans will learn to heal themselves &others at the same time making them employable and also creating a viable career for themselves in healing.
We are developing a serious cadre of veteran healers to heal the wounds of the world beginning with themselves to offset the horrors of war and bullying in the youth!
This is a serious invitation to anyone (veteran or not) interested in being part of the program or in helping.

Please contact us immediately eastwestqi@aol.com
Free Chow Qigong Exercises & Meditation
Now Every Saturday in Golden Gate Park

Everyone is welcome to join George Gaboury and Chow Medical Qigong students in a beautiful casual setting.

Every Saturday without rain 10 a.m. - 12 noon in the Golden Gate Park Rose Garden @ John F. Kennedy Drive north west of the DeYoung museum.

There is a little pedestrian pathway that will take you to the Rose Garden southeast from the Golden Gate Park entrance on Fulton Street at Park Presidio Drive.
Email eastwestqi@aol.com if you wish to come.
Click map for directions
Chow Medical Qigong Weekly Practice!

Practice Chow Qigong exercises, meditation and more with our students and graduates!

Visit our website our eastwestqi.com/classes
or email us at eastwestqi@aol.com

Now Hiring

: 


Executive Admin

Need someone who is passionate about CAM, Chinese Medicine, Qigong and is used to working with high level experts. An extremely exciting position and future for a creative, exceptional dedicated human being who's flexible and personal goal is to help the world be a better place and would also wish to learn to be a healer. Help the agency grow!

Qualifications: Someone highly experienced and skilled in office management, large and small event planning, web design and updating, social media, detailing, writing/editing, diplomatic and political relationship, communication, CEU organization, publicity and promotion, fund-raising, travel and arrangements. Have own car transportation. Mandarin speaking and read and write Chinese a plus but not necessary.
For information or application, please send full resume and photo, including past and desired salary to
eastwestqi@aol.com
**********************************
WELL-MED
GLOBAL
Stem-Cell Growth Factor Technology

"Science Beyond Anit-Aging"

Today, many anti-aging products simply mask the signs of aging. Thanks to innovative human stem-cell and growth factor technologies,
it is now possible to reverse the signs of aging through youthful tissue regeneration.
This website
wellmedglobal.com/qigong
will describe the science and opportunities associated with human growth factor technologies.

Learn how you, your loved ones and your clients can benefit from recently-patented technologies for wound healing, youthful skin regeneration, lash and hair restoration, and even vaginal tissue rejuvenation without hormones, surgery, toxic drugs, or makeup.

For more information or to purchase contact Ceanne Richards atceanne8@gmail.com |
760-978-7336

BIO-LOGIC AQUA

Nature's Tears®EyeMist
Founder Dr. Sharon Kleyne
Int'l Consultant: Dr. Effie Chow
Nature's Tears EyeMist is a gentle, all-natural mist for dry eyes.

Nature's Tears is perfectly suited to be used multiple times a day - even while wearing contact lenses - for eye discomfort associated with allergies, dry eye, red eye, and general eye discomfort.



No Chemicals - No Saline



Helps with Dry eyes, Contact lenses, Allergies, Computer vision syndrome, Dry indoor air, Smoke, dust, wind and pollution, Post-LASIK, Airline travel, Dry eye complaints from medications, diabetes, cataracts, etc.



For more information go to:


www.NATURESTEARS.com
PROTECT YOUR LOVED ONES AND YOURSELF
From Electromagnetic Pollution

Aires Technologies Electromagnetic Field (EMF) Protection Devices:

+Aires Shield is a small devise - a FDL special fractal diffraction lattice - that attaches to your cell phone or computer rendering the EMFs it emits nearly harmless. Aires Shield is single-core microprocessor containing a 16-vector circuit.

+Aires Shield Extreme is the same as above except it has a more powerful 24-vector microprocessor and innovative antenna.

+Aires Defender is a powerful device the size of a credit card that is kept on your body to reduce the harmful electromagnetic radiation (EMR) we are all subjected to in modern life from our cell phones, laptops, microwaves, televisions, blue ray players, etc.


For more information and to order, contact us at eastwestqi@aol.c

Laminine:
It's Qigong in a Capsule!
It's been 40 years since we have recommended a specific product. Because of the results we've seen with EWAHA clients, we not only recommend Laminine, we call it Qigong in a Capsule!

Try Laminine to:
+ Moderate stress response
+ Maintain good cortisol levels
+ Regulate serotonin levels
+ Support good mood
+ Increase physical and mental
strength
+ Improve emotional balance
+ Promote more restful sleep
+ Enjoy quicker recovery after
exercise
+ Increase muscle tone & strength
+ Increase alertness
+ Improve stamina and energy
+ Aid in brain function and
activity
+ Improve Focus
+ Reduce signs of aging
+ Increase libido/sexual desire
+ Stimulate natural DHEA
production
+ Improve overall sense of
well-being

More Info on Laminine
Buy Retail
Join Wholesale
Now 50% OFF
at EWAHA. Limited Time Only
Enhance your energy
using Dr. Sandra Rose's EESystem which generates multiple bio-active life enhancing energy fields, including "scalar waves" which can allow cell regeneration, improve immune function, provide relief from pain, detoxify the body, elevate moods, and assist in balancing right and left hemispheres of the brain to increase energy levels.
" It promotes a very deep state of ultimate relaxation, if we allow it, from which any type of healing can occur. Of all the technologies that I have recently researched, this one is the post powerful detoxifiers I have encountered."
- Dr. Marcial-Vega, MD
Available at the EWAHA San Francisco office only at 50% off.
$35/hour instead of $70/hour.
Make an appointment now!
eastwestqi@aol.com
More info