2021 Maine Lighthouse Ride
The Eastern Trail is excited to announce that we will host the 2021 Maine Lighthouse Ride. This event is increasingly popular with Mainers as well as friends and supporters from all over the county. The scheduled date for the event is September 11, 2021, and online registration is planned to begin on March 1, 2021.
"We are looking forward to organizing the annual Maine Lighthouse Ride", said Bob
Hamblen, Eastern Trail Alliance President, "which will help us learn how to adapt to a difficult situation and at the same time offer up a world-class recreational opportunity." The Alliance is also considering options to include a companion walking/running event during the Lighthouse Ride on the Eastern Trail itself, which offers opportunity for COVID-friendly events over a larger geographic area.
In addition to the Maine Lighthouse Ride, the Alliance also plans to strategically re-start additional long-standing events to provide recreational opportunities and financial support to build new trail and maintain existing trail. Jon Kachmar, Executive Director of the Eastern Trail, remarked on the "tremendous excitement building for working with partners and supporters of the MEND Autumn and Ales 10k, John Andrews Classic 5K run as well as the Alliance's annual Gala." It is hoped that re-starting these familiar events will help people and communities along the Eastern Trail by providing a healthful and fun recreational opportunity as well as an economic stimulus for the cities and towns who have access to use the trial. Dates and information for these additional events will be posted on the Eastern Trail website soon.
Trail Building Update
We are on the verge of contracting trail feasibility studies through the Maine Department of Transportation's Partnership and Planning Initiative. These exciting opportunities will support our Over the River campaign for improved trail through downtown Biddeford and Saco, as well as our Blazing the Trail South campaign to build new off-road trail south of Kennebunk. The goal of the trail feasibility studies is to better understand the on-the-ground situation of the Eastern Trail corridor where new trail would be built including specific trail conditions such as elevation, road and water crossings, and environmental permitting requirements. These studies will also provide valuable information about the costs associated with building new trail in the given locations. We are excited to consider options for improving the safety and overall experience of walking or biking through the Cities of Biddeford and Saco, as well as creating entirely new trail starting in Kennebunk through Wells and into the North Berwick. Thank you to our partners at Maine DOT, the Cities of Biddeford and Saco, the Towns of Kennebunk, Wells and North Berwick, and Southern Maine Planning and Development Commission. We will know much more by summer 2021 about the important details and costs so we can consider future design and construction!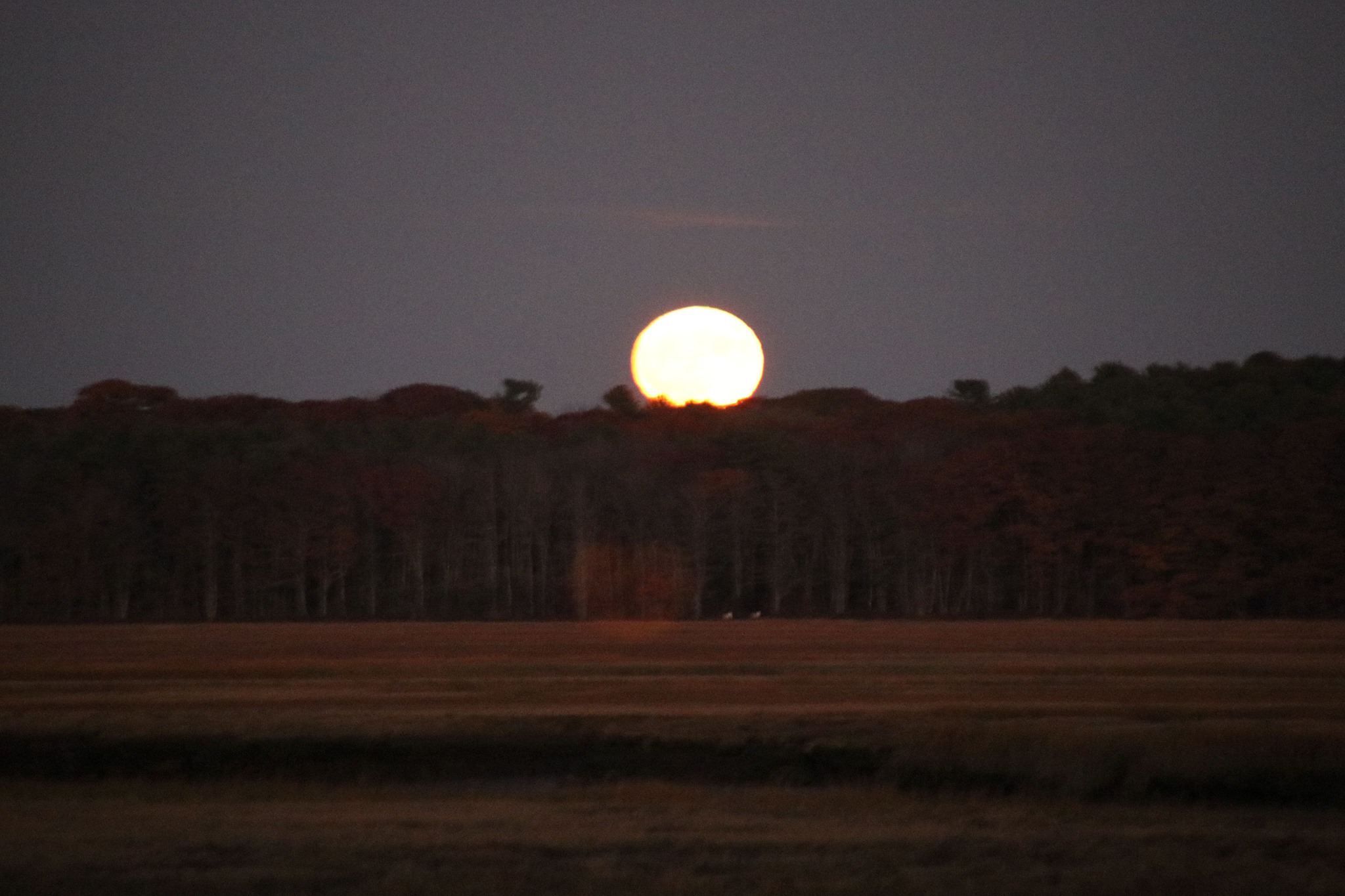 Full Moon Walks and
Snowshoe/Ski Outings
The Eastern Trail continues to offer free Full Moon walks to the public on the scheduled full moon each monthly. The walks meet at the Eastern Trail Pine Point parking lot off Black Point Road in Scarborough Marsh, and are led by Carole Brush, past executive director for of the Eastern Trail Management District. These outings provide a glimpse of the trail as it transitions from day to evening with the sun setting in the west and the full moon rising opposite the sun. You will hear information and facts about Maine's largest saltmarsh, the building and maintenance of the trail and most important enjoy a pleasant walk outdoors during winter.
This winter we are also planning to restart free snowshoe or cross-country skiing events depending upon the snow conditions on the trail. These ad-hoc outings will be announced as the opportunity arises and will be led by Eastern Trail staff and/or our dedicated volunteers. The specific location is TBD but we hope to spread out these outings to various parts of the trail between Scarborough and Kennebunk. All experience levels are welcome to join the fun. If you are interested in receiving an email notification for these ad-hoc outings, please complete the sign up form HERE.



Thank you for Supporting the Trail

Our 2021 fundraising campaign has been a huge success thanks to the generosity of our long-standing donors and members. We also saw many new members and first-time donors this year, which is a testament to the importance of the Eastern Trail to local communities as well as our friends from across the country. Like all organizations over the past year, we have faced significant challenges from the impacts of COVID, but I believe we are a stronger, more focused organization because of better collaboration and innovative ideas. Our formal 2021 Annual Appeal will end January 31, so if you would like to support the trail please visit http://easterntrail.org to donate. Again, thank you for your support; the Eastern Trail would not exist without you!

A New Year's Resolution from the ET Executive Director


My New Year's resolution is to ensure I become a better listener. Therefore, I would like to encourage anyone to contact me anytime to provide input, whether big or small, to convey whatever you feel is important for me and the others who manage the Eastern Trail to know as we move forward. Input from trail users is paramount to our long-term success whether it is praise or a complaint, we want to hear it all. Remember, the Eastern Trail is your trail so please feel free to speak up and voice your thoughts and ideas. You can contact me at jon.kachmar@easterntrail.org or 860-227-0914.
| | |